[Home Page] [This Week] [Classifieds] [Legals] [Obituaries] [Newsstands] [Subscriptions] [Advertising] [Deadlines] [About Us] [FAQ] [Archives] [Community Links] [Contact Us]

Editorial Archives — The Altamont Enterprise, January 20, 2011
---
Editorial
Pour effort into water purity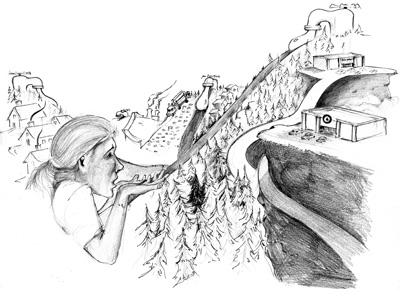 Illustrated by Forest Byrd
A watershed belongs to its community.
So says a management plan created by the Onesquethaw-Coeymans Watershed Council and the Capital District Regional Planning Commission. A watershed, the plan explains, includes a network of drainage pathways, on the surface and underground, that water from high places — in this case, Helderberg Lake in Berne — uses as it travels to low points and collects in a stream, pond, or wetland. A watershed is the land that drains, or sheds, that water. The Onesquethaw-Coeymans watershed flows to the Hudson River.
Water is a force of nature and doesn't follow manmade political boundaries. The 52 square miles of the Onesquethaw-Coeymans watershed includes parts of five different municipalities: the towns of Berne, New Scotland, Bethlehem, and Coeymans, and the village of Ravena.
The key to making the plan work is involving each of these municipalities, and getting them to work together on the plan's recommendations.
We commend the watershed council, created a decade ago, for looking at the area as a whole, and we hope the individual municipalities will each heed the plan. We were heartened to learn last week from New Scotland's supervisor, Thomas Dolin, that New Scotland supports the plan's goals, and further, that Councilman Daniel Mackay plans to hold a community forum by April to educate residents and build public support for following the plan's recommendations.
We urge other municipalities to do the same. In the interest of raising public awareness about the plan, we're highlighting here the 11 areas it addresses:
— Land-use management: Current zoning allows for and, in some cases, encourages large lots and setbacks, wide roads, and oversized parking lots that create unnecessary and excessive impervious, paved surfaces. The plan recommends, instead, low impact development practices, protecting sensitive habitats, and establishing stream and wetland buffers;
— Stormwater management: Bethlehem and New Scotland have complied with the state's requirements on stormwater permits to prevent pollution and control erosion and sedimentation; it is recommended that Coeymans, Berne, and Ravena do so as well.
— Community outreach and education: Municipalities should work with the council to teach residents what they can do at home to improve water quality, including low-impact lawn-care, proper waste disposal, and septic system maintenance;
— Landfills: Information should be gathered about the closed landfills in Bethlehem and New Scotland and vegetative buffers should be provided to reduce runoff and pollution;
— Industrial activity and point discharges: There are over 50 permitted point discharges to the Upper and Lower Coeymans Creek; monitoring in the upper creek has shown there has been a negative impact on water quality and aquatic life. There is a risk that toxic substances found in aquatic animals will make their way up the food chain and affect human health. Partnerships should be explored to find financially viable solutions — perhaps created wetlands — to lessen pollutant sources and impacts;
— Barriers and water diversions: Five waterfalls and two areas flow underground during low-flow periods. The Wolf Hill dam diverts water to the Vly Reservoir to provide drinking water for the town of Bethlehem; its impacts on such things as stream bedload movement and flood plain dynamics should be evaluated. Dams have also created Lawson Lake, Helderberg Lake in the headwaters, and Mill Pond in Clarksville. Culverts can also act as barriers to aquatic wildlife movement;
— Stream stability: As recommended by the Albany County Soil and Water Conservation District, the stream corridor from Old Quarry Road to Route 9W would benefit from natural channel restoration, which would require considerable resources, effort, and funding. As actions are prioritized and costs estimated, community groups should consider projects to stabilize banks and plant vegetation;
— Riparian buffers: Vegetation next to a stream, known as a riparian buffer, creates a filter strip as it intercepts surface-water runoff, wastewater, and subsurface flow; it also reduces erosion and flooding. Riparian buffers could be combined with recreational access, stream-bank stabilization, and wildlife habitat enhancement;
— Public access: Beautiful waterfalls, caves, and gorges are part of the stream corridor. Trout Unlimited volunteers are working with state staff to acquire public fishing rights since the stream has a healthy population of wild trout. The Mohawk Hudson Land Conservancy may acquire additional properties providing public access;
— Land conservation: As development occurs, it will be difficult to prevent paved surfaces. Important vegetated open space, as well as sensitive Karst terrain and unique natural features should be protected through outright ownership, easements, or placing the land in a trust; and
— Agriculture: Given the large amount of agricultural land in the watershed, getting more farms involved in state and federal conservation programs could greatly benefit the health of the watershed, and would enhance New York's plans for developing agri-tourism as an economic driver of growth.
The plan concludes, "Watershed planning is only successful when those that live and work in the watershed realize that they are a crucial part of it, and recognize that their actions impact its health."
We hope our readers realize this. Citizens, from farmers to developers, need to get involved while our elected representatives work within their own municipalities. Protecting water here benefits not just those in our midst but others further downstream. The drop of water that started high in the Helderbergs will eventually find its way down the Hudson River to New York City and beyond. Let's keep it clean. Along the way, as these recommendations make clear, we'll preserve the beauty we've come to count on and perhaps invigorate our economy.
---