[Home Page] [This Week] [Classifieds] [Legals] [Obituaries] [Newsstands] [Subscriptions] [Advertising] [Deadlines] [About Us] [FAQ] [Archives] [Community Links] [Contact Us]

Editorial Archives — The Altamont Enterprise, January 13, 2011
---
Editorial
The heart of great literature is in its words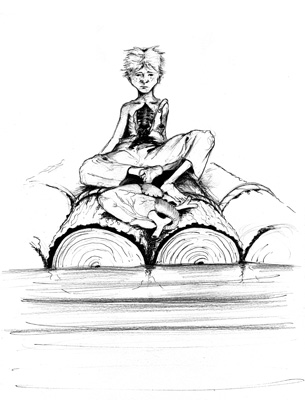 With art by Forest Byrd
Mark Twain cared about truth. Sometimes it hurts to hear the truth.
His Adventures of Huckleberry Finn has become an American classic, shaping generations of readers.
Next month, NewSouth is coming out with an edition pairing The Adventures of Tom Sawyer with Huckleberry Finn and eliminating racial slurs. Tom Sawyer's "Injun Joe," a "half-breed," will become "Indian Joe," a "half-blood," and the word "nigger" — which is used over 200 times in Huckleberry Finn — will be replaced with "slave."
The editor who made these choices — Alan Gribben on the English faculty of Auburn University at Montgomery in Alabama — writes in the introduction to the book that the words he has replaced formed a barrier for teachers, students, and general readers.
Gribben writes that, over 40 years, as he led college classes and library reading groups, he always recoiled over the epithets and would invariably substitute "slave" for what he calls "the n-word."
"I could detect a visible sense of relief each time," he writes, "as though a nagging problem with the text had been addressed."
Gribben goes so far as to assert of Twain, "As a notoriously commercial writer who watched for every opportunity to enlarge the mass market for his works, he presumably would have been quick to adapt his language if he could have foreseen how today's audiences recoil at racial slurs in a culturally altered country."
We disagree.
Using Twain's own words, he writes in his autobiography of the boy on which he modeled Huck Finn: "He was ignorant, unwashed, insufficiently fed; but he had as good a heart as ever any boy had." Heart. Heart is what defines Mark Twain's hero. Again, in Twain's words, he portrayed Huck Finn as having "sound heart and a deformed conscience."
Huck makes a journey in the book — not just on the river but an internal journey — where he learns to trust his heart over the conscience that Southern white society in that era had given him. When he is asked if the explosion of a steamboat boiler hurt anyone, Huck answers, "No'm, killed a nigger."
We should recoil when we hear those words. They capture the ugliness of a society that doesn't recognize certain people as human.
Part of Twain's genius is capturing the many dialects of his place and time. The narrative voice in Tom Sawyer, for example, uses the term "Negro" or "colored." Huck Finn is on the bottom rung of white society and speaks with its voice in its dialect.
To strike that from the book is to subvert the reality it portrays. And it detracts from Huck's heroism. He becomes a hero because he discards his "deformed conscience," the moral code by which he was raised, in order to help Jim in his escape from slavery. Huck accepts Jim and cares about him even though it means, in the constructs of his society, going to Hell.
"For many of Huckleberry Finn's enemies," writes Randall Kennedy in his book Nigger: The Strange Career of a Troublesome Word, "the most upsetting and best proof of the book's racism is the fact that nigger appears in the text some 215 times." Kennedy goes on, "Twain is not willfully buttressing racism here; he is seeking ruthlessly to unveil and ridicule it."
We were heartened this week to talk with teachers who believe it is important for their students to read the words that Twain wrote. At Guilderland, Huckleberry Finn is approved for use by high school juniors and it is up to individual teachers whether or not they want to teach it, said Patricia Hansbury-Zuendt, administrator for English, reading, and social studies. Few choose it.
"Teachers that have chosen it," she said, "have been very thoughtful to talk with students about the power of this word…Most are not even comfortable saying it."
Huckleberry Finn is not taught at the beginning of a term, she said, but, rather, after trust has been established in the classroom.
While Guilderland might buy one copy of the NewSouth edition to let students compare it to the original, "We wouldn't offer students a book that is censored," said Hansbury-Zuendt.
All juniors at Voorheesville read Huckleberry Finn, and long-time teacher April Levy believes the real words — including "nigger" — are essential. "Twain makes us feel the power of that word….It's like he's punching you in the eye with it," she said. "Jim is a wonderful human being. The white people are not so wonderful."
She went on, "It may not be appropriate to read in some schools because of the racial tensions or because teachers are not sensitive enough to make it understandable." Her advice, then, would be simply not to read and discuss the book, rather than purging it.
"I don't think there is a better text for teaching racial tolerance," concluded Levy, "for teaching us how society is often uncivilized."
We can't just light out for the territories like Mark Twain's hero. Sanitizing powerful literature won't make racism go away. Reading Huckleberry Finn — even, or especially, if we recoil at the ugly words — can be a good start to furthering understanding.
— Melissa Hale-Spencer
---