[Home Page] [This Week] [Classifieds] [Legals] [Obituaries] [Newsstands] [Subscriptions] [Advertising] [Deadlines] [About Us] [FAQ] [Archives] [Community Links] [Contact Us]

Editorial Archives — The Altamont Enterprise, December 9, 2010
---
Editorial
No shows but the television shows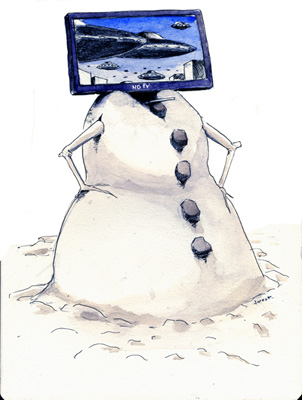 Illustration by Forest Byrd
We couldn't wait to cover a cooking class of around-the-world cuisine. A 4-H instructor was going to teach kids at Cornell Cooperative Extension how to make dishes from different cultures for the holiday season — everything from potato latkes to Swedish gingerbread.
How wonderful for children to learn about other traditions while interacting with each other, and maybe even teaching their parents when they got home. We planned to pass recipes along to our readers as well as taking pictures of a worthwhile learning experience.
We called the day before to let the teacher know we were coming, only to find out the class had been cancelled — not enough kids were interested.
We know kids are busy these days with many scheduled activities. But we worry that so many spend so much time in front of a tube.
Kids in the United States watch an average of three to four hours of television a day, according to the American Academy of Child and Adolescent Psychiatry. By the time they graduate from high school, they will have spent more time watching television than they have in the classroom.
Last week, we received a letter from Jen O'Connor similar to one she sent the year before. She and her husband have generously opened her property to sledders. Kirk's Hill on Maple Avenue had long been a Mecca for Altamont kids in the winter.
"Some of my grandfather's fondest childhood memories were of sledding on this hill when the house belonged to my great-grandparents," she wrote.
The problem, she told us last year, is children just don't come anymore. We, too, have noticed fewer kids in outdoor winter play in recent years. There is no longer a snowman or snow fort in front of almost every house where kids live.
Time spent watching television takes away from important activities such as reading, school work, playing, exercise, family interaction, and social development, warns the academy. It states that children who spend a lot of time in front of a tube are likely to have lower grades in school, read fewer books, exercise less, and be overweight.
We urge kids and their families to follow O'Connor's advice: "Pack a thermos of hot chocolate and your favorite sled. Trudge through the snow out back and slide down Kirk's Hill as so many Altamontonians have throughout history."
We appreciate the way the Internet can connect us with people around the world. We were thrilled, for example, when someone in China e-mailed us about one of our online obituaries, and we enjoyed corresponding online with an Israeli about a picture we wanted to use in our paper.
But the community that we are part of here and now is important, too. The fabric that weaves us together and makes us a community will unravel if we don't intersect with each other.
Besides the recent notice about the holiday cooking class, we also received word from the Guilderland Public Library about "Days of Listening" to be held on Nov. 22, 23, and 24 at the library.
"As family and friends come together from places near and far to celebrate Thanksgiving," wrote Mark Curiale, the library's public information officer, "pairs of people who are important to one another can record a conversation about whatever memories they wish to share, be it a son asking his mother about her childhood, an immigrant telling her friend about coming to America, or a couple reminiscing about their 50th wedding anniversary…."
We've found out from casual conversations with Curiale that he knows how to tell a good tale himself. Just ask him some time why his high school friends call him Lurch.
Curiale ended his library announcement with these stirring words: "Become part of this new and exciting movement that demonstrates the power of listening, the joy of storytelling, and the value of every life. By helping people to connect, and to talk about the questions that matter, this experience is powerful and sometimes even life changing."
We were eager the Monday after Thanksgiving to hear about the stories that the library had recorded. Our reporter, Saranac Hale Spencer, called to set up a time to listen to some of them. Curiale told her the stunning news: Not a single person had participated. No one.
No power of listening, no joy of telling, no value to life, no connection.
Are our connections all virtual? Are our "friends" all in cyberspace?
Still looking for a story of small-town connectedness, our reporter turned to a notice that had been brought to our office a few weeks ago by an enthusiastic elderly man, Tony Eldering. He had square-danced in his youth. Retired now, he thought it would be fun to get a group together to square dance.
He had lined up a caller — Helen Richardson — and a place — St. Lucy's Parish Hall.
"Square dancing is for young and old," he wrote. "Several years ago, there was an active square dance group in Altamont called the Altamont Station Squares. With enough interest, a group could be started again. Come and join us for an evening of dancing and fun."
But — you guessed it — no square-dance group had materialized. Only four people were interested, Eldering said, and there must be at least four couples to make a square.
Our reporter went on to write about square-dancing anyway, tracing its evolution from the European cotillion, shaped in America by African music. When she asked Len Houle, spokesman for the United Square Dancers of America, about the lack of response to Eldering's notice, Houle said, "What he ran into is a national resistance to square dancing." Houle surmised this is due to the perceived cost of the apparel. Women don't have to wear elaborate skirted outfits, he said, and men can wear a good pair of overalls or jeans.
We suspect it's more than the cost of clothes that is keeping people off of the dance floor. It's the same sort of inertia that is keeping the kids off of Kirk's Hill.
As a community newspaper, we have an interest in community events. We believe it is good for people to gather together and share with each other. We urge our readers to peruse our Community Calendar, find an activity that interests them, and step out to pursue it.
— Melissa Hale-Spencer, editor
---