[Home Page] [This Week] [Classifieds] [Legals] [Obituaries] [Newsstands] [Subscriptions] [Advertising] [Deadlines] [About Us] [FAQ] [Archives] [Community Links] [Contact Us]

Editorial Archives — The Altamont Enterprise, November 4, 2010
---
Editorial
Pushing buttons won't move us forward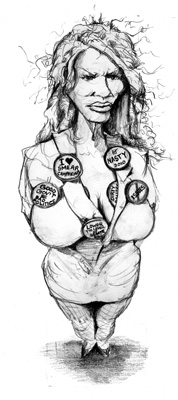 With art by Forest Byrd
It was a nasty campaign season in New York State. Almost daily, we received outrageous e-mails from the Paladino camp. Our postal mailbox and our phone answering machine were filled with political spin.
But the nastiest flyer we'd ever seen landed in local mailboxes and in those across the state last Thursday and Friday. Meant to mimic a police warning, the single-page folded flyer is labeled, in capital letters "Sexual Predator Alert." It features a picture of the Libertarian candidate for governor, Warren Redlich, labeling him as a predator. It calls him a "sick twisted pervert" and says, "Redlich hopes to win thousands of votes to endorse his sick alternative lifestyle."
The flyer cites a link to a blog post that Redlich had made in 2008, after "racy" pictures of Miley Cyrus made a splash. Redlich wrote that he could understand some people being upset about the photos but he couldn't see why it was such a big story. "Imagine a teenage girl looking sexy," he wrote, recalling the criticism when Brooke Shields appeared in Blue Lagoon.
He also wrote in the four-paragraph post that Shakespeare's Juliet — arguably the greatest love interest in the history of romance — was 13. Biologically, he wrote, females become fertile in their early teens and peak before the age of 18, and, historically, it used to be normal for men, even much older men, to be interested in teenage girls.
"Of course," Redlich wrote in his 2008 post, "I have to balance this with the fact that I have two daughters. They're young now, but some day they'll become teenagers. They'll probably want to wear some bikinis and do other things I won't like because they're my daughters. I'm going to need a shotgun or two," he concludes with a smiley face icon.
This does not sound like a pervert to us; this sounds like a man who was openly discussing his ideas about a media frenzy over some pictures. Opinions about Redlich's blog post, though, are not what matter. What matters is Warren Redlich has never been arrested for or convicted of any sex crime. The flyer's assertions are a lie.
The flyer gives his home address in Guilderland and concludes with a series of repeated demands to "Call the police!" if Redlich is seen "near a public school," "in your neighborhood," or "near your family."
His wife, Heather, describes in a letter, published on the facing page, the Redlichs' actual lifestyle — running a small law practice together and raising their two young daughters in suburban Guilderland. "We teach our children to be kind to others," writes Heather Redlich. "We try to make the world a better place by volunteering and getting involved with our community."
Heather Redlich also writes of the anxiety and heartache she has suffered because of the "terrible lies" in the flyer. "You have hurt me and my family…You have made me fear for the safety of my children in our own home," she writes.
The answering machine in our newsroom was filled this week with messages from people expressing their outrage and disgust over the flyer and urging us to find out who sent it.
"This is the sickest thing I've ever seen," said a woman from New Scotland. "How can they get away with this?"
"It's a filthy, filthy flyer," said a man from Guilderland. "You have to find out who did this."
Some people came to the news office with their copies of the flyer since describing it wasn't enough.
We've run a lengthy story this week by Guilderland reporter Anne Hayden that sheds light on the state of modern politics.
Small print on the flyer identifies its sender, as required by law: as "People for a Safe New York." But the group isn't registered with the New York State Board of Elections, as required for more than $1,000 in campaign spending. If a formal complaint is filed, the board will investigate. But the penalty is a mere $500 fine.
The flyer has the same permit number as flyers sent out by Kristin Davis. She describes herself as an ex-madam who supplied call girls for Governor Eliot Spitzer, leading to his downfall. "When the scandal broke, she went to prison and he went unpunished," says Davis's campaign literature. Her campaign song by rapper AnthonyX was called, "Mr. Spitzer Dissed the Sistah" and featured such lyrics as: "He wears black socks when he gets off his rocks."
The Staten Island Post Office, from where both the Davis flyers and the flyer falsely accusing Redlich originated, said that a postal permit can only be used by another group if authorized by the original group.
Flyers mailed out by Davis last week said she was the "real" Libertarian candidate. She had originally sought the Libertarian line, but it went to Redlich instead. Davis campaigned on legalizing pot, prostitution, casino gambling, and gay marriage; she garnered about 23,000 votes. Redlich focused on cutting wasteful spending, outlining specifics for doing so on his website; he got about 45,000 votes. His goal was to get 50,000 so the Libertarian Party could be placed on the New York ballot permanently.
What is particularly odious about the Redlich flyers being linked to the Davis campaign is the hypocrisy. Davis announced she'd sue the New York Post because its columnist, John Podhoretz, called her a "hooker." Her Oct. 20 press release said that, "while Davis acknowledges she ran an escort service which supplied call girls for former Governor Eliot Spitzer, there is no evidence whatsoever that Davis herself worked as a prostitute." The Davis release quotes her lawyer as saying, "Mr. Podhoretz's comments are reckless, malicious, and false…We will see him in court."
Two days later, the Davis campaign sent out a release, saying it accepted Podhoretz's apology. It actually wasn't much of an apology. "I was wrong to assume that, just because she (in the words of her own press release) 'spent four months on Rikers Island after pleading to one count of promoting prostitution,' Kristin Davis herself could be described as a hooker," wrote Podhoretz.
Davis is a candidate who, in the only gubernatorial debate, made a point of her job marketing whores. "The career politicians in Albany are the biggest whores in this state," she said in the televised debate. "I might be the only one on this stage with the right experience to deal with them."
So the candidate who uses her notoriety as a manager of hookers and calls politicians whores— yet threatens to sue if she's called a hooker herself — then has a part in sending out flyers that, with no basis in fact or reality, label another candidate a sexual pervert. That is truly "reckless, malicious, and false" — to use the words from Davis's release.
We share the outrage expressed by the many people who contacted us or came to our office this week.
We, at The Enterprise, haven't always seen eye to eye with Warren Redlich as we've covered his tumultuous three years on the Guilderland Town Board. We don't share his sense of humor, which he's exhibited on websites like Spoof. We don't like the way he's scooped up domain names of politicians, including the recently defeated Christine O'Donnell, and used the sites for his own ends.
We do admire the way he's always used his own name in his online ventures. And we appreciate the honest efforts he's put in over the years in various runs for public office — from town board to Congress — not because he expected to win but because he cared enough about the issues to take a stand.
It saddened us this week when he told our reporter "I will not be seeking any public office again, especially not after that mailer."
He also said, "The mailer was very painful for my family. It was very hurtful. It's very clear the purpose was personal; they were trying to hurt me, my wife, and my children, and they succeeded."
— Melissa Hale-Spencer, editorThat is a failure for us all. We hope Redlich seeks legal remedy. But the problem is larger than one man's suffering or one family's fears. We need a system where political discourse focuses on issues, not smears, and where civil disagreement — with candidates putting their names behind their views — leads to shared solutions.

---