[Home Page] [This Week] [Classifieds] [Legals] [Obituaries] [Newsstands] [Subscriptions] [Advertising] [Deadlines] [About Us] [FAQ] [Archives] [Community Links] [Contact Us]

Editorial Archives — The Altamont Enterprise, October 28, 2010
---
Editorial
Caution: Being a dunce could cause a death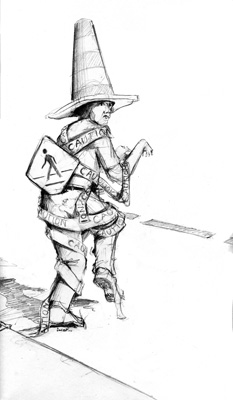 Illustration by Forest Byrd
So far this year, from Jan. 1 to Sept. 30, Guilderland Police report, four pedestrians have been hit in town. That's four too many.
It's up to all of us who drive and all of us who walk to make a difference.
We started asking questions about crosswalks this week because of a letter we received from Diane Shedd Wozniak. She's following a tradition started by her late father, Bob Shedd; he frequently wrote to us with practical questions that were valuable for our community of readers.
Wozniak worries that the crosswalk in Voorheesville by the underpass is dangerous because, she writes, "the cars come around there so fast, they couldn't possibly stop for someone."
She also wonders about signs that are sometimes placed in the center of the road, in a crosswalk, stating, "Stop for pedestrian in crosswalk."
We found some answers to Wozniak's questions in the state Vehicle and Traffic Law, and others from Lieutenant Daniel McNally, a 22-year veteran of the Guilderland Police Department.
He recommends visiting the New York State Department of Motor Vehicles website, which emphasizes safety in sharing the road with cyclists, walkers, and inline skaters. "Intersections without a light can be a problem; a lot of people don't think they have to stop for a pedestrian," said McNally. "Education is the key."
The law is clear that pedestrians have the right-of-way in a crosswalk if there is no traffic signal. That does not mean crossing the street anywhere, only at crosswalks. The signs that Wozniak describes, while they may be useful in alerting drivers who don't know the law, are not required in order for the law to be in effect. If pedestrians are not at a crosswalk, they must yield the right-of-way.
"When traffic-control signals are not in place or not in operation, the driver of a vehicle shall yield the right of way," says the law, "slowing down or stopping if need be to so yield, to a pedestrian crossing the roadway within a crosswalk…."
The one exception to this is if the roadway has a tunnel or overpass for pedestrians; they should use them. Vehicles then have the right-of-way on the road.
Lt. McNally pointed out a good example of an overpass for pedestrians familiar to most local residents — it's visible from the Northway near the Lake George exit.
An administrative section that accompanies the law stresses to drivers, "Pedestrians and skateboarders are at high risk in traffic. The law requires you to be extra careful to avoid colliding with them. Look out for children, especially near schools, bus stops, playgrounds, parks and frozen dessert vehicles…."
"Pedestrians who are crossing the street at marked or unmarked crossings, such as at an intersection, always have the right-of-way. You must yield to them by slowing down or, if necessary, coming to a complete stop. Elderly and disabled pedestrians may require extra time to complete their crossings." Blind pedestrians with a guide dog or a white cane always have the right-of-way in a crosswalk, even if the traffic signals are not in their favor.
Pedestrians have responsibilities as well as drivers. "No pedestrian shall suddenly leave a curb or other place of safety and walk or run into the path of a vehicle which is so close that it is impractical for the driver to yield," states the law.
Also, the law requires pedestrians to use sidewalks if they are provided. If not, they are to walk on the left side of the road or its shoulder, facing the approaching traffic.
The law also addresses another dilemma raised by Wozniak in her letter. She describes a situation where a driver stopped at a Voorheesville crosswalk because it was in use but an impatient driver behind the stopped car decided to go around and almost hit the crossers.
"Whenever any vehicle is stopped at a marked crosswalk or at any unmarked crosswalk at an intersection to permit a pedestrian to cross the roadway," says the law, "the driver of any other vehicle approaching from the rear shall not overtake and pass such stopped vehicle."
McNally also advises walkers to wear bright clothes so that drivers can easily see them.
Arrests are usually made after an accident, McNally said. It would be impossible to station police at every intersection to watch for violators although, McNally said, the police in Guilderland, if alerted, "would look at a problem area."
"We've gotten a lot better over time," he said of making the town more pedestrian friendly; he cited the example of the intersection of routes 20 and 155, where a traffic device allows time for pedestrians to cross.
McNally, who started his career as a police paramedic, doesn't like to talk about the accidents where pedestrians are hit, calling them "so sensitive."
He's right; they are. Lives can be ended or forever changed in an instant.
We wrote in 2001, for example, about a heroic recovery made by a Guilderland High School senior. Two years before, as a sophomore, he crossed Route 146 near the high school to get a sandwich at the deli across the street. He was hit by a car and was in a coma for 10 days.
"Through sheer strength of will, he fought his way back," said the high school principal at the time. "He went through extensive rehabilitation. It just shows what determination can do." The student went on to become his senior class president and gave a rousing speech at graduation.
We wrote in 2003, about a 28-year-old woman who was struck while walking on Route 146 in Guilderland Center at 3:15 a.m. "Why she was walking there, we don't know…We would love to know," said a Guilderland sergeant at the time. "Her prognosis is very poor."
We wrote in 2006 about a 41-year-old man crossing Route 20 near the Westmere Plaza. He was struck by a Honda Accord and dragged. The 19-year-old driver wasn't charged because it wasn't his fault; the pedestrian was struck in the middle of the road — he wasn't at an intersection or in a crosswalk.
In 2008, a man crossing Route 20 near Dutch Manor Stable was struck by a car. He lived but suffered a traumatic brain injury. He was hospitalized for 15 months, and suffers from mood swings, memory loss, and speech problems.
Earlier this year, we wrote about a 58-year-old woman whose Pomeranian mix broke away from her during their daily walk along Route 20. She stepped into the road after her dog and was hit by a semi-truck that had no time to stop.
"She gasped for breath a couple of times, but that was it," said a witness at the time. "She was pretty mangled — her arm bones were sticking out of the skin." The woman was pronounced dead on arrival at the hospital.
It's painful to remember these stories of lives cut short or forever altered. But we recount them here in hopes our readers — whether driving or walking — will pay heed.
— Melissa Hale-Spencer, editor"The term that goes out is 'due care,'" McNally told us when asked for his advice. "Drivers need to exercise due care and so do pedestrians."
---