[Home Page] [This Week] [Classifieds] [Legals] [Obituaries] [Newsstands] [Subscriptions] [Advertising] [Deadlines] [About Us] [FAQ] [Archives] [Community Links] [Contact Us]

Editorial Archives — The Altamont Enterprise, October 7, 2010
---
Editorial
Shackled with debt, we still must help the vulnerable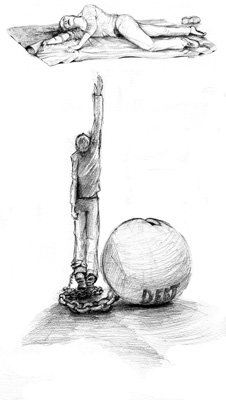 Illustration by Forest Byrd
"A nation's greatness is measured by how it treats its weakest members," said Mahatma Ghandi.
The same could be said of a county.
Albany County Executive Michael Breslin will be releasing a budget on Friday. He has a hard job, and so does the county legislature in the weeks ahead.
"Even though the recession has officially ended," says a report released by the state's comptroller, Thomas DiNapoli, on Tuesday, "the economy remains seriously damaged."
New York State lost 367,400 jobs, it says, and the unemployment rate peaked at 8.9 percent, a 17-year high.
The meltdown in the securities industry, which accounted for up to 20 percent of the state's tax collection, caused a sharp decline in tax receipts.
The comptroller's report indicates that future aid from the federal government could be limited by its own budget deficit, leaving New York localities to solve their own budget problems.
Taxpayers in Albany County are feeling the squeeze. Statewide, the comptroller's report says, foreclosures rose by 30 percent during the recession and home prices fell sharply. Personal income declined by 3.1 percent last year, the first annual decline in 70 years.
We're in the midst of a trickle down nothing like the sort that Ronald Reagan espoused with his supply-side economics — based on the idea that giving tax breaks to businesses would trickle down to help people across the board. Now, federal funds are being cut, leaving states to pick up the tab for programs. Then, in turn, cash-strapped states, like New York, are passing costs down to the county level.
During the Great Depression, Will Rogers quipped that "money was all appropriated for the top in hopes that it would trickle down to the needy."
Now, in the Great Recession, we need to be concerned about the needy while realizing that the once solid middle class is weary of or unable to continue paying more in taxes.
This is the setting in which the county must adopt its budget.
In the midst of such tough times, we would like to make a case for the most vulnerable — the victims of crime and sexual violence.
The progress that our society, as a whole, has made over the last several decades in recognizing rape as a crime has been hard won. In 1974, a group of volunteers started a much-needed rape crisis center in Albany.
When Albany's center was founded, people were becoming aware that rape is a crime, Karen Ziegler told us this week. She is the director of the county's Crime Victim and Sexual Violence Center, which evolved from that first Albany center, staffed by volunteers.
"There is still a stigma attached," Ziegler said. "We still see people who don't report to the police…."
"As a society," Ellen Schell told us earlier, "we don't deal with sexual assault very well." Schell directs the Legal Project, which provides low-cost legal services to survivors of sexual assault. "There are still some people who believe the woman is to blame, and other people who just don't think it's a big deal."
The people who work at the county center know that sexual assault is a big deal.
"We're honored by the people who chose to do this work," Ziegler told us this week, adding that, although the work is challenging, it can be a "spiritual journey."
The Crime Victim and Sexual Violence Center still uses dozens of volunteers, working with 13 paid staff members, to provide a 24-hour hotline, counseling for crime victims, court advocacy, and educational programs.
Volunteers are taught "the art of victim advocacy," as a training guide puts it. "An advocate is informed, educated on the complex systems involved, able to find an answer to a question they may not know, and, most importantly," the guide says, "able to empower the victim."
Counseling guidelines inform volunteers that victims often have difficulty communicating, many times not even being able to verbalize the crime. The counselors are to "provide a safe and supportive atmosphere for the victim to ventilate her feelings. Guilt, fear, and anger need to be discussed and dealt with in a positive manner."
Counselors are urged, "Point out the victim's strengths to her. She may feel helpless and out of control of her life. Help her to see that her inner resources helped her survive the assault. Her request for therapeutic intervention is also a strength. She may not be able to recognize this for herself at this time."
The center helps people of any age who have been assaulted at any time in their lives, even decades ago. The counseling is free and confidential.
The center also provides escorts for hospital visits and advocates for court matters.
This is important because so many women are sexually assaulted and so few press charges. Only about 10 percent of women who are raped go to a hospital emergency room, Ziegler said, and, of those, only about 10 percent press charges. The Rape, Abuse and Incest National Network estimates that one out of six women will be sexually assaulted in her lifetime.
"I would say fear is the biggest deterrent to women reporting sex crimes," Schell told us earlier. Fear compounds the problem. When victims remain silent, the perpetrators of sexual assault go unpunished. If they were jailed, they wouldn't be able to repeat their crimes.
It's hard to speak out since many survivors of sexual assault feel shame and feel they are re-living their trauma as they are questioned about it by police or if they testify in court. This is where the center can ease the way. It is currently involved in educating police and court officers on ways to ask questions that are healing not traumatizing.
"A lot of women are afraid no one will believe them because we're not totally past the point where women are blamed for this kind of thing," said Schell.
We need to stop the stigma. In no other crime does the victim feel shame. In no other crime are victims unwilling to tell police.
The Albany County center is doing valuable work in educating the community with the goal of preventing sexual assault in the first place. It is also working with victims and with police and hospitals in ways that could increase convictions for rape and sexual assault. Most importantly, it is working with women and their friends and family to make ravaged lives whole again.
The center currently has a budget of just under a million dollars — about half of it from the county and half from state and federal grants, both of which could be cut back. We urge the county to stand strong for its most vulnerable. If a woman survives assault and is healed to become a productive citizen, we all gain. If the stigma is lifted, we all move forward as a society.
— Melissa Hale-Spencer, editor
---