[Home Page] [This Week] [Classifieds] [Legals] [Obituaries] [Newsstands] [Subscriptions] [Advertising] [Deadlines] [About Us] [FAQ] [Archives] [Community Links] [Contact Us]

Editorial Archives — The Altamont Enterprise, September 9, 2010
---
Editorial
Handle conflicts in a constructive way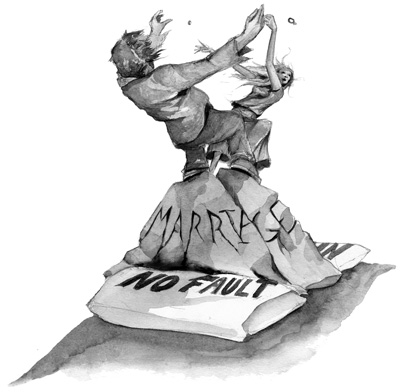 Starting next month, married New Yorkers who want to divorce quickly will no longer have to prove in court that that there was cruel and inhuman treatment, abandonment, imprisonment, or adultery. Those requirements may have served lawyers or private investigators well but weren't much help to those trapped in difficult marriages.
The governor in August signed a no-fault provision to the current law, which will take effect on Oct. 13. Before this, couples that wanted to part ways amicably had to live apart for a year after signing a separation agreement.
While New York is the last state in the union to enact a no-fault provision, it is among the first in the nation in another important way. The state is in the forefront of offering alternative dispute resolution services — like arbitration or mediation — at low cost or no cost to New Yorkers.
The state's Unified Court System funds a Community Dispute Resolution Center in every county in the state. The New York State Dispute Resolution Association, a not-for profit founded in 1985, lists specific programs that can help people solve problems outside of court.
The Lemon Law Arbitration Program, for example, provides a forum to settle disputes between consumers whose cars — or trucks, or motorcycles, or wheelchairs — turn out to be "lemons" and the manufacturers that produced them.
Another program for agricultural mediation offers farmers ways to resolve problems, and a program for special-education mediation gives parents and schools a way to reach agreement on a student's educational program.
What's the advantage of using a Community Dispute Resolution Center with mediators rather than a court with lawyers? It can be faster and cheaper.
According to the Dispute Resolution Association, 83 percent of all cases that entered mediation last year reached an amicable settlement, usually within weeks. Last year, about 40,000 cases were handled by Community Dispute Resolution Centers statewide.
The new no-fault divorce legislation provides a way of understanding some of the advantages of alternative dispute resolution. Local lawyers who work with mediation and collaborative divorce spoke to our reporter Jo E. Prout this week about their practices.
Kathleen Gleeson, of Kerker & Gleeson in Albany, said that the no-fault revisions will increase the amount of collaborative divorces, helping couples "moving forward in a respectful way, rather than focusing on who is the wrong-doer."
"I think it's a great forum for people," she said. "It's a team approach."
In the collaborative process, she said, a couple and their attorneys go through a series of conferences during which a mental-health advisor acts as a facilitator. Other professionals involved can include a child specialist, a financial planner, or a Realtor. All of them promise to work collaboratively, not taking sides.
With mediation, the couple uses a trained neutral mediator to work through their differences and reach an agreement. The mediator helps them communicate clearly and does not take sides or impose solutions.
"It's less acrimonious for kids," said Gleeson of using alternative methods.
Under the new no-fault divorce, issues of spousal support, child support, custody, and visiting as well as economic issues, including property distribution, all have to be agreed upon before the divorce is granted. Couples that want to divorce without having to prove one of them is wrong no longer need to wait a year.
The no-fault divorce will take some of the acrimony out of the process, according to a Guilderland lawyer, Anthony Pietrafesa, who offers divorce mediation services, leading couples through discussions on the issues affecting the dissolution of their marriage as well as offering financial planning so the divorcing spouses can make informed decisions.
"Before no-fault," said Pietrafesa, "you had to have fault. One person had to say nasty things about the other."
He also said the cost is less.
Gleeson agrees, citing a study by David A. Hoffman, an attorney, arbiter, and mediator at the Boston Law Collaborative who teaches mediation at Harvard Law School. Hoffman found a huge cost difference between mediation and litigation in some divorces: In a mediated divorce case, the combined fees to both parties were $15,671 compared to $155,492 for a litigated divorce, and $39,445 for a collaborative divorce.
But the worth of mediation over litigation — in a wide range of disputes — can be greater than a savings in money. With litigation, a judge or jury makes the decision based on an adversarial system where the people directly involved don't have much control of the process or the results. In mediation, those who are directly involved are the ones in control and the resulting agreements are more likely to be satisfying to both parties.
We recommend that all New Yorkers faced with resolving disputes — those in Albany County would call the Community Dispute Resolution Center, Mediation Matters, at 446-0356 — consider alternatives before going to court.
— Melissa Hale-Spencer, editor
---