[Home Page] [This Week] [Classifieds] [Legals] [Obituaries] [Newsstands] [Subscriptions] [Advertising] [Deadlines] [About Us] [FAQ] [Archives] [Community Links] [Contact Us]

Editorial Archives — The Altamont Enterprise, September 2, 2010
---
Editorial
Democracy withers without public discourse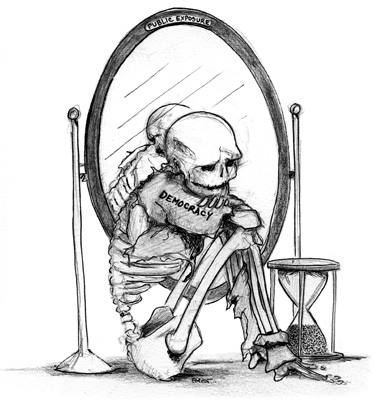 Illustration by Forest Byrd
Often journalists are unpopular with the people in power. We can raise questions that make them uncomfortable. But problems that aren't understood can't be fixed; that's why we write editorials.
Last week, our editorial asked, "Why did Altamont tweak police to keep Salerno?"
Members of the village board had held an illegal meeting where they worked out with Albany County's Department of Civil Service a way to circumvent the requirement that Anthony Salerno take and pass a Civil Service exam to keep his post as Altamont's public safety commissioner.
Salerno was chosen for the job five years ago from a pool of 14 applicants; he was appointed provisionally until he took the exam. Salerno said, after his name was not on the list of those who passed the exam, that he had chosen not to take it because he was planning all along to retire.
After canvassing the list and getting no response from the top three candidates, rather than pursuing other options — interviewing the fourth candidate, who was interested; making a provisional appointment; or working from lists of police chiefs — the board chose to restructure the Altamont Police Department so that it has 11 part-timers with Salerno as a "team leader." Salerno is now working 20 hours a week with a 50-percent pay-rate increase, so he earns just under the $30,000 cap that allows him to collect his pension as well.
This plan, passed unanimously by the board at a public meeting on Aug. 24 — the date by which the law required Salerno to vacate his commissioner's post – was worked out in advance. On Aug. 3, Mayor James Gaughan and the "Recruitment Committee," made up of trustees Kerry Dineen and Christine Marshall, met with the county's Civil Service Department. This meeting violated the state's Open Meetings Law in two ways. Gaughan, Dineen, and Marshall constituted a quorum of the five-member village board, which, by law, requires that meetings be posted in advance and open to the public. Also, as explained by Robert Freeman, the executive director of the New York State Committee on Open Government, "The committee itself is a public body covered by the Open Meetings Law, which means that the gathering should have been preceded by notice and held open to the public, unless there was a basis for going into executive session."
There was not. Restructuring the village police department does not meet one of the eight criteria allowed for executive sessions. If one of those eight were to come up in the course of an open meeting, the board could vote to adjourn to executive session to discuss it.
"It is essential to the maintenance of a democratic society that the public business be performed in an open and public manner and that the citizens of this state be fully aware of and able to observe the performance of public officials and attend and listen to the deliberations and decisions that go into the making of public policy," says the Open Meetings Law. "The people must be able to remain informed if they are to retain control over those who are their public servants."
Had the Aug. 3 meeting been open, as the law required, the public might now know, for example, why the director of the county Civil Service believes that Altamont has had difficulty recruiting and hiring part-time police officers when Salerno himself said at the Aug. 24 meeting that he had numerous applicants, and kept a list so that he was finally able to hire someone who applied for the job two years ago.
Elected officials, like the mayor and the village trustees, take an oath of office to uphold the law. To do this, they must be informed about the laws.
They ran afoul of the law again on Aug. 24. They allowed citizens to praise Salerno and they allowed Salerno to criticize a former trustee, Harvey Vlahos, but they did not allow Vlahos to criticize Salerno or to defend himself.
"There is federal case law that, if the door is open, it's open all the way," said Freeman. "If the board wants to say to the world, 'Sorry, we won't take any comments regarding employees,' that's OK. But, again, there are federal judicial decisions indicating that, if praiseworthy comments are permitted, then critical comments must be permitted as well." Freeman said that the issue would be the same if someone, like Vlahos, were criticized; comments on the other side must be allowed as well.
After Salerno in the public and televised Aug. 24 session had accused Vlahos of wanting "certain checks done on people" and implying "that certain people deserved tickets," Vlahos stepped to the microphone to defend himself.
"It's kind of like, could you take this outside? It's between two people," said the mayor.
Beyond that, the board allowed Salerno to speak about sealed Family Court cases. Salerno referred, by name, to a young man who had been arrested on the Altamont fairgrounds for having a loaded rifle in his car. The boy's father had told The Enterprise, as reported in a news story last week, "It's been spun into something it's not…He was target shooting in Altamont that day, then he went to the fair…He was sighting his scope at a friend's house in Altamont so his rifle was in the car…It wasn't fired. It wasn't leveled at anyone…There was a clip in it; it wasn't chambered; it wasn't ready to fire…He was leaving the fairgrounds when he was pulled over…."
"I almost lost an officer and a State Trooper Saturday because he almost got shot disarming someone that could hurt people in the crowd," Salerno said at the televised Aug. 24 meeting. "I buried officers; I know how it feels like, and he's protecting each and every member of this community and who was at the fair. Don't tell me it cannot happen here in this village…And that child was involved in several incidences where we were in Family Court as a juvenile and I was trying to correct his behavior and I was ridiculed….And it's got to stop. That's all I have to say."
"The Family Court Act says that Family Court records are presumptively not open to the public and there should be no indiscriminate public display of them," according to David Bookstaver, spokesman for the state's Office of Court Administration.
A police officer, like the board, should be aware of the laws and follow them.
The problems for the village may have further reach than the legal violations at the Aug. 24 meeting, which ran right up against the deadline for Salerno's dismissal as commissioner.
Since there was no public discussion of the restructuring ahead of the meeting, there was no time to air valid concerns about the department's reconfiguration. These concerns are separate from any individual's fondness for or fear of Salerno. One concern is that the state's Village Law requires that village police departments have a chief or commissioner. A practical problem arises when there's no chief with police experience to run the department in an emergency.
Secondly, with the mayor being put in a supervisory role as he has been over the Altamont Police, there is an inherent conflict of interest since part of a mayor's duty is to oversee the chief.
Finally, there are issues with liability, which Vlahos raised at the Aug. 24 meeting, but were not addressed. Municipal leaders have told us this week that, with a structural change in any police department, changes have to be made with the municipality's insurance carrier. We're not aware of the board discussing this or voting on this, at least not in public session.
All of these concerns loom large for the public. Letter writers addressed several of them last week. This week, we received four letters responding to our editorial page, including one from Trustee Dineen, one from her mother, and one from her brother. None of the letters addressed the issues. They were all concerned with the appearance of Trustee Dineen in the illustration that accompanied our editorial.
Artist Forest Byrd had drawn the mayor and the chair of the recruitment committee shaking hands in front of the public safety commissioner as they tweaked his mustache. "I don't draw caricatures," says Byrd. He sketched the people, who were not labeled by name but rather by position, so that they would be recognizable. He worked from old news photographs.
Although Byrd, after reading the editorials, comes up with his own ideas for illustrations, the newspaper's editor, Melissa Hale-Spencer, accepts full responsibility for their review and publication. We don't see Trustee Dineen as "a misshapen, old hag" — as one letter writer put it — either in the drawing or in real life. We had no intention of hurting her feelings. We had thought that the offensive part of the drawing was that the Civil Service exam was in the trash.
Trustee Dineen in her letter attacks the editor as starring in Mean Girls and construes the editorial page as a gender attack, writing, "The fact that a woman would try to tear down another the way you did is disgraceful!" Trustees Marshall and Dineen were mentioned in the editorial because they made up the "Recruitment Committee," not because they were females. The chair of the committee was pictured by Byrd along with two men — all because they were principal players.
Trustee Dineen also portrays our publisher, James Gardner, as hiding behind the editor. Actually, he is the one who, week in and week out, supports local news coverage that no other medium carries.
Trustee Dineen's letter also references the Enterprise's coverage of Sphere Development and the fallout from that coverage before the New Scotland town elections last fall. Although Dineen dismisses mention of any journalism awards with "yadda, yadda, yadda," we must point out that our Sphere coverage won statewide awards as well as an international award. Such awards are relevant because, as we said at the outset of this editorial, journalists are often unpopular with the people in power, the people being covered. Looking to the pinnacle of journalism, we would think it unlikely, for example, that Richard Nixon was pleased when The Washington Post won the Pulitzer Prize for its coverage of Watergate.
The "creative" writing Dineen references is from a quote in the Times Union's "Inside Politics" column. Greg Widrick, co-owner of Sphere Development, which wanted to build a large and unpopular mall in New Scotland, had told our reporter in an interview the newspaper taped, that he supported particular candidates in the upcoming town elections. When The Enterprise reported this, and those candidates balked, Sphere issued the first press release it had sent out since The Enterprise had broken the story on its project; this caught the attention of the daily. Widrick called the Enterprise story "creative journalism" just as Dineen is now claiming our article and editorial last week is "all personal, not factual, and certainly not journalism."
We're quick to run corrections when we've made mistakes. No one's pointed out any inaccuracies in last week's coverage.
We're hoping our community of readers will not be put off by the personal attacks on us but will focus instead on the issues we've raised and, ever optimistic, we're hoping that our public servants will do the same. Maybe we'll get some answers to the important questions that have been raised.
— Melissa Hale-Spencer, editor
---