[Home Page] [This Week] [Classifieds] [Legals] [Obituaries] [Newsstands] [Subscriptions] [Advertising] [Deadlines] [About Us] [FAQ] [Archives] [Community Links] [Contact Us]

Editorial Archives — The Altamont Enterprise, August 19, 2010
---
Editorial
Let's learn from those who have recreated themselves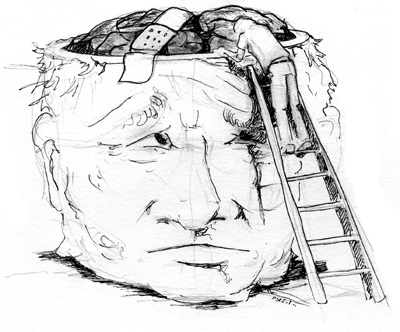 Illustration by Forest Byrd
Over the decades, we've often carried news of barbecues and picnics on our pages; one on Aug. 25 at Tawasentha Park deserves special notice.
It is being held in honor of Traumatic Brain Injury Awareness Day. What makes it remarkable is that the people who are planning it, who have proudly sent out the invitations to several hundred guests, are themselves survivors of traumatic brain injuries.
Tara Coons-Hulett started the day in 2008. That year, her father was crossing Western Avenue on foot after parking his car near Dutch Manor Stable in Guilderland. He had crossed the road to look at a pond; on the way back to his car, he was struck by a vehicle with a driver who did not see him. He was left with a traumatic brain injury.
Coons-Hulett's father was no longer her caretaker; she had to become his.
She started an organization, Fishing for Hope, to raise awareness and to raise money for the state's Brain Injury Association. She chose her father's birthday, Aug. 25, to celebrate Traumatic Brain Injury Awareness Day.
"Someone with a TBI will never be the same person they once were," Coons-Hulett told us earlier. "People do not realize how common this injury is."
The Centers for Disease Control, part of the federal Department of Health and Human Services, produced a report on traumatic brain injury in the United States, analyzing data from 2002 to 2006. An estimated 1.7 million people sustain a TBI annually, according the report; of them, 52,000 die, 275,000 are hospitalized, and 1.365 million, nearly 80 percent, are treated and released from a hospital emergency department.
TBI is a contributing factor in a third of all injury-related deaths in the United States, the reports says, and direct medical costs and indirect costs of TBI, such as lost productivity, totaled an estimated $60 billion in the United States in 2000.
Falls were the largest cause of traumatic brain injuries from 2002 to 2006 at 35 percent, followed by traffic accidents and being struck at 17 percent each, and assault at 10 percent.
Over the four years of the study, incidents were rapidly increasing. There was a 62 percent increase, for example, in fall-related TBI seen in emergency departments among children aged 14 and younger. There was also a steep increase for adults 65 and older — 45 percent in emergency department visits, 34 percent in hospitalizations, and 27 percent in TBI related deaths.
So, what is to be done to stem the rising tide of serious injury?
"Falls are not accidents!" asserts the New York State Department of Health in a website packed with useful information. "They are not random, uncontrollable acts of fate, but occur in predictable patterns, with recognizable risk factors and among identifiable populations. A fall is a predictable and preventable event."
Every day, because of falls, two older New Yorkers die, 136 are hospitalized, and 215 are seen in emergency departments. Falls statewide account for $1.5 billion in annual hospitalization charges, and 60 percent of adults 65 and older who are hospitalized due to a fall end up in a nursing home or rehab center, the state website says. Eleven percent of them suffer a traumatic brain injury.
The health department urges the elderly to begin a regular exercise program, which improves balance and coordination and lessens the chance of falling. It also advises an annual eye exam, and details ways to make homes safer since half of all falls happen at home.
The website — at www.health.state.ny.us — provides a step-by-step checklist for each part of a house, ranging from reducing clutter on stairs to putting grip strips in tubs and showers, to make homes safer.
Why not take fate in your own hands? See your doctor about an exercise routine; our paper often lists such programs for seniors. Go online to find the checklist that will help you make your home safer.
The advice from TBI groups is similar. To prevent injuries to the brain in traffic accidents, they stress the importance of wearing seat belts and driving sober. As Coons-Hulett put it: "Above all, people really need to be more aware of their surroundings. One step, one second, can change everything."
Part of prevention is preparation. Wear helmets while playing contact sports or while horseback riding, skiing, snowboarding, skating, skateboarding, or bicycling.
The state health department says that each year, about 50 New Yorkers are killed in bicycle crashes. "Brain injuries are usually the most serious injuries a bicycle rider will sustain," it says. "Helmets prevent many of these injuries or reduce their severity."
It explains in simple, direct terms how helmets help: "When your head hits the ground, your skull stops but your brain continues to travel, crashing against the skull. The impact of the brain against the skull bruises and damages delicate brain tissue. It often results in lifelong changes in the way you think, act, feel and move. Helmets absorb the shock of the impact, and prevent or reduce the severity of the crash between the brain and the skull."
By law, all cyclists in New York under the age of 14 must wear approved bicycle helmets. An offense can bring a $50 fine, but, if a parent can prove a helmet has been obtained, the fine is waived.
While Coons-Hulett's TBI Awareness Day drove us to find and share this information with you, the most compelling part of the story isn't in the numbers. It is in the human beings whose lives have been forever altered by their injuries.
This week, our reporter Anne Hayden has profiled a courageous group and their insightful leader, Laurie Bosco, who have come together to heal each other.
The support group, called Injury Acceptance Maturation, or IAM, Bosco said, "started out as more of a coffee klatch, where the survivors would vent, and get advice and support. Some of them would come in close to tears, and would leave in a great mood," she said. After realizing how beneficial the impromptu gatherings were, Bosco said, she and the survivors decided to form an official support group.
Their stories are compelling because they are told with honesty and without self-pity.
"When doctors tell you that you can't do something, it just makes you more determined to do it," said one of the TBI survivors; he never misses an IAM session, even when he's sick, because he wants to be there to help others who may need it.
Brain injuries do not heal the way that other injuries — like a broken arm or a punctured lung — do. People who suffer traumatic brain injuries have to reinvent themselves. Since at least Hippocrates, people have understood that the brain is the center of thought. Our brains define who we are.
"I've been through a long restorative process, and a lot of changing of my person. I'm just not the engineer I was; I've had to re-create my life," said one of the IAM survivors, who was in a car crash in 1992. Though he no longer considers himself an engineer, he is able to work part-time in an after-school program, teaching kids to play chess and the guitar, two things he loves.
He explained the meaning of the group's name, Injury Acceptance Maturation: First, there is the injury; then, the struggle, through grief and anger, to accept the injury; and finally, there is maturation, when the survivor can move forward with his or her new life.
We at The Enterprise have the greatest admiration for these survivors and, beyond recognizing Aug. 25 as their special day, we, each of us, can work to be aware and compassionate every day.
One of the IAM members spoke of a problem that the others in the group shared. He said his biggest frustration is the way people treat him when they find out about his accident. "They start to raise their voice and speak really slowly, like I'm a child," he said.
We, all of us, need to show more respect for these survivors who have done one of the hardest things a human being can do — let go of their identity and, through relentless struggle, created a new self. This involves, against great odds, learning to speak again, or learning to walk again, or learning to accept and love yourself again.
Most commendable of all is the way the men and women in this group are helping each other to heal. We can all learn from their example.
— Melissa Hale-Spencer, editor
---