[Home Page] [This Week] [Classifieds] [Legals] [Obituaries] [Newsstands] [Subscriptions] [Advertising] [Deadlines] [About Us] [FAQ] [Archives] [Community Links] [Contact Us]

Editorial Archives — The Altamont Enterprise, August 5, 2010
---
Editorial
Reach out to help a woman who has carved a life of self-reliance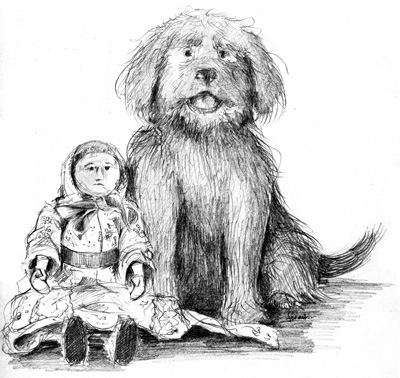 Illustration by Forest Byrd
I have a doll that looks like me. She has been perched on my mantle for a dozen years.
She was made by Irma Margarita Fox Garlock. Her round face, carved of wood, has deep-set eyes. Her brown hair is pulled back into a bun. She is jointed at the elbows so she can reach out and carry things, and also at the knees and hips, so she can kneel or sit up — all important things in imitating a human.
Her blue flowered dress, now faded, is painstakingly stitched by hand.
She is called a penny doll because dolls like her made two centuries ago sold for a penny.
Her worth to me is incalculable.
Mrs. Garlock, whom I had never met, gave the doll to me all those years go because she said she felt she knew me from the columns I had written. "I have read your column since you walked through the barnyard with white shoes on," she wrote in a firm hand at the age of 80.
I had written in 1990 about a tornado that had taken down the silo and ruined the barn roof at the Petersons' Bozenkill farm in Knox. A column I wrote to run with the story described three generations of Petersons, in the midst of great personal loss, treating me with chivalry. I had stupidly arrived on the barnyard scene wearing a dress and white shoes. The Petersons, all wearing sensible boots, tramped through the muck, to find paths for me to take where I could photograph their ruins without dirtying my shoes,
They spoke of the help they had received from friends and neighbors, of their plans to rebuild, and, in the midst of their crisis, they showed concern for a stranger. Not many people deal with hardship so stoically, and even fewer treat reporters like that.
I must have told Mrs. Garlock I could not accept such a gift. For she had written, in large letters, underlined: "No return." As a general rule, journalists shouldn't take gifts. In my more than 20 years at The Enterprise, I've been offered scores of gifts; I've accepted four — two bouquets of flowers, one home-baked cheesecake, and the penny doll. None of them were of great monetary value; none were from people I regularly cover, like politicians or officials; and none were from promoters of causes or products.
Mrs. Garlock said the gift was an apology for her abruptness to me, something that hadn't even registered.
"I never had a mother," she told me. "She died when I was not quite three." Mrs. Garlock did pass on some advice, though, that she had gotten from her grandmother, spoken as her daughter put on rouge: "If you is what you ain't and ain't what you is, then you ain't much of anything at all."
I took that as a testimony to her genuineness and accepted her gift.
I thought of those words last week when a long-time friend of Mrs. Garlock called the newspaper because she hoped we could help rouse the community to assist Mrs. Garlock who is living on her own in a dirty and cluttered house.
"She's stubborn as a mule," said her friend, Katherine Varin. "She's too proud and independent to ask for help…I called welfare. They were more concerned with the old dog than the old lady."
I called Albany County's Department of Social Services and spoke with two knowledgeable people there — Robert Kilcher, the department's assistant commissioner, and Patty Smith-Willsey, director for Adult Services. In news stories this week, our paper has outlined county services and written about a phone line to access them. We hope readers who know someone in need will call to find out about these services. There is no shame in accepting help if you need it. We all pay taxes so that, when we need them, we have services to help us.
"The client decides what help to accept and whether or not to accept help at all. We can't force any service on someone who has mental capacity," Deputy Smith-Willsey stressed. She contrasted this with Child Protective Services, concluding, "Adults have the right to live the way they want to live."
That's as it should be; government shouldn't interfere in people's lives if they are capable of making their own choices.
I visited Mrs. Garlock and was glad to see she still has her honesty and humor intact. And she still finds wonder in her world. Describing how she came to carve things, she told me, "I dabble at it. I go outside and look all around and see all the beauty there is. Nobody can really copy that."
But I could also see that Mrs. Garlock is 93 years old and in need of help. She wants to live independently as she has for decades in the little house she built with her own hands. It is very dirty and stacked high with piles of stuff.
Ms. Varin reported, "One day, I asked her, 'Wouldn't it be nice if this were all fixed up?' and she said, 'Yes.'"
But how can that be accomplished?
If a house is found to be structurally sound and is difficult to live in because of extreme clutter, Director Smith-Willsey told us, "We might get someone in to do a mass cleaning."
I explained that a mass cleaning might not be the best solution. Mrs. Garlock has a lifetime of treasures layered in the piles that clutter her home. She ferrets out jewelry she has made, rocks she has collected, pictures she has saved.
Mr. Kilcher said, "That sounds like friends and family and concerned neighbors that would take that type of time to assist a person."
It does, indeed.
But what if a person grows so old that she has outlived most of the people who once knew her?
We're hoping by writing about Mrs. Garlock, people in her community might come to her aid in the same way they helped the Petersons some 20 years ago, written about in the column she admired.
A concerted effort to work with Mrs. Garlock to carefully sort through and organize her things, discarding the trash, while thoroughly cleaning the small house may allow her to happily live the rest of her life in a place she loves.
Mrs. Garlock isn't asking for help, just as I wasn't asking for a gift. But, if she accepts it, the gift of help could enrich her life as the wooden doll has mine.
— Melissa Hale-Spencer, editor
---