[Home Page] [This Week] [Classifieds] [Legals] [Obituaries] [Newsstands] [Subscriptions] [Advertising] [Deadlines] [About Us] [FAQ] [Archives] [Community Links] [Contact Us]

Editorial Archives — The Altamont Enterprise, July 22, 2010
---
Editorial
Give our kids the world, they'll hit a home run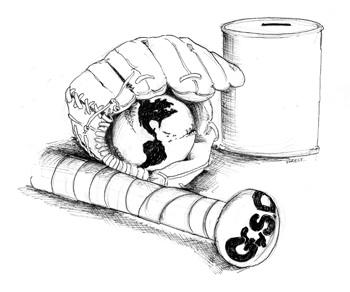 Illustration by Forest Byrd
Time is growing short for sports boosters who want to ensure that Guilderland students are offered a full program this fall. All of us should care about this — not because we want to win games or titles, but because we care about the health of our children and about their success in the future.
We find no fault with the cuts to sports made by the Guilderland School Board in April, and adopted as part of next year's budget by the voters in May.
State aid to schools is expected to drop dramatically — the state budget is more than three-and-a-half months late so no one knows precisely how much Guilderland will lose. Pension and health-care costs are up, and real estate, on which tax rolls are based, are stagnant at best. The board ended up cutting 40 jobs for next year and sports were not immune, nor should they have been.
The district's goal was to make cuts across the board so that no one discipline was gutted. It was only fair to make some cuts to sports.
Freshmen football and boys' and girls' soccer were cut from the fall roster, and boys' lacrosse, baseball, and softball were cut from the spring season. Additionally, the repeat sports of fall cheerleading and winter track were cut at the junior-varsity and varsity levels; those sports are for both boys and girls.
What is remarkable isn't the cuts but the response of the community. The various booster clubs have worked together with others to raise funds to re-instate the cut teams. This hasn't happened to restore the other cuts.
The reason was embodied in the statement Wayne Bertrand, Guilderland's athletic director, made to us back in April. "Athletics," he said, "is a huge part of the community. It brings a community together…Athletics teaches life skills."
We've recently read research that backs up the importance of sports in a way that hits home. We graduated from Guilderland High School before the passage of Title IX. The 1972 Education Amendments to the Civil Rights Act made sweeping changes to high-school athletics. Schools receiving federal funds had to provide the same opportunities for girls as they did for boys.
At the time we were in high school, fewer than 4 percent of girls played competitive sports. The few of us who did didn't have proper team uniforms — only the cheerleaders had those. We had to wear our gym suits; these were one-piece red cotton suits with snaps down the front and bloomer-like bottoms.
Our coaching came from overworked gym teachers who carved out the extra time for us from the goodness of their hearts, and our transportation wasn't on a school bus. We had to scavenge rides from willing parents to play the few other teams in our area.
By 1978, a quarter of all high school girls were playing team sports — a six-fold increase from 1972. And today, about half of all girls play sports in high school.
Two Chicago researchers — Robert Kaestner at the University of Illinois and Xin Xu at the Institute for Health Research and Policy — centered their study, recently published in Evaluation Review, on Title IX girls' participation in high-school sports and found it caused an improvement in weight and body mass.
"We studied the effect of this increase in sports participation and athletic opportunities while young on the physical activity and weight of adult women some 20 to 25 years later," they write. "Our results indicate that adult women who were affected by Title IX and had greater opportunity to participate in athletics while young had lower body mass index (BMI) and lower rates of obesity and reported being more physically active than women who were not afforded these opportunities.
"In contrast," they write, "adolescent boys experienced a decline in physical activity and an increase in weight and body mass during the period when girls' athletic opportunities were expanding. Taken together, these results strongly suggest that the increase in athletic opportunities among adolescent females it engendered had a beneficial effect on the health of adolescent girls."
While the Guilderland School District — in the midst of a national obesity epidemic — has been forward thinking in adopting a wellness policy and in gradually replacing unhealthy cafeteria foods with healthier menus, the value of playing school sports is not to be ignored.
But, teaching life skills goes beyond health lessons.
Betsey Stevenson, an economist at the University of Pennsylvania's Wharton School, used Title IX to measure the effect of sports on later successes in life; her study was published in May in The Review of Economics and Statistics.
"Previous research," Stevenson wrote, "has found that male high school athletes experience better outcomes than non-athletes, including higher education attainment, employment rates, and wages. However, students self-select into athletics so these may be selection effects rather than causal effects."
To address this, Stevenson examined Title IX, which she described as "a unique quasiexperiment" and used the variation in the level of boys' athletic participation across states before Title IX as an instrument for the change in girls' athletic participation over the 1970s.
She documents statistical evidence that an increase in sports participation engendered an increase in female college attendance and in female labor participation.
Stevenson found that the floodgates opened by Title IX explained about 20 percent of the increase in women's education and about 40 percent of the increase in employment for women between the ages of 25 and 34.
"Furthermore," writes Stevenson, "greater opportunities to play sports leads to greater female participation in previously male-dominated occupations, particularly for high-skill occupations."
Life lessons, indeed.
Stevenson showed that it's not only that those who are going to do well in life play sports but that sports help people do better in life. While her study only applies to girls, it's reasonable to conclude the same would hold true for boys.
Don Snyder, a retired Guilderland teacher who founded the district's soccer program and coached the varsity team for decades, told the school board a personal story this spring. As a high school freshman, he said, he was shy and didn't go out for his school's soccer team.
"The other guys looked bigger," he said.
The coach took him aside and said, "Son, I think you should come out for this team," Snyder recounted. "The man changed my life." Snyder played soccer through four years of high school and four years of college, playing on a team that won a national championship.
Snyder, in turn, changed others' lives. A slogan he used in recruiting some of the original players at Guilderland, where football had been king, was, "If you're good enough, you're big enough."
"The story," said Snyder, "is about the teachers and coaches who impact lives…But the window of opportunity doesn't exist forever."
That's why we admire the booster clubs and citizens who have come together to try to raise the $60,000 needed to restore the cut sports teams. They are working to keep that window open. Rather than splintering with an each-for-his-own approach, they have formed the Friends of Guilderland Athletics, which held a fund-raiser Tuesday.
One of the contributors at the fund-raiser, Josh Murray, a recent graduate, remembered playing football, basketball, and lacrosse as a freshman. "Being on those teams helped me adjust to high school," Murray recalled. "It's a shame if you can't give the kids all the opportunities."
Emilio Genzano, who chairs the Friends, told us that the group has until Aug. 6 to raise $24,000, the first necessary installment to ensure fall sports.
We hope our readers will contribute. Checks may be made payable to "Friends of Guilderland Athletics" and mailed to Post Office Box 82, Altamont, NY 12009.
We know times are tough. But one of the things we learned on the Guilderland playing fields all those years ago was that, when the going gets tough, the tough get going, and a team working together can carry the day.
— Melissa Hale-Spencer, editor
---