[Home Page] [This Week] [Classifieds] [Legals] [Obituaries] [Newsstands] [Subscriptions] [Advertising] [Deadlines] [About Us] [FAQ] [Archives] [Community Links] [Contact Us]

Editorial Archives — The Altamont Enterprise, July 15, 2010
---
From the editor
Navajo tradition: Weaving pain and pride, history and hope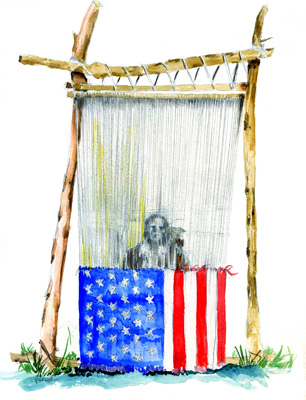 Illustration by Forest Byrd
Sometimes you can hold history in your hands.
Last week, as I traveled to the West with my family, I searched for a Navajo rug for my mother. She is a weaver and has made many fine rugs.
As we stopped at roadside stores for tourists, I looked through the piles of rugs. None of them seemed right. At a store that was honest enough to admit its "Navajo" rugs were made in India, I asked if there were a place to look at real Navajo rugs. I was directed to the R. B. Burnham Trading Post.
There, midst the red clay and sagebrush in the seemingly endless Navajo reservation, was the post.
As I walked through the door, I thought I must have made a mistake. This was not like the high-toned museum-like galleries in Santa Fe or like the roadside tourists' stores brimming with bric-a-brac on the highway between Flagstaff and Albuquerque. Rather, it looked like a modest grocery store. Cans of soft drinks and loaves of bread lined the shelves.
Still, we had come this far, so I asked about Navajo rugs. We were taken to a nook in the back of the store with cases of native jewelry and walls lined with a rugged rainbow of colored skeins of wool.
At the back of the nook was a doorway protected with iron bars. The gate swung open to reveal a treasure trove — the small room was crammed with brilliant masterpieces of Navajo weaving.
The post's proprietor, Bruce Burnham, became my guide to a history that was more than colorful. It was woven into the rugs that he had bought and sold over the years.
Burnham is a trader who cares more about the Navajo people than about profit. He had recently been named a judge for his community and said how hard the work was. He knew the people who came before him and felt like siding with them over the cops.
Trading is in Burnham's blood. His great-grandfather, George Franklin Burnham, had been a trader with the Navajo; he was a Mormon with three wives, and traded out of a wagon. Burnham's father and grandfather were traders, too.
After serving in the Army and spending time in Haight-Ashbury in the 1960s, Burnham came home when his father needed him.
"He was on his deathbed and I realized where I belonged," he said. "I never saw the beauty of the country before. It gave me a better perspective on what I was here to do. Wild horses couldn't drag me away after that."
Burnham learned the Navajo language, which he describes as pure and almost like praying, and he married a Navajo woman, Virginia.
"We never developed a wealth base. We live with these impoverished people and eke out a living," he said. "We didn't want to take more than we had to."
Burnham went on, "I tell my children, 'Find work you love to do. Don't work just for the money.'"
As I look through his rugs and listen to Burnham talk about them, I realize he loves his work. I find a rug that I believe my mother, who also loves her work as a weaver, would want. It is small, tightly woven, with natural colors on the ends and brilliant blue and bold red in the center. The rug is in the classic banded style, without a border. A tag is stapled to the corner that says it was woven by Melissa A. Lewis, and it lists a "pull date" of Nov. 22, 2008. I feel a kinship to the weaver because we share a name.
Burnham tells me the rug was made as a learning piece by a girl taught by her grandmother. He points out a slight irregularity on its long edges, the mark of a beginner. "Mothers are too busy," he said. "So the grandmothers teach their granddaughters to weave."
I ask about the pull date and his answer brings tears to my eyes as I hastily let go of the rug.
Burnham says it is a pawned rug. He explains that there is a system on the reservation where the Navajo bring items to him in exchange for goods or money. He keeps them until they can pay him back and retrieve their rug or their jewelry. I tell him I could not possibly take a rug from someone, from another Melissa, who would one day want it back.
He shakes his head and smiles. He patiently says the pull date, the date by which she was to retrieve it, was nearly two years ago. In such cases, he talks to a family to be sure they no longer want the item. It's good business, he says, because people need to trust him or they won't come back. Relinquished items often go to auction and Burnham points out "my" rug already has an auction tag attached to it.
So it does.
I pick up the rug again as he tells me about its pattern, rugged diamonds with zigzag edges. Burnham calls it Chinle, an area by the Canyon Dechilli. Pronouncing it de-shay, Burnham spells out the canyon's name for me, although most spell it de Chelly; it comes from the Navajo for "rock canyon," tsegi, which the Spaniards had trouble pronouncing.
"A trader by the name of Cozy McSparron worked for years in the Chinle area," says Burnham, "and promoted that design."
And so he begins the story of a part of American history I should have known but did not. As the East Coast of our country was embroiled in the Civil War, the Navajo were being routed out of their native lands by the United States Army in a scorched-earth campaign. They had lived in the Canyon Dechilli since 1600, building their hogans there and raising their crops and their sheep. Kit Carson's troops burned their homes and crops and killed the sheep on which they had relied for meat and wool.
In relating this history, Burnham is charitable towards Carson. "He was sent to kill man, woman, and child. Instead, he handed 'em to the military," said Burnham.
In 1863, the same year that the Battle of Gettysburg was fought, the Navajo were under siege by Carson's troops. The troops marched the Navajo across New Mexico to the Texas border as many died along the way. The Navajo call this the Long Walk.
"They were incarcerated at Bosque Redondo; that's Spanish for Circle of Trees. The Americans called it Fort Sumner," says burnham. His voice grows husky as he continues, "The Navajo name for it is Welte. That's a powerful word that means extreme dread — so powerful it's almost debilitating; it hurts."
The Navajo spent four long years in captivity. "Their flocks of sheep had been destroyed; their tribal resources decimated," said Burnham. "The water was alkaline and wouldn't support a crop. Many ended up starving to death."
To make their traditional blankets, the Navajo would unravel whatever they could find to weave into patterns that brought harmony and beauty as well as warmth and comfort to their fractured lives. The Army began supplying the Navajo with yarn made in Germantown, Pennsylvania.
"This jumpstarted an important new period in Navajo weaving," said Burnham. The aniline dyes produced much brighter colors than the natural dyes the Navajo had used before.
After the United States and Navajo chiefs signed a treaty in 1868, the Navajo began their long trek home. With their sheep wiped out, the government continued supplying yarns.
In the decades that followed, weavers became creative, incorporating objects from trains to trees into their designs. I noticed an old rug that included what looked like a swastika design. Burnham explained it was an ancient symbol but the Navajo stopped using it after Adolf Hitler confiscated the symbol. "The Navajo are very patriotic," he said. "They wouldn't use it after that."
As railroads crossed the country, bringing tourists with them, new markets opened up for native creations. Traders played a formative role in shaping what Navajo weavers produced. Rugs were sought after for Victorian parlors so, rather than making blankets for personal use, Navajo weavers would make rugs for sale or trade to sustain their families.
"Traders became involved in weaving," said Burnham. "They knew what kind of rugs they could sell…Weaving became a regional thing. The area around each trading post had its own designs." Burnham's great uncle promoted the Crystal style named after the place.
With the turn of the century, a wave of nostalgia swept the nation as Americans sought rustic goods with natural colors as opposed to the bright Germantown dyes.
Burnham showed me a small rug of simple design made of handspun wool, naturally dyed, that was priced the same as a large and intricate masterpiece. He said he had to charge as much for the small rug because of the work that went into it.
After World War II, the economy on the Navajo reservation was no longer one based on bartering, but rather on cash. This made it hard for weavers to sustain themselves when so much time had to be spent on spinning and dying yarn before weaving it. As the years went by, fewer women were weaving and passing the tradition on to their daughters.
Burnham became concerned not just that the art of Navajo weaving was dying but that the people he cared about were finding it harder to eke out a living. He worked with John Wilde & Brother, a Germantown, Pennsylvania company that still custom blended wool. Together, they produced Wilde and Wooly rug yarn, using vegetable dyes to replicate authentic Navajo colors.
Then the pair went on to re-create the brilliant yarns that marked the era at Bosque de Rhonda, and inspired such dramatic artistry in the native weavers.
Burnham worried that he would lose some of his valuable customers, those who collected the very expensive original Germantown rugs. Instead, they became eager buyers of the new alkaline-dyed rugs. "They liked seeing what their rugs originally looked like," he said.
The re-created yarns, besides being an economic asset for the weavers, have also inspired their artistry.
"It's started a whole new period of creativity," said Burnham. "We thought we'd seen it all. But look at this."
He holds up an exquisite rug dominated by a bright hummingbird. Its colors are so vibrant that the bird seems to hover above the dark surface of the rug.
"Do you see what it is?" Burnham asks.
I look closely, focusing on the rug beyond the hummingbird. In a bright oval, I can make out the vivid red lips of a woman and the profile of her nose.
"It's a mother in a shroud," says Burnham. He tells of the Navajo belief that, if someone dies before his time, he can reappear as a hummingbird.
The rug was woven by Mae Clark; Burnham has known her since she was a child.
"She writes poetry and stories about her weaving," he says.
"You pay a price to be part of their culture," Burnham says of the Navajo. "They expect you to be part of the solution."
— Melissa Hale-Spencer, editor
---