[Home Page] [This Week] [Classifieds] [Legals] [Obituaries] [Newsstands] [Subscriptions] [Advertising] [Deadlines] [About Us] [FAQ] [Archives] [Community Links] [Contact Us]

Archives — The Altamont Enterprise, July 8, 2010
---
Commentary
Graduates must learn to live deep and suck out all the marrow of life
By Jo E. Prout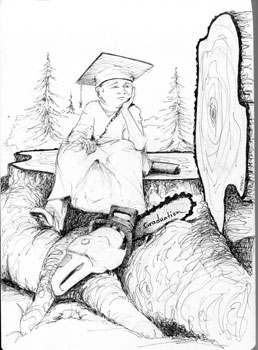 The older I grow, the more I find myself turning to Henry David Thoreau's Walden. At times a crankpot, at others an insightful man, Thoreau was a thinker.
In today's terms, a thinker is someone who can perform several tasks while thinking on his feet. In Thoreau's era, a thinker was someone who thought, who romanticized, who drew conclusions only after familiarizing himself with both the classics and his own personal experience.
Graduating seniors this year have probably already read Walden, although I didn't find it until university. My list of high-school activities seems paltry, now, compared to the modern graduates, of which I know six. As my own children are young, I find it distressing to realize that these beautiful children whom I knew from their infancy and early childhood are now graduating from high school. Where did the time go?
"Our life is frittered away by detail. An honest man has hardly need to count more than his ten fingers, or in extreme cases he may add his ten toes, and lump the rest. Simplicity, simplicity, simplicity! I say, let your affairs be as two or three, and not a hundred or a thousand."
These last 18 years have been filled by the details of my daily living, with these young people I love growing so quickly, glimpsed only occasionally during birthday parties, theater productions, and Christmas newsletters. Lily, Kaylen, Austin, Jay, Nathan, and Katrina are bright, capable new adults who've learned already to multi-task, compete, and succeed. Being young and successful, some of them like the busy-ness, and the competition, on the road to college.
"Morning is when I am awake, and there is dawn in me…We must learn to reawaken and keep ourselves awake, not by mechanical aids, but by an infinite expectation of the dawn, which does not forsake us in our soundest sleep."
Thoreau may have known about sleeping through an early-morning class, but his words, in seriousness, inspire us to keep our faculties fresh, and to look for the perpetual dawn within us. This year's graduates take these words to heart.
Lily is the queen of busy, and a simple fact explains why; she was a "Make-a-Wish" child, and she survived. She is living every moment, so she can cure someone else. We've done theater together, but those theater days grew further and further apart as college applications came nearer. When she seemed to have palpitations about upcoming advanced-placement exams last year, I suggested she read Walden. She already had, and had enjoyed the class discussion of Thoreau. Lily's an academic gunner, but in a kind, selfless way.
Kaylen, her sister, worked with me in theater, too, and once braved a bitter cold day dressed as a princess to help a not-for-profit organization. I relied on her to take a leading role in a different play, and she stepped up to carry the show. A strong, capable actress and athlete, Kaylen is an academic, too, hoping to earn a degree in creative writing.
Austin was a tiny little guy when I met him. Now 6 feet, 5 inches, Austin is a composed, interested academic who plays at least two instruments, several sports, and hunts. He wants to be a doctor, and his outwardly serious and calm nature leads one to believe his bedside manner will be outstanding.
Jay is an outdoorsman like no other. He worked toward his Eagle Scout rank this year, and it was from him that I learned about lean-to camping. I'm still flummoxed about why he goes lean-to camping in February, but his family assured me once that he enjoys it. I remember him working on his 4-H project at church as a third-grader, sitting quietly in a room steps from the sanctuary, taking part in a religious family tradition in his own way where he was more comfortable. Jay is a sincere, responsible, and caring graduate, who hopes to get his academic feet wet at a local community college next year.
Nathan wants to study sports medicine. As long as I've known him, he's been an athlete. I wondered at such a hyper 7-year-old when I had a quiet toddler, only to realize later that Nathan had been a normal 7-year old. By the time my own son had become the hyper one, Nathan had grown into a kind student who went to church camp, loved a girlfriend, played baseball, helped maintain the church building, and juggled school and activities as well as his classmates.
Katrina may wonder why I include her here; I haven't laid eyes on her for 13 years, except for the pictures her mother sends at Christmas each year. I remember her beautiful, deep voice, unique even as a babe, and the way her eyes lit up with each new experience. I remember taking her to the zoo, getting her up from a nap, helping her brush her teeth. Then I learned that she could read! She grew older still and accompanied the musicians for Mass.
Little Katrina! No longer little. She worked hard on her homework, traveled, and now she has graduated. In all this time, the details in my life became like a hundred or a thousand, and the details in her life multiplied, too.
Each new graduate has been expected to handle and excel at so many things; advanced-placement physics, varsity baseball, book clubs, biology internships. Can they keep dawn in themselves while being outwardly bombarded with details?
"I know of no more encouraging fact than the unquestionable ability of man to elevate his life by a conscious endeavor. It is something to be able to paint a particular picture, or to carve a statue, and so to make a few objects beautiful; but it is far more glorious to carve and paint the very atmosphere and medium through which we look, which morally we can do. To affect the quality of the day, that is the highest of arts."
Self-reflection. These graduating seniors must feel as though they spent the last year in self-reflection as they wrote scads of application essays. Perhaps, in the year 2010, self-reflection implies self-review. One can also strip away the details one reviews to find one's substance.
"I went to the woods because I wished to live deliberately, to front only the essential facts of life, and see if I could not learn what it had to teach, and not, when I came to die, discover that I had not lived. I did not wish to live what was not life, living is so dear; nor did I wish to practice resignation, unless it was quite necessary. I wanted to live deep and suck out all the marrow of life, to live so sturdily and Spartan-like as to put to rout all that was not life, to cut a broad swath and shave close, to drive life into a corner, and reduce it to its lowest terms…"
Driving life into a corner is what the new graduates attempt with their multi-tasking and multi-stressing, and they're doing a good job. They have goals and they know how to achieve them, each in their own way. As young, college-bound students, they will clothe themselves in the details of their chosen professions, taking, and attending, those early-morning classes, and vying for internships and teaching-assistant positions. They will live deeply and embrace their new experiences.
My hope for them is that, in time, they will have found themselves where they are content. If they choose, they may be reawakened, able to remove some of the layers of details, able to see the bone marrow of their existence, having created lasting beauty in their writing, their professions, and their families, and having found personal acceptance in self-reflection.
I hope the graduates will embrace life without frittering it away, and remember to value simplicity, to think deeply, and to be able to give a true accounting of their lives, to themselves. I wish them peace.
---