[Home Page] [This Week] [Classifieds] [Legals] [Obituaries] [Newsstands] [Subscriptions] [Advertising] [Deadlines] [About Us] [FAQ] [Archives] [Community Links] [Contact Us]

Editorial Archives — The Altamont Enterprise, July 1, 2010
---
Editorial
Pushing the medical marijuana issue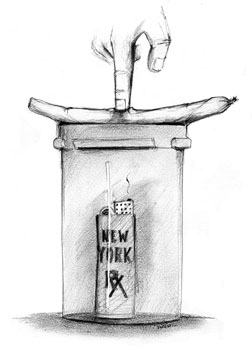 Illustration by Forest Byrd
Our Guilderland reporter, Anne Hayden, covered a rally at the State Capitol on Friday in favor of legalizing marijuana. A local politician, Guilderland Councilman Warren Redlich, spoke at the rally. He's running for governor on the Libertarian line. "No one should go to prison for what they put in their body," Redlich says on a website he created called repeal.net. "The drug war has failed, and created great harm to our society."
We believe there is a need for society to control some of the substances people put in their bodies. If everyone were allowed to shoot up heroin or snort crack, we can imagine a number of threats to general safety would ensue.
But there is one drug that is widely used recreationally that had been, for centuries, used medicinally; it should be allowed for use as a medicine again.
That drug is cannabis.
New York's Assembly and Senate are currently poised to vote on bills that would legalize the use of medical marijuana in New York, much as it is now in 14 other states.
The proposed law is different than in the other states, though, and, in the opinion of Craig Burridge, the executive director of the Pharmacists of New York, better. That's because it sets up a system where patients would buy the drug from pharmacists. "There is no one better trained in dispensing controlled substances than a pharmacist," Burridge told us.
Right now, some patients are driven to buy marijuana illegally on the street. Earlier this year, a Voorheesville student, Tyler Cooper wrote us a letter because he was offended by a poster in his school that said, "Marijuana doesn't have medical benefits."
Tyler and his mother, Donna Cooper, recalled how, five years before, Tyler's uncle had died after a drawn-out battle with cancer. Nearing his third year of remission, his cancer returned — first to his heart, then spreading to his lung. Since the growths couldn't be surgically removed, he had to undergo intense chemotherapy and radiation treatment.
The severe nausea and lack of appetite that followed the treatments were painful and made it hard for him to maintain his weight, Ms. Cooper told our reporter, Saranac Hale Spencer. He began using marijuana to help settle his stomach and allow him to get some nutrition.
His doctors were very aware, Ms. Cooper said, and their attitude was, "Keep up the good work. You've got to do what you've got to do."
She described the heartache of having to watch him break the law to medicate himself.
He is not alone. Burridge pointed out that the New York law, if it is passed, would make the medicinal use of marijuana less dangerous for ill patients because, when a patient buys marijuana on the street, it could be laced with other, dangerous chemicals.
Those who oppose the bill have said marijuana is a "gateway drug," and would lead to other drug use. Burridge's response to that: "I always say marijuana is a gateway to the refrigerator more than anything else," he quipped, alluding to the way marijuana stimulates appetite.
Medical marijuana can be used to induce appetite and reduce nausea in patients who are undergoing chemotherapy or other harsh treatments that can affect the stomach. Burridge said it can also be used to relieve pain for patients with glaucoma or muscle-wasting diseases.
A report commissioned by then-President Richard Nixon in 1972 included a history of marijuana's uses through history — in China, India, Egypt, and in America from the mid-19th Century to the 1970s.
"In large measure," the report said, "the marihuana issue is a child of the sixties, the visual and somewhat pungent symbol of dramatic changes which have permanently affected our nation in the last decade…We would de-emphasize marihuana as a problem."
Some forty years later it is, indeed, time to let go of the prejudices some may hold against a plant that came to symbolize dramatic change.
The Food and Drug Administration, which determines what drugs will be available for public use, has gone on the record about the benefits of medical marijuana. The FDA's Robert Myer in 2004 addressed a Congressional subcommittee on the "potential merits of cannabinoids for medical use."
"Despite it status as an unapproved new drug, there has been considerable interest in its use for the treatment of a number of conditions, including glaucoma, AIDS wasting, neuropathic pain, treatment of spasticity associated with multiple sclerosis, and chemotherapy-induced nausea," Meyer said of marijuana.
Now is the time for New York to join the ranks of the enlightened and allow its citizens when they are ailing access, legal access, to a useful drug.
— Melissa Hale-Spencer, editor
---