[Home Page] [This Week] [Classifieds] [Legals] [Obituaries] [Newsstands] [Subscriptions] [Advertising] [Deadlines] [About Us] [FAQ] [Archives] [Community Links] [Contact Us]

Editorial Archives — The Altamont Enterprise, June 3, 2010
---
Editorial
Marking anniversaries can make us wise and worthy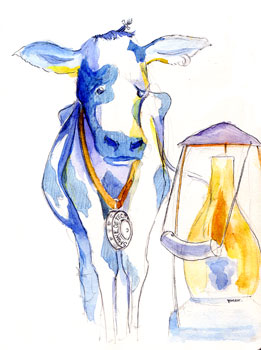 Human beings mark anniversaries — both personal and public.
We received an announcement Tuesday from the National Fire Protection Association that the theme for this year's Fire Prevention Week will be "Smoke Alarms: A Sound You Can Live With." Although the prevention week isn't until October — timed to observe the anniversary of the Great Chicago Fire of 1871 — it was a timely announcement for us.
In the wee hours of Memorial Day, a fire blazed at the Governor's Inn on Western Avenue in Guilderland, leaving six people who lived there homeless. They are lucky to be alive.
"Everybody talks about firefighters having courage, and, until you see it in action, it's just words," said Donald Gaitor, chief of the Guilderland Fire Department, which battled the blaze with five other departments. Gaitor said his blood ran cold when he saw the scope of the fire, but that the firefighters from the six local departments worked together like a well-oiled machine to control the blaze within 45 minutes.
Gaitor also told our reporter, Anne Hayden, that the residents at the Governor's Inn had not heard any type of alarm to alert them to the fire; it was the smell of smoke that awakened them.
The National Fire Protection Association reports that most home fire deaths — there were 2,755 in 2008 — are in homes with no smoke alarm or where the alarm isn't working.
The lesson is clear and we don't have to wait until next October to learn it: Install a working smoke detector in your home if you haven't already.
The NFPA is justifiably proud of Fire Prevention Week being the longest running public health and safety observance on record; it's been going strong for 88 years. A half-century after the Great Chicago Fire, the country was ready to take stock. Most of us know some version of the ditty about Kate O'Leary's cow starting the fire:
One dark night, when we were all in bed,
Mrs. O'Leary left a lantern in the shed.
The cow kicked it over, winked her eye and said,
"There'll be a hot time in the old town tonight."
The fire raged for three days from Sunday, Oct. 8, to Tuesday, Oct. 10, carried by strong southwest winds to the heart of Chicago. Tired firefighters fought flames fueled by wooden buildings, burning after a long drought.
Four square miles burned and hundreds of people were killed.
More than 40 years after the fire, Michael Ahern, the police reporter from The Chicago Republican, under whose byline the story of Mrs. O'Leary's cow first appeared, said he made it up, according to the Chicago History Museum's telling of "The O'Leary Legend"; another reporter then claimed to have ghostwritten the story for Ahearn because, "The booze got him many years ago, and he has not been able to do any newspaper work."
The Guilderland Police Department is still investigating the cause of this week's motel fire. We promise we'll report on the cause accurately once it's determined.
Another anniversary also caught our attention this week. A 13-year-old Berne-Knox-Westerlo student, James Wyatt Spencer, died a year ago, on May 28, after he had an accident riding an off-road vehicle.
The high school principal, Thomas McGurl, said that five BKW students rode their tractors to school last week to honor Wyatt Spencer.
Described by his parents as loving and smart, Wyatt Spencer had liked helping out with farm work, especially helping his mother care for their alpacas. He also loved riding his Honda 100 motorcycle and his Yamaha Warrior 350 all-terrain vehicle.
While the principal was moved by last week's tribute, he was also surprised, and worried about students' safety and the disruption of classes. The tractors are loud, he said, and students are in the midst of reviewing for finals.
The five boys who rode tractors to school arrived in the morning just as buses were unloading and created quite a stir. They were disheartened when the principal told them they had to park across the street, away from the school.
We admire the boys who made the ride. We spoke with one of the organizers, Wyatt Muller, who bought his 1947 tractor with money he earned haying, and then, with the help of his father, a skilled mechanic, rebuilt the machine so it is in mint condition.
Mary Muller, Wyatt's mother, spoke with deserved pride about her son's accomplishments and said the boys should have been able to park their tractors by the American flag in front of the school.
Wyatt Muller said he hoped even more kids would join him in riding their tractors on the last day of school. He's proud of being from a farming community and wants to celebrate his heritage.
This led us to find out more about the principal's concerns — the legality and safety of kids under 16 driving tractors; two of the five rode lawn tractors, McGurl said.
A spokesman at the state's Department of Motor Vehicles, Pete Bucci, told us it is legal for working farm vehicles to travel on public roads. Whether they are tractors or horse-drawn buggies, such vehicles need to display the orange triangle designating them as slow-moving vehicles, he said; farm equipment need not be registered. After dark, or when there is visibility of 1,000 feet or less, they need to display reflectors and have signal lights, front and rear. Driving a lawn tractor on a road is never legal, said Bucci.
Bucci referred questions about kids under 16 driving to the Department of Agriculture and Markets; the spokeswoman there said, "It's not our law…We don't enforce it," and recommended calling the State Police. A veteran Trooper said there was no age limit; it's a matter of parental discretion. The operator of a tractor does not need to be licensed.
We hope Wyatt Muller and his friend, Eric Scanlon, go ahead with their plan to ride their tractors to school as a celebration of being part of a farming community. But we urge them to work with the principal in developing their plans. If the tractor riders plan with him ahead, McGurl told us, he'd be the first one out on the lower lot to cheer them on.
Years ago, Eric's father, Rex Scanlon, read an Enterprise editorial about the need to finish building the BKW track. He owned a bulldozer and organized a work party. We applaud such know-how and gumption.
We believe BKW should be proud of raising kids who care about their rural roots and take pride in them. Wyatt Muller told us that he hopes to become a mechanic and to live on a farm in Knox like his parents do. He's already developing the skills that will one day make that dream a reality.
That is something to celebrate — it's not just our past, but our future.
— Melissa Hale-Spencer, editor
---