[Home Page] [This Week] [Classifieds] [Legals] [Obituaries] [Newsstands] [Subscriptions] [Advertising] [Deadlines] [About Us] [FAQ] [Archives] [Community Links] [Contact Us]

Editorial Archives — The Altamont Enterprise, April 15, 2010
---
Editorial
Liberate tomorrow's crop of home workers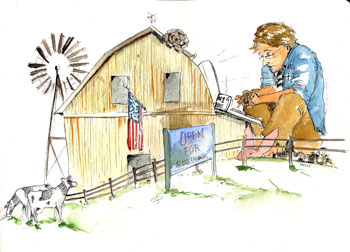 Illustration by Forest Byrd
Zoning is a sign of a civilized society. It represents the willingness of the individual to make sacrifices, to be regulated, for the common good.
Anyone can see the wisdom in regulating, say, septic-tank placement. It makes no sense for one homeowner to drill a well where another's waste has run. A restriction like that will never change.
Other zoning, however, needs to be updated as living and working patterns change. In the age of the Internet, many more people than ever before work from their homes.
Two of our towns — Guilderland and New Scotland — are considering zoning changes that make sense for the modern world.
Data released earlier this year by the United States Census Bureau showed that, between 1999 and 2005, the number of people who worked at home increased by nearly two million to about 11.3 million — that's close to 8 percent of the total workforce and growing. (One more recent survey by WorldAtWork puts the number of home-based workers at about 17 million.)
The Census Bureau data from 2005 — the most recent available — paints a picture of the home-based workers. Nearly half of them earn $75,000 annually and nearly half have college degrees. Just over half are women.
More than a quarter are 35 to 44 years old, and another quarter are 45 to 54. About 18 percent are on either side of middle age — 25 to 34, and 55 to 64. That leaves 9 percent older than 64, and 4 percent younger than 24.
Over four-fifths of the home-based workers are white, while 6 percent are black, 6 percent are Hispanic, and 4 percent are Asian.
About a third of them work in professional and related services, followed by 12 percent each in business and repair services, and 10 percent each in finance, insurance, and real estate.
Those who worked at home some or all of the time were more likely to have higher-paying jobs. They also had longer hours. About 11 percent of home workers reported typically working 11 hours a day while only about 7 percent of out-of-home workers reported doing so. Home-based workers also reported more flexibility in their days.
Workers like this are in our midst, and Guilderland and New Scotland are considering them as those towns update their zoning.
In Guilderland, a committee was appointed last year to recommend ways to streamline the town's zoning ordinance. The review committee has recommended a simplified permit process for those who work at home. Currently, those seeking home-occupation permits must appear before both the planning and zoning boards, and submit a site plan for review.
Often, homeowners avoid this onerous chore, and their businesses come to light only if neighbors complain.
The committee has recommended breaking home occupations into three categories. Home Occupations I and II would still require special-use permits. The first level would allow one non-resident employee and two clients in the dwelling. The second level, only in rural zones, would allow up to three non-resident employees, the use of accessory structures, the exterior display of products, and the sale of products assembled on the lot.
The third category — Minor Home Occupation — is one where the exterior of the home is not changed, there are no signs, and only residents work there. There is no creation of excess noise, vibration, glare, fumes, odors, or electrical interference.
The homeowner doesn't have to go before any board and needs no permit. He or she needs only to complete a form to be registered as a Minor Home Occupation.
The two Republican councilmen on Guilderland's town board have objected to the proposed change. "This is unwarranted government intrusion," said Councilman Mark Grimm. "I object to the government's reach into the home. It is none of the town's business."
Actually, it becomes the town's business when people complain about disturbances — such as more traffic, signs, and noise — in their neighborhoods from home businesses. The town's zoning enforcement officer, Rodger Stone, has to investigate. The revised law, Stone said, "would save a lot of time for me and alleviate neighborhood conflicts."
"If you take it literally," said Councilman Warren Redlich of the proposed change, "if you sell one item from your home you need a permit."
To the contrary, the new law "would allow individuals to decide whether or not they want to be recognized as an official business," said Peter Barber, a member of the review committee who also chairs the town's zoning board of appeals. "It allows for self-certification. There are no consequences if a minor home occupation decides not to get a permit, unless it is operating outside of the criteria."
Grimm estimates that there are 1,600 home businesses in Guilderland. His Mark Grimm Communications is one of them. Grimm was cited in 2008 for not applying for a special-use permit for his home business. His dilemma highlights the need for change. Grimm said then that the law was "not hospitable" for business owners and should be changed.
This change would make it easier for workers to have a home business. Home businesses, like Grimm's, that don't employ any non-residents and don't in any way disturb their neighborhood would not need a permit; owners would decide if they want to be officially recognized or not.
At the same time, the beauty and quiet of residential neighborhoods would be protected since those businesses that have an outside person working in the home and up to two clients visiting at a time would still need to receive a special-use permit. Businesses in rural areas, where traffic is less of a problem, are allowed up to three non-resident workers, and still require a board review process for a special-use permit.
A public hearing is scheduled for May 4. We applaud the recommended changes and urge the board to adopt them.
In neighboring New Scotland, architect Robert Mitchell has put a face on the problem. He wants to use a 19th-Century barn behind his Helderberg home as an office, but the town's zoning laws don't allow for that. The law would allow him to build a large addition to his home for his business. But using the barn would be more in keeping with the historic layout and beauty of the property.
Mitchell hired a well-known local planner, Nan Stolzenberg, to help draft a revision of the law. The draft limits non-family workers in a home to two, and, in an accessory structure, like a barn, to four, providing there is no great influx of traffic. A permit would be required, so there would still be board review. (We prefer Guilderland's language of resident and non-resident workers to New Scotland's family and non-family workers since home dwellers need not be family and family members don't necessarily dwell in the same home.)
Surveys have shown that one of the qualities the vast majority of New Scotland residents value in their town is its rural character. Old barns add to that character. Taking stock of the barns in New Scotland, Mitchell found that those in decline outnumber the sound by two to one.
"It doesn't take long," he said, for barns to deteriorate if they aren't taken care of.
Since very few barns in New Scotland are on working farms, it makes sense to encourage other uses for them. If they generate income, as sites for home businesses, they are more likely to be repaired and preserved.
We hope the town board will allow for their use as home businesses.
Guilderland's three-tiered proposal would do just that. And, last year Guilderland adopted legislation that grants tax breaks to those who restore or rebuild old barns — a worthwhile incentive to make sure these historic structures stand for another generation. Leaders in New Scotland and the Hilltowns would be wise to follow suit.
When we rediscover the worth of old barns, as we've written here before, we preserve our past while providing for our future. How splendid that the dawning of a new era, an Internet age, could, with wise town leadership, serve as the salvation for these grand but aging monuments to our agrarian past.
— Melissa Hale-Spencer, editor
---