[Home Page] [This Week] [Classifieds] [Legals] [Obituaries] [Newsstands] [Subscriptions] [Advertising] [Deadlines] [About Us] [FAQ] [Archives] [Community Links] [Contact Us]

Editorial Archives — The Altamont Enterprise, March 18, 2010

Editorial
Be wise even when obstacles are great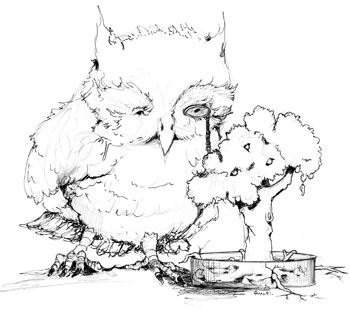 In the midst of budget woes, it's easy to get suffocated by the gloom — the costs of providing public education loom large.
Now might be an opportune time to shine a light on the benefits, the glory of learning, what it can do for an individual and, in turn, for society as a whole.
We urge the citizens heroically slogging through the school budget review process in Guilderland to turn to our special section on education this week.
You'll find there a mother who calls what happened to her son a miracle. Often with miracles, there is deep darkness before there is light. Sharon Infantino told us how her bright little boy, Joey, had his skull crushed in an accident when he was 5 years old. He went into a coma and doctors said he wouldn't survive the night. They removed 70 percent of his right frontal lobe and 20 percent of his left frontal lobe.
When Joey returned to his Las Vegas home, he was like an infant. He had to be taught all over again how to walk and talk. His behavior was disruptive; he followed his impulses.
Mrs. Infantino calls finding the Guilderland schools a "godsend." His family moved across the country to be here.
Joey calls Dr. Mark Ylvisaker, the late professor who helped him at Lynnwood Elementary, his hero. "He has helped me to be good to people and to be a great learner," said Joey. "Dr. Mark taught me how to ask for help when I need it."
Because of a system Ylviskaer developed to help Joey regulate his behavior, he's learned how to be responsible for himself and for others. He loves to go to his school and he knows how to be a good friend.
If we remember again that it is budget time, we can frame Joey's success as a victory for all of us. Because of his education, Joey will become a productive member of society, rather than a burden. But the stakes are higher than dollars saved over the long haul.
The quality of life in our community is better. The system that Ylvisaker worked out for Joey is being used throughout Lynnwood Elementary. For a variety of important reasons, the school was ready to try what the professor, a world-renowned expert in his field, had to offer.
As the Guilderland School Board searches for a new superintendent, it would be wise to keep in mind what long-term leadership can do for a learning community. James Dillon has been principal at Lynnwood for 17 years. The staff at the school has come to know and trust him. And he, in turn, says he has learned much from them.
It was, in fact, a teaching assistant in Joey's classroom at Lynnwood, Nancy Armstrong, who knew Mark Ylvisaker and his work and first brought the two together. This would not have happened in a system driven from the top down. Rather, the shared commitment from all levels of the staff leads to the advancement of learning.
The principal is not a figure to be feared at Lynnwood. Dillon views discipline as learning. Kids at Lynnwood like to invite him to lunch. He values those students who are troubled and works with them to develop strategies so they can succeed.
The principal is well versed in educational theory and has put cutting-edge research into practice.
Dillon has received training to teach others about preventing bullying and developed a program, the Peaceful School Bus, now used in places across the country, that relies on students to regulate their own behavior, cutting down on discipline problems.
So, when Ylvisaker came to Lynnwood to help Joey, he saw a school where the ideas he had developed for those with brain trauma might work on the general student population. It wasn't a school where students were rewarded with stickers or punished with time-outs. In other words, outside forms of control weren't used.
Both Dillon and Ylvisaker were familiar with Lev Vygotsky, a Russian psychologist whose work from the 1930s is now coming to the fore in America. Vygotsky saw developmental value in child's play and believed that sensitive intervention by adults helps a child learn. "Play is the vehicle to rehearse life," said Dillon. Vygotsky posits that, at about age 3, a child's relationship with words changes as imagination forms, arising from action. A younger child might cry or be angry if he can't ride a horse while a 4-year-old will pick up a stick and pretend he is riding a horse.
Calling the stick a "pivot," Vigotsky wrote, "At that critical moment when a stick — that is, an object — becomes a pivot for severing the meaning of horse from a real horse, one of the basic psychological structures determining the child's relationship to reality is radically altered."
Ylvisaker applied this theory to children, like Joey, with brain injuries, developing an approach that would highlight thoughts in an intentional, concrete way.
Through a series of simple, paired opposites — is something a big deal or a little deal? — children are given a way to grasp their situation and strategies to handle it. They are also learning to coach and help others.
Lynnwood is a place where now even the very youngest students, those in kindergarten, are learning to regulate themselves. They aren't just looking to please the teacher, to get the right answer. They are learning strategies that will last them a lifetime — to rely on themselves, to develop an internal compass.
This "executive function," as psychologists call it, this self-regulation, this ability to control impulses is now believed to be a strong indicator of success, predicting academic achievement better than IQ tests.
"The problem is that, just as we're coming to understand the importance of self-regulation skills, those skills appear to be in short supply," says Paul Tough's 2009 New York Times article, "Can the Right Kinds of Play Teach Self-Control?" Tough goes on, "In one recent national survey, 46 percent of kindergarten teachers said that at least half the kids in their classes had problems following directions. In another study, Head Start teachers reported than more than a quarter of their students exhibited serious self-control-related negative behaviors, like kicking or threatening other students, at least once a week."
Not at Lynnwood. "Play is a child's work," the old saying goes, and it appears to be working well. The school has very few behavioral problems, its principal says.
"Dr. Ylvisaker changed our lives, bringing a lot more happiness to every day," said Mrs. Infantino. He died last May of cancer, but his work lives on, not just in Joey's family but also at the Lynnwood School. The teachers and staff there are the caretakers of a grand experiment in education.
We believe, as the Lynnwood kids would phrase it, that is a big deal.
— Melissa Hale-Spencer, editor
---