[Home Page] [This Week] [Classifieds] [Legals] [Obituaries] [Newsstands] [Subscriptions] [Advertising] [Deadlines] [About Us] [FAQ] [Archives] [Community Links] [Contact Us]

Editorial Archives — The Altamont Enterprise, March 11, 2010
---
Editorial
A wage freeze would warm us all and work for the common good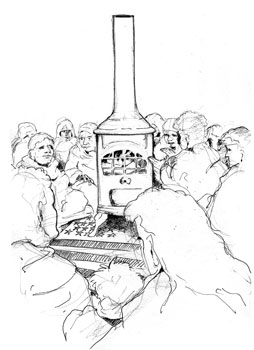 It's mud time. The snow is melting and my driveway is rutted. When my dog jumps to greet me, he leaves big brown paw prints on my coat.
Mud time is also school budget time. This year's has been messier than most. Guilderland, like school districts across the state, is facing large cuts in state aid, rising costs in pensions and health benefits, and stagnant property values. The school superintendent, John McGuire, has wisely decided that passing the burden of the budget shortfall onto the taxpayers is unacceptable.
School budgets, unlike any other, have to be passed by the voters. When they are voted down, years of ill will can follow. Schools need community support to succeed. And communities need good schools in order to prosper.
So Guilderland administrators have spent the last two months figuring out what to cut.
Without the cuts, the budget-to-budget increase from this year to next would have been 9.45 percent, bringing a tax-rate hike of close to 17 percent. The proposed cuts — for a $87.5 million proposal, 2.57 percent higher than this year's budget — are designed to trim from programs across the board so that no one program is decimated.
This means cutting 81 jobs.
Citizens on a committee reviewing the budget have raised objections. So have students who spoke out at Tuesday's school board meeting. One student, a junior named Michael Schaffer, presented a petition signed by over 650 Guilderland High School students, asking that stipends for club advisors not be cut. Schaffer said the reason he could speak with such poise before the board was because of his training from the school's mock trial club.
A fourth-grader spoke in favor of the program that teaches Spanish in the elementary schools, also slated to be cut, and her eighth-grade brother pleaded for continuation of Guilderland's involvement in Tech Valley High. He'd like to apply, and he argued, " It brings culture and creativity to the community."
"We have people in our community who have lost their employment, who have lost their health insurance, who have lost their homes," McGuire told citizens on the budget advisory committee as they lamented cuts to valuable programs. "I don't know if 3.61 percent is too high or too low," he said of the proposed tax-rate increase. "It's a good faith balance."
About three-quarters of the budget are made up of salaries and benefits for Guilderland's 1,038 employees. In an unprecedented move, McGuire has appealed to the district's 12 bargaining units to freeze salaries. If all 12 units agree, the savings would be $1.9 million. That would go a long way in restoring programs and faith in the schools. Taxpayers would feel that they aren't the only ones making sacrifices.
Just over a year ago, Guilderland and other school districts faced budget cutbacks as Governor David Paterson proposed massive cuts in state aid. Guilderland planned to cut 47 jobs.
We wrote on this page at that time: Here's a radical idea — radical in both senses of the word, revolutionary and getting to the root of the problem — why not re-open negotiations on the contracts?
Several school superintendents in New York State have said they will forego their rises this year. That is a great symbolic gesture, but a freeze on a single salary is just a drop in the bucket. Private businesses are cutting back workers' salaries just to stay afloat. Some of the cuts are major.
All we're proposing is that school workers consider a wage freeze or, at the least, a reduced raise. At Guilderland, the contract for teachers, which runs from July 1, 2008 to June 30, 2011, granted 4.7-percent raises the first year, 4.4 percent the second year, and 4.4 percent the third year. Guilderland teachers progress up a 23-step schedule. A teacher on the first step in 2009 earned $42,000 while a teacher on the highest step earned $71,909.
What if each earned a little less, forgoing their raises, or at least part of them, so others in their ranks wouldn't lose their jobs?
Over decades of covering teachers' contracts, we most frequently hear from union leaders that the reason teachers need raises is so that salaries will be competitive to attract the best new teachers. What teachers wouldn't be attracted to a school district where senior teachers had given up a raise to keep the newest teachers, who would have been the first fired?
Such a district would serve as a beacon in tough times, illuminating teachers who cared about their students, their colleagues, the quality of education in their district, and the welfare of cash-strapped residents.
Unemployment in New York State keeps growing, and adding school workers to the ranks of the unemployed won't help the economy any more than it will help education.
School leaders keep saying that tough choices will have to be made. This is a choice that should be considered along with all the rest. Everyone needs to cooperate for the common good.
That editorial fell on deaf ears. Federal stimulus money came to the rescue of school districts, but those funds will only be around for one more year. Changes need to be made, and this year it seems that the idea of a wage freeze is at least being seriously considered.
"At most private companies, people have agreed to take pay cuts rather than have colleagues lose jobs," said Stuart Fass, an Altamont dentist, at a recent community forum in Guilderland. "Unions won't stand for that," he said, which "goes against human nature and team spirit."
We commend the 12 bargaining units at Guilderland for seriously considering a wage freeze and we urge them to adopt it. The largest union, with about 500 members, is the teachers', which also includes guidance counselors, social workers, librarians, nurses, and therapists. The next largest, with about 200, is the employees' association, which includes food-service workers, bus drivers and aids, custodial workers and mechanics. Other units include those for office workers, teachers' aids, supervisors, principals, and administrators.
Decades of covering the Guilderland schools have made us realize how much those who work for the district value their jobs. The inspiring end-of-the-year awards ceremony always includes testimonials of workers — clerks, bus drivers, principals, teachers, secretaries, teaching assistants — who have gone above and beyond their job descriptions because they loved their work, their colleagues, and their students.
This put us in mind of one of our favorite poems, "Two Tramps in Mud Time," by Robert Frost. It embodies a philosophy we have lived by. The poet is enjoying his task of splitting wood:
The blows that a life of self-control
Spares to strike for the common good,
That day, giving a loose to my soul,
I spent on the unimportant wood.
Out of the woods come two hulking tramps from sleeping God knows where last night, but not long since in the lumber camps. They need the work for the pay, and think all chopping is theirs of right. The poet hands over his ax since his right is love but theirs is need — the better right.
Frost concludes:
But yield who will to their separation,
My object in living is to unite
My avocation and my vocation
As my two eyes make one in sight.
Only where love and need are one,
And the work is play for mortal stakes,
Is the deed ever really done
For Heaven and the future's sakes.
Not everyone is fortunate to have a sense of calling about their work, but we believe that many of those who work for the Guilderland School District view their jobs as an avocation. They have a need and should be fairly paid for their work but, in these tough times when programs they have built up and cared about are being dismantled, we believe their love for their work will allow them to give up their raises for the common good.
The superintendent told us the night he presented his "damage control" budget, "I think Guilderland is a good example of a community in which difficult times bring people together focusing on what's best for our children."
Let's prove him right — for Heaven and the future's sakes.
— Melissa Hale-Spencer, editor
---