[Home Page] [This Week] [Classifieds] [Legals] [Obituaries] [Newsstands] [Subscriptions] [Advertising] [Deadlines] [About Us] [FAQ] [Archives] [Community Links] [Contact Us]

Editorial Archives — The Altamont Enterprise, March 4, 2010
---
Editorial
When it comes to protesting park closures, we can't see the forest for the trees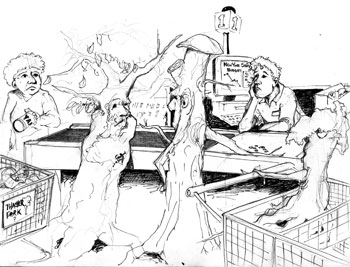 The hue and cry has been constant and strong. People love John Boyd Thacher State Park and want to keep it open.
Since Thacher's widow donated 350 acres on the Helderberg escarpment in 1914 as a gift to the people of the state. It has long been a popular site for hikers and picnickers as well as a venue for students of geology to learn about the Devonian Period 400 million years ago when the area was covered in a warm, shallow ocean.
But, while protests mount, New York State is facing an $8.2 billion deficit. The governor has listed more than 50 parks and historic sites across the state for closure in an attempt to close the gap.
Most of Thacher Park lies in New Scotland; some of it is in Guilderland; both of those towns have passed resolutions calling for the park to remain open. The village of Altamont has done so as well.
Individual voices speak the most poignantly, though. Helen Seay, who has never written a letter to the editor before, wrote us this week to tell of the three generations of her family that have enjoyed the Indian Ladder Trail at Thacher. She remembers climbing the scary ladder when she was a girl, long before stone steps and guardrails were installed.
"I would have liked to have been able to take my great-grandson," she told us.
The state would save about $225,000 by closing Thacher, which seems like a pittance. Protesters at the State Capitol yesterday carried signs saying that the governor could cut a few aids and save that much.
That's true, but all across the state people are as devoted to their parks as we are to Thacher. That adds up to more than a pittance.
Back in December, when Governor David Paterson sounded the alarm on the state's budget crises as he presented his spending plan, he wrote, "New York is poised at a defining moment in its history. We are faced with the greatest economic challenge of our lifetimes. Wall Street, a pillar of New York's economy, has suffered a series of unprecedented shocks. The financial services sector, which accounts for 20 percent of state tax revenues, may never be the same. Moreover, our broader economy is grappling with a deep recession that promises to be one of the worst in decades, and is expected to cost tens of thousands of New Yorkers their livelihoods."
He also said, "Despite the obstacles we face, New Yorkers should know that we will not turn our backs on our core priorities. Instead, in these demanding times, we must better focus our limited resources so we can deliver the essential services that we need…"
With a spending plan that cuts aid to schools and social services, it seems only fair that the state budget for parks should be trimmed, too. We witnessed a painful budget session this week as Guilderland school administrators proposed cutting 81 jobs while board members lamented the loss of programs they had taken years to build.
The superintendent told us when the session was over, "I think Guilderland is a good example of a community in which difficult times bring people together, focusing on what's best for our children."
When we first wrote about Paterson's proposal for cuts in school aid, Matt Anderson, a spokesman for the state's Division of Budget, told us, "As the governor says, you can't spend what you don't have."
The same is true of the parks budget. You can't spend what you don't have. If the state has to focus what the governor calls its limited resources on essential services, we have to admit parks aren't essential in the same way that, say, health care is.
And, if we take a page from the Guilderland schools, we should step back and see what we can accomplish by working together, rather than battling over dwindling funds.
We were re-assured last week by Dan Keefe, a spokesman for the state's Office of Parks, Recreation and Historic Preservation, that Thacher won't be sold; no state park ever has been, he said. That is critical.
Keefe also said that his office would consider an agreement with another level of government or a not-for-profit organization to maintain the land in order to keep it open to the public.
We believe this is the path to take. The energy of those protesting the park's closure could be turned into working to keep it open. Tens of thousands of Thacher supporters have joined online groups, rallying to keep the park open. Already in place for years is a Friends of Thacher Park group that might well step up to the role of organizing the volunteers into trail and maintenance crews with members who would work, on a rotating basis, much as food cooperatives work, to keep the park open.
This would save the state money in both the long and short runs. If police had to be stationed to keep people out of the park who are traveling on the public road that runs through Thacher, the cost could well top the $255,000 the state wants to save.
And, keeping the park open provides an economic boost to the area especially as local leaders are gearing up to re-ignite tourism in the Helderberg Hilltowns.
Those who want to keep Thacher open might wisely reach out to other groups across the state that are rallying for their own parks. Rather than fighting against each other for limited funds, they might collaborate and lobby together for reduced funding that would act as seed money to recruit and oversee volunteer groups. These grassroots groups could work, each in their own locales, to literally keep the park grass green.
When Governor Martin Glynn announced Emma Treadwell Thacher's gift in 1914, he called it "a voluntary gift to the people of the state." We, the people who have enjoyed that gift all these years, could now do some giving of our own to keep the park open. The road may be as rough as the old Indian Ladder Trail — pioneering a new way is often arduous — but the view from the top will be worth it.
Let's set down our protest signs, and pick up our shovels.
— Melissa Hale-Spencer, editor
---