[Home Page] [This Week] [Classifieds] [Legals] [Obituaries] [Newsstands] [Subscriptions] [Advertising] [Deadlines] [About Us] [FAQ] [Archives] [Community Links] [Contact Us]

Editorial Archives — The Altamont Enterprise, February 25, 2010
---
Editorial
Pointing the way to a better world for pets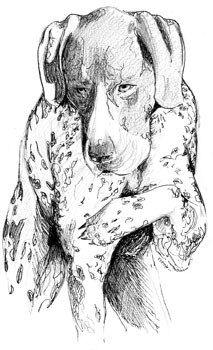 Illustration by Forest Byrd
We were stunned last Tuesday morning when we received a letter from Maureen Shea of East Berne describing a horrible scene she had witnessed three days before, on Feb. 13. She wrote that the image was burned into her mind: One starving dog had eaten the carcass of another.
Our Hilltown reporter, Zach Simeone, went to work on the story before the sheriff's department had arrested the dogs' owner, Wendall Smith.
Maybe it was because we didn't get the news typed out in a press release or from the press conference held that Wednesday, but the incident gripped all of us in the newsroom. We saw it first through the horrified eyes of a witness.
Later, we received another letter from a neighbor of Smith who had made the grisly discovery with Shea. Lee Crosier wrote to us about how the pair of German shorthaired pointers had been neglected since last summer, when Smith moved to the neighborhood. They were tied to trees where they barked all day, she said. She described how, when winter came, the dogs had just a cage-like kennel with a doghouse in it with "no hay or anything to help keep them warm." They ate snow because the water in their bowl was frozen. At least six people called the police, Crosier wrote us, and "nothing happened."
We decided the story merited the top spot on our front page. As a staff, we deliberated over the wording for the headline and settled on "Dog-eat-dog: One pet eaten by another in case of neglect."
The adjective "dog-eat-dog" works on two levels — the literal and the figurative.
The literal needs no explanation but the figurative may. The Random House dictionary gives two meanings for the phrase. The first is "marked by destructive or ruthless competition; without self-restraint, ethics, etc." The second is "complete egotism, action based on utter cynicism."
Some might argue that a more balanced overline would be "Owner claims it wasn't cruelty." We believe that would have been misleading.
Others might argue the overline should have been "Cops say they got no calls." Again, that wouldn't have gotten to the heart of the story.
The heart was dark. It showed a dog-eat-dog world where the pointers' owner appears to have been so self-centered that, even if he couldn't care for his pets, he didn't have the decency to take them to a place that could.
As for the Albany County Sheriff's Department, its spokesman told our reporter that he had checked the records and the only calls to Smith's address were: one in September when a dog was caught in its rope, the call made by Shea and Crosier after they discovered the dead dog — and a series of calls relating to noise complaints.
Veterinarian Holly Cheever told our reporter, "If a dog is barking all night long, it's suffering one way or another, whether it's psychologically or physically."
We live in a dog-eat-dog society where police may be busy with crimes that seem more important, more pressing, but a series of noise complaints, if that is how they are recorded, should be a trigger to investigate further.
We received two letters this week, and two phone calls, from people angry about our headline. We're flummoxed as to why anyone would think it was making light of the situation or attempting "grade-school level humor." We were serious, deadly serious.
We admit we thought of the phrase dog-eat-dog as meaning ruthless and self-centered, which it does, but, being accused of laziness and ignorance, we were driven to find out more about its origin.
According to research done by Gregory Y. Titelman and published in the Random House Dictionary of Popular Proverbs and Sayings, the modern phrase came from an earlier saying, "Dog doesn't or won't eat dog," which meant that people of the same type do not destroy each other. The Latin canis caninam non est translates as "A dog doesn't eat dog's flesh."
Although we were unaware of the Latin last week, we did include in our story veterinarian Cheever, stating, "It is highly atypical for one pack member to eat another pack member, and it would be even more unlikely to have happened while both dogs are alive."
It's always instructive to see how classes phrases are rooted in still-current reality. That construct was first used in the United States in 1793 by Hugh Henry Brackenridge in Modern Chivalry, a rambling satire on American frontier life.
It wasn't until much later that "dog-eat-dog" was coined, perhaps in the 1930s, and Titelman provides examples ranging from a 1948 citation in Norman Mailer's The Naked and the Dead to George Bush's 1991 description of his "dog-eat-dog fight" for re-election.
The phrase is not obscure; it is one of the 479 most common American proverbs, according to the Macmillan Dictionary of Quotations.
We'd like to move beyond the words to action. Simeone's carefully researched story points up flaws in the system that need to be fixed before more pets are hurt.
One thing we learned from his research is there is a legal difference between a dog-control officer, which Berne has, and an animal control officer. An animal control officer can prosecute neglect and cruelty while a dog control officer cannot. Crosier was frustrated that Berne's dog-control officer could do nothing but advise her to call the police — with proof. It could be worthwhile to launch an effort to see that the town you live in employs an animal control officer.
Another flaw in the system comes from the way Buster's Law is written. A tabby cat named Buster was burned to death by a Schenectady teen in 1997, which led to the state legislature passing a law to create a felony category of "aggravated cruelty to animals," punishable by up to two years in prison and a $5,000 fine.
One of the letter-writers this week criticizes the sheriff's department for feeling "that this crime should not be considered under Buster's Law, as they believe it not be a depraved act…."
What Undersheriff Craig Apple told us was that, while Smith was charged under Buster's Law, it might be difficult to convict him.
"Buster's Law," he said, "is designed for someone who is doing something depraved or sadistic to the animal, torturing the animal; this person basically neglected the animal."
It is pointless for police to make arrests that can't stand up in court. People who believe a felony arrest would serve as a deterrent to neglect should work towards amending the law, perhaps naming it for the dead pointer.
Veterinarian Cheever, a proponent for animal rights, had three words for how situations of neglect and abuse can be avoided: "Education, education, education."
We believe Maureen Shea and Lee Crosier of East Berne, who discovered the dead dog and had the courage to speak out in letters on our pages, started an important process to alert the public to a problem. Reading their letters was instructive. Our story — headline and all — furthered awareness and focused attention on the chain of events that led to the dog's death. What happens next is up to you.
— Melissa Hale-Spencer, editor
---