[Home Page] [This Week] [Classifieds] [Legals] [Obituaries] [Newsstands] [Subscriptions] [Advertising] [Deadlines] [About Us] [FAQ] [Archives] [Community Links] [Contact Us]

Editorial Archives — The Altamont Enterprise, February 11, 2010
---
Editorial
A different cycle: New alchemy will produce black gold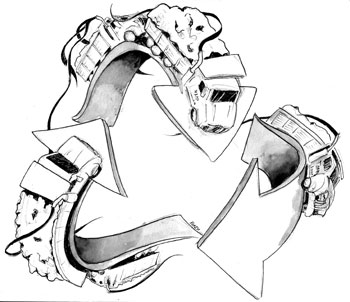 Illustration by Forest Byrd
Our garbage goes to the Rapp road landfill. So filling it too fast is a problem that belongs to all of us. Each of us needs to be part of the solution.
In June, the state's Department of Environmental Conservation permitted the dump to make its fifth expansion into the Pine Bush, which is home to the endangered Karner blue butterfly. The butterfly is a symbol — a delicate, beautiful, fluttering symbol — of the best and worst of human nature: our callousness to run rampant over the natural world and our ability to preserve it if we so choose.
A court challenge to the expansion made by the watchdog group Save the Pine Bush was defeated this week. We need now to find workable ways to curb our impact on this fragile ecosystem. That involves understanding the financial underpinnings that fuel the dump's expansion.
The landfill, now owned by Albany, is a money-making proposition for the city; Albany's comptroller told us city taxes would go up substantially if it were to lose the income from the landfill. So the solution not only needs to save space but to generate income.
A consortium of municipalities that use the dump, called the Capital Region Solid Waste Management Partnership — SWMP — Planning Unit includes New Scotland, Berne, Knox, Westerlo, Rensselaerville, Voorheesville and Altamont. Guilderland withdrew last year and now takes its waste to Colonie, but the town is still affected because its residents feel the ill effects of the dump, including noxious smells.
Driving west on Washington Avenue Extension, motorists see a mountain of garbage looming on the horizon. We'd like to see a different kind of monument to our humanity.
The draft of a plan developed by Clough, Harbour & Associates, presented late last year to the SWMP steering committee spells out ways to reduce the amount of waste going to the landfill. One is to educate residents about reducing their wastes, and about collecting and treating food and yard waste separately from general garbage so they can be composted. We've been doing that, right here, for years. It's easy to feel overwhelmed in our modern world, we wrote in 2003. As individuals, we often feel we can't control systems larger than ourselves.
The inhabitants of ancient societies, perhaps, died young because they didn't have medicines we now have to fight disease. Or they starved because they didn't have the systems we now have to raise and preserve foods, or their crops withered because they didn't have the means to dam and irrigate fields.
While they didn't attempt to control the natural world, they may have felt more in control of their everyday existence. Because tasks were not specialized, members of the same family unit gathered or raised food, built a home, and made clothes to protect themselves from the elements. They lived in better harmony with nature than we do today.
As Americans today, we may, for example, be worried about the effects of global warming. We understand the greenhouse effect; we realize that gases such as carbon dioxide and methane in the earth's atmosphere allow incoming sunlight to pass through but absorb heat radiated back from the earth's surface.
We realize, as citizens in an industrialized society, we consume irreplaceable raw materials at a rapid rate and shift the natural order of the world.
We realize that wars can be fought to gain more fuel to feed our wasteful way of life. But we stand by, feeling helpless to change a course that seems headed for eventual human destruction.
How do we change things — a corporation-driven imperative for profit, a culture that values the new to be thrown away over the traditional to be preserved — things that seem so much larger than ourselves?
There is a simple way, we wrote years ago: Individuals can make a difference — we can compost. Rather than filling landfills, polluting the earth, we can return our organic waste to the earth to replenish it naturally. In this way, too, we may be able to derive some of the simple satisfaction, the peace of mind, that those in earlier societies felt when they controlled the everyday tasks in their environment.
Recycling involves more than just piling our plastic, glass, metal, and paper into bins at the transfer station. It means following through with the cycle to buy those recycled goods in a new form. And it means composting — taking what was once waste and turning it into "black gold," rich in nutrients.
Pleas for individuals to compost haven't really worked; not many do it. Requirements for residents to compost are what the draft plan calls for and we back this. The requirement to recycle led to a massive effort, and the same is needed for composting. The draft plan says that about a quarter of what goes into the Rapp Road landfill now would be able to be composted instead. The goal is to accomplish this by 2018; the groundwork needs to be laid now.
Ken Sauter of the Peninsula Compost Group says that institutions like universities, grocery-store chains, and restaurants now fuel large-scale composting. Haulers like it because it's cheaper than a dump, he said. Municipalities, if they were to adopt it, would make money on the front and back ends; they'd charge a tipping fee to accept the composting material and then, once it was converted to rich black dirt, they would be able to sell it.
Last June, San Francisco adopted the country's first law requiring all residents and businesses to separate their recycling and compost material from other trash. Before the measure took effect this past fall, the city already diverted 72 percent of its trash; the goal with the composting mandate was to reach a 90-percent diversion rate.
Albany could be part of the vanguard.
While we have some doubts about the draft plan's third component, a waste-to-energy incinerator — such plants cost hundreds of millions of dollars, still produce residue, and release chemicals into the air — we staunchly support the first two components.
Instead of an ever-rising mountain of garbage as our regional monument, we could leave the rich earth — the black gold — of composted soil as our legacy to future generations.
This new alchemy might be an elixir for the longevity of the human race.
— Melissa Hale-Spencer, editor
---