[Home Page] [This Week] [Classifieds] [Legals] [Obituaries] [Newsstands] [Subscriptions] [Advertising] [Deadlines] [About Us] [FAQ] [Archives] [Community Links] [Contact Us]

Editorial Archives — The Altamont Enterprise, February 4, 2010
---
Beyond gulping
Keep Voorheesville from gong to the dogs, plan now for the future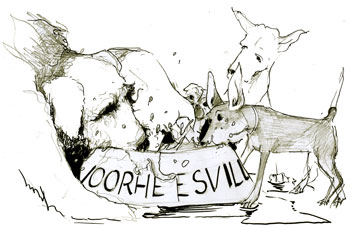 Illustration by Forest Byrd
The village of Voorheesville is in the midst of a building boom.
Within the village, Quail Run plans to build 23 units on the last large tract of open space. And five homes are to be built on the 16 acres surrounding the old Voorhees House. That grand Victorian home has, since it was built, stood alone on a hill, overlooking the railroad that brought commerce and city visitors to the once-rural land.
Just outside the village, two more developments are planned — Claremont Estates, which is slated to add 10 homes, and the Colonie Country Club Estates with 40 new homes abutting the golf course.
All of these projects will receive village water. Development can't proceed without water.
The desire to move to Voorheesville is huge, says John Bossalini, a project executive at Amedore Homes, the builder for the country-club development. "It's a great school district," he said. "Taxes are reasonable. It's an easy commute. New Scotland is so close to the city and the state campus."
These are all good things, but any of them, except the proximity, can be spoiled without sensible planning.
Taxes go up as families move in with kids who go to school, and they require other municipal services, too. The school district, like others across the state, is facing a massive reduction in state aid and, without a large commercial tax base, may well have to make painful cuts.
Voorheesville's mayor, Robert Conway, is aware of these looming problems. He hopes to strike a water deal with the town of New Scotland for homes that are already built, reasoning that, if the village water is used for existing structures, it won't be available for new ones.
"We have the capacity," he told our reporter, Philippa Stasiuk, this week. "I'm not concerned about selling too much water. What I'm concerned about is, when we grant water, that it possibly opens the door for further expansion."
Selling water would also help fill the village coffers. Voorheesville lost about $50,000 a year when Atlas Copco Comptec, the village's largest water customer, reduced its water consumption by 90 percent, or about 20 million gallons, after building re-circulating cooling towers for the water.
We have no quarrel with the mayor's goal of curbing development. In fact, we applaud it.
But we believe there is a better way to go about it. We urge the village to set up a master-planning committee to develop a meaningful plan for Voorheesville's future.
In 2005, the Open Space Institute released a report, documenting sprawl in the Capital Region. It detailed the many problems that come with sprawl and reduce the quality of life. The report noted that the state allows five planning methods for municipalities. One of them, and it is one of the most important, is a comprehensive land-use plan.
That same year, we raised the question of the nearby village of Altamont during our election interviews in the spring. All of the winning candidates said they advocated creating a comprehensive land-use plan. They then fulfilled that promise.
Trustee Dean Whalen, who headed Altamont's master-planning committee and went on to head the committee that drafted zoning to fit the plan, told us, "We don't have anything on how we see ourselves in the 21st Century. We don't want to get steamrolled."
Now Altamont has a plan, and the zoning to back it up. Beyond that, it has a committee that meets to express village views on Guilderland town projects planned near its borders. Such a committee would be valuable for Voorheesville, too.
Altamont's master-planning committee went about its work in the right way, which could form a valuable template for nearby Voorheesville as well. It surveyed village residents and held public workshops.
As we've written before, a meaningful comprehensive plan offers a vision of what a town or village would like to become and what it should preserve. When master plans first became popular more than a quarter of a century ago, many municipalities adopted cookie-cutter plans churned out by consultants; those plans sat on shelves, collecting dust.
For a municipality's master plan to work well, it must reflect the views of its residents and then its tenets must be codified into zoning law. And it must be regularly updated.
This process would give the village a chance to publicly work through its priorities — from resource, traffic, and environmental concerns to social concerns like the need for affordable housing or viable community centers.
Voorheesville has an opportunity to take a long look into its future, to see what it wants to preserve of its past and the spaces that now exist in the village. We plan to ask about it in the upcoming spring elections. We hope the candidates and those currently in office not running for re-election will seize the day.
The village needs to preserve the very things that make it so attractive. Now is the time to do that.
— Melissa Hale-Spencer, editor
---