[Home Page] [This Week] [Classifieds] [Legals] [Obituaries] [Newsstands] [Subscriptions] [Advertising] [Deadlines] [About Us] [FAQ] [Archives] [Community Links] [Contact Us]

Editorial Archives — The Altamont Enterprise, October 15, 2009
---
Editorial
New World explorers can uncork our past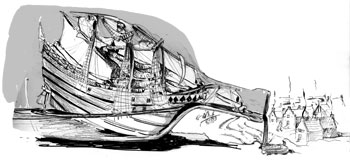 Illustration by Forest Byrd
Celebrating Columbus Day this week, we thought about the change a generation has made. Schoolchildren no longer learn that Columbus "discovered" America; they learn that native peoples already inhabited the Americas. They know that Columbus called the natives "Indians" because, although he knew the world was round, he was mistaken about its size and thought he had sailed to India.
Still, what his 1492 voyage did was remarkable: It brought two worlds together and they remain, for better or worse, intertwined to this day.
We visited Farnsworth Middle School in Guilderland on Friday and talked to some seventh-graders there who are learning about the age of exploration. Zoe Elwell finds the explorers, like Columbus, inspiring. "It's very interesting," she said, "how they had the courage and a little bit of craziness to go out and find new things."
"There's nothing left to explore," opined her classmate Jacob Rosenberg. "There are satellites now so we can see everything."
He's right — advances in science and engineering allow us to see every part of the globe. We don't need to secure a crew and a ship, or know how to read a compass or the stars, or even have to have much cleverness or any courage at all to see the other side of the world. We can sit comfortably in our homes in front of our computer screens, and the world unfolds before our eyes.
But Zoe responded to her classmate with a perceptive comment: "There might be things to explore that you can't see," she said.
We thought about what Zoe had said as we talked with Sheila DiMaggio, the Farnsworth librarian who worked with teachers to create school-wide exhibits on Henry Hudson's explorations. DiMaggio even invited a man who acted as Hudson to talk to students about his life and his discoveries.
"I made some mistakes in my life…I was a very stubborn person," Hudson, played by Carl Bensi, a one-time history teacher, told the kids. "People in history books are real people," he said. Hudson was so willful in his explorations that he wouldn't turn back even after a winter of near-starvation. His crew ultimately left him and a few loyal followers behind as they sailed back to Europe.
DiMaggio said she was inspired by reading Russell Shorto's book, The Island at the Center of the World, which details the early history of Manhattan — an island that the Dutch settled and ran after Hudson's 1609 voyage.
Henry Hudson had explored the river that now bears his name a decade before the Pilgrims landed at Plymouth Rock.
"We are used to thinking of American beginnings as involving thirteen colonies — to thinking of American history as an English root onto which, over time, the cultures of many other nations were grafted to create a new species of society that has become a multiethnic model for progressive societies around the world," writes Shorto. "But that isn't true."
In his book, Shorto writes about the original inhabitants of Manhattan as part of the first truly global era. He describes the island city, controlled by the most liberal country in 17th-Century Europe — the Netherlands was the melting pot of Europe, Shorto writes, and the Dutch Republic's policy of tolerance made it a haven for everyone from Descartes and Locke to exiled English royalty to peasants from across Europe. Its colony, he says, "had the same features of tolerance, openness, and free trade." Shorto describes Manhattan as "the first multiethnic, upwardly mobile society on America's shores, a prototype of the kind of society that would be duplicated throughout the country and around the world."
After England took over New Amsterdam in 1664, renaming it New York, its rich history was lost, writes Shorto; Englishmen, mortal enemies of the Dutch, wrote early American history. "When the time came to memorialize national origins, the English Pilgrims and Puritans of New England provided a better model. The Pilgrims' story was simpler, less messy, and had fewer pirates and prostitutes to explain away," he states.
The reason Shorto was able to write about the rich Dutch history of New York is because of Dr. Charles Gehring, a scholar who made his life's work — since the mid-1970s — translating thousands and thousands of pages of 17th-Century Dutch records: letters, deeds, wills, journal entries, council minutes, and court proceedings.
Shorto points out that, as far back as 1801, "Aaron Burr declared that 'measures ought to be taken to procure a translation,' but none were." Dr. Gehring, a New Scotland resident, founded the New Netherlands Project to promote interest in this previously neglected part of our history. We see him as a modern-day explorer, providing the sort of intelligence we can't get from a satellite view of the world.
Dr. Gehring's translations allow writers like Shorto, teachers and librarians like DiMaggio, historians, and others to chart new courses in understanding our history and who we — as New Yorkers and as Americans — are.
Like Zoe Elwell said, "There might be things to explore that you can't see."
The world that this generation of students will have to explore may not be as obvious but will take as much courage and steadfastness as Henry Hudson had — maybe more.
— Melissa Hale-Spencer, editor
---