[Home Page] [This Week] [Classifieds] [Legals] [Obituaries] [Newsstands] [Subscriptions] [Advertising] [Deadlines] [About Us] [FAQ] [Archives] [Community Links] [Contact Us]

Editorial Archives — The Altamont Enterprise, March 12, 2009
---
From the editor
Hy Dubowsky's legacy: Further the reach of humankind's commonality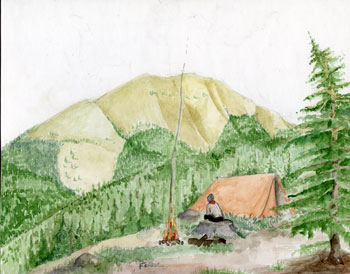 Art by Forest Byrd
Hy Dubowsky wasn't big on handouts but he was big on helping people — all kinds of people.
His son Eric tells a story about how, when his father visited him in New York City, and they would pass panhandlers shaking their cups, Dr. Dubowsky would fill the cups not with coins, but with granola bars.
Dr. Dubowsky said, "They want food," recalled his son, concluding, "He wanted to help them in a good way."
Once, when Dr. Dubowsky won a supermarket contest that let him pick up as many groceries as he could in a minute, "He got a ham for the homeless," said his son.
And, the Dubowsky family would spend the morning of Thanksgiving Day delivering dinners to the homebound.
In his work for the state's labor department, Dr. Dubowsky developed programs to help society's marginalized citizens — recently released prisoners, the mentally ill, the down and out — get jobs. He understood that jobs, not handouts, were a ticket to society.
He died on Sunday morning after a 14-month battle with a rare form of lymphoma. His wife — Carol Kaelin — and his three children — Eric, Ryan, and Meg — were with him at St. Peter's Hospital when he died. He was 58. The days before, said Eric, had been like a live wake as people whose lives he had touched came to see him one last time.
"He always would help people and never expect anything in return," said his son.
Dr. Dubowsky was kind-hearted, but he wasn't a pushover. Eric tells a story from his childhood when his father was riding the subway in New York one morning. "Someone decided he may be an easy target, in a business suit on the way to work," Eric recalled. The robber threatened him with a box cutter and told him to give up all his money.
"My father had some of the fastest reflexes known to humankind," said Eric. "When they do the ruler test, when you hold your hand out and someone drops the ruler…he would catch the ruler at the number zero…My father quickly grabbed his wrist and held the robber under control until the next subway stop and took him off the train to find a police officer."
Eric concluded, "I think most people would have said, 'Take my money.' But not my dad. He was a true New Yorker and showed that criminal his way to justice."
Dr. Dubowsky worked not just with programs but with individuals. His son gave several heartfelt examples of how he helped people in need find and keep jobs. They came to stand on their own and give back to society.
The same applied to his children.
"He always wanted you to empower yourself," said Eric.
He coached his kids in most any sport that interested them even if he didn't play himself. As a member of the Guilderland Elks, he also oversaw youth activities, ranging from an annual Easter egg hunt to a competitive hoop shoot.
He became a varsity lacrosse referee because his son, Ryan, played.
"I wasn't the best football player," said Eric. But Eric wanted to play in college and, he said of his father, "He wouldn't let me give up on myself." His father drove with him to various colleges and kept his confidence up. Eric made the team at the University of Rochester.
"He always made you believe you could do whatever you wanted," said Eric who now works as a bond trader in New York City.
Dr. Dubowsky saw education as critical to individual success and essential to the community. He held five academic degrees himself, but was not a pompous or self-important man. Rather, he was self-deprecating and selfless.
He was also enormously energetic. He first ran in 2005 for a seat on the Guilderland School Board, saying of himself and his wife, Carol Kaelin, "We have three children but, beyond that, we believe that education is the essence of a free and prosperous country."
Undeterred by defeat, Dr. Dubowsky ran again in 2006 and won. He planned — despite the cancer — to run for a second term this spring. "This gives me great satisfaction," he said in October. "It's been a heck of a three years."
This past summer, as television cameras rolled, crowds filled the school board meetings like never before. Mostly students, the onlookers protested the transfer of two high school teachers to the middle school. In July, when the nine board members gave their views on whether the board should review the administration's transfer of the teachers, Dr. Dubowsky was one of only two who favored review.
He had been outspoken before on free-speech issues and calling for accountability from the district's administration.
When he spoke to that packed room in July, he began by talking of his regard for the other board members but was clear and forceful in stating his own view. "We cannot be so conceited," he said, "think ourselves so superior to those we represent, to believe that an issue of such importance to the community should not be subject to the scrutiny of those they elected."
The pin-drop quiet room erupted into applause that lasted for more than a minute.
Dubowsky left that meeting, his son said this week, to go to Memorial Sloan-Kettering Cancer Center in New York City for a stem-cell transplant.
"He always looked forward to the next treatment," said his son, but was willing to push it to get to a meeting he cared about. "He made sure he really stood up for his beliefs and the beliefs of the people he represented," said his son. "He stood up for the kids."
In October, as the first strong tremors of the recession were being felt, board members discussed the budget for the following year. Most of them talked of being scared, urged caution, or advised no new initiatives.
Dr. Dubowsky described his view as "totally opposite of my colleagues." He suggested such initiatives as teleconferences and using distance learning, offering such courses as Chinese, career planning, and grammar boot camp by partnering with other schools.
He said he'd like to expand the music program into the community — offering entertainment in tough times — and establish "an institute for academic excellence."
Dr. Dubowsky said then of Americans, "We were some of the smartest people around" with intellectual capital that drove the economy. He concluded, "I would not want to back off...As the budget moves forward, are there opportunities we can seize?"
Seizing opportunities — and making them available for others — was a hallmark of Dr. Dubowsky's life.
He attended his last board meeting in February. He couldn't drive then and struggled even to walk. But his comments were as insightful and provocative as ever. Hearing a report on the structure of the administration, Dr. Dubowsky said, "I think the study is static. Our charge for the district is, where do we go, not where we are." Just because similar districts are doing something, he said, doesn't mean that Guilderland should, too.
He framed these comments with an anecdote from his youth so that the tone was amusing rather than abrasive. Still, he made his point.
Dr. Dubowsky kept living his life, with the same passion he had before his cancer diagnosis. He wasn't defined by his disease.
"There was never a point until two days ago that he thought he wouldn't get better," said his son, Eric, on Monday. "He never complained."
At the last school board meeting, the board's vice president noted after a presentation on a new engineering program at the high school, Project Lead the Way, that Dr. Dubowsky had pushed for it. It was appropriate recognition because Dr. Dubowsky did, himself, lead the way, not just in pushing for innovative programs but in energetically questioning and offering new perspectives.
When he first ran for school board, Dr. Dubowsky talked about the importance of learning life's lessons. He said that his daughter, Meg, who is now a senior at the high school, had just been part of a 30-Hour Famine fund-raiser at St. Madeleine Sophie Church. "They didn't look at Meg as Jewish," he said. "She was just accepted and taken into the church for the Famine. These are the kind of barriers we have to break down."
He concluded, "Kids learn hatred at home...There's a need to align yourself with something. If you give kids things in school to get involved with, they can belong to something like a sports team, where they see a boy whose a dynamite kicker or a girl who gets up and can really sing. You break it down so you see individuals, you see commonalities."
Dr. Dubowsky's legacy is one that will inspire us to see the commonality of the human condition and offer ourselves to further its reach. Another story his son tells is of how he and his father completed an arduous 11-day hike together, scaling New Mexico's Mount Baldy.
At first, Eric struggled and was buoyed by his father's support. But then, on the sixth day, when his father's knees gave out, it was the son who carried the heavy pack so the father could continue the climb. They reached their goal together because they had learned the value of caring, and sharing the burden when the need was greates
— Melissa Hale-Spencer, editor
---