[Home Page] [This Week] [Classifieds] [Legals] [Obituaries] [Newsstands] [Subscriptions] [Advertising] [Deadlines] [About Us] [FAQ] [Archives] [Community Links] [Contact Us]

Editorial Archives — The Altamont Enterprise, February 19, 2009
---
Extending the golden rule to teach lessons beyond measure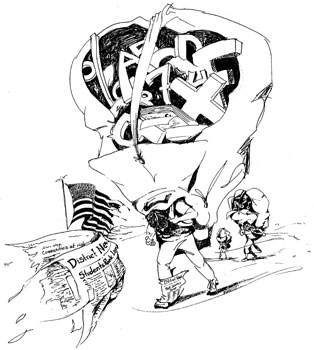 School coverage lately has been all about numbers — big numbers for proposed state aid cuts; more numbers for local districts then proposing their own cuts, in staff, in buses, in supplies, in sporting events; then numbers from the federal stimulus package and speculation on how those numbers will affect local schools.
And, of course, there are test numbers. Where do each of our schools rank? How did our students perform on statewide tests? On federal tests? What percentages of students are below the state-set standard? How do our students' scores compare with their counterparts worldwide?
This week, our schools were on vacation. That gave us a break, too, a chance to think about some of the things that really matter in schools. We don't have to look far.
The Wednesday night before vacation, the Voorheesville School District held a community forum on cyberbullying. It's too bad it was so poorly attended — only about 20 people showed up. Our reporter, Jo E. Prout, was one of them. She had written a story in November about hate images created and posted on Facebook to harass a local student.
We asked in a November editorial, "How do we stop hate? We may not be able to change what is in someone's heart, but we can require civil behavior. When no one objects to bullying, it emboldens the transgressors. And passivity adds to the victims' suffering." Bullying online allows the tormentor to be anonymous and can spread far beyond in-person bullying.
The Voorheesville School District took an important step in deciding to educate the community about cyberbullying. Prout has written a full report this week of the informative evening so everyone can learn what two judges, a sheriff's captain, an information technology expert, and a teacher had to share.
Online postings are not private and they live forever, the experts said. Captain Matthew Campbell also said that alcohol, drugs, and pornography are easily available online; kids can order alcohol, even without a fake ID.
David Adkins, the director of information technology for New York State United Teachers, said that almost half of student Internet users have been contacted by strangers, and that a quarter of them have been scared by online content.
He had some simple advice for times when pornography or hate images come on the screen: "Just turn off the monitor," he said. "Make it go away."
We commend the district for not turning away from the problem but rather facing it squarely, arming its students and their parents with needed information. Our November editorial concluded with a remark by a Guilderland police officer: "Education is the key to public safety."
This is the second time inside of a year that Voorheesville has educated the community on an important issue threatening students. In September, we broke the story about Voorheesville football players using performance-enhancing drugs. Two months later, the district held a community forum to educate the community on that issue. There is more work to be done: With both drugs and cyberbullying, the district needs to develop meaningful policies.
But Voorheesville has taken an important first step to go beyond what is traditionally thought of as the role of a school; Voorheesville is educating not just the students but the entire community on important issues.
At nearby Guilderland Elementary last week, a small group of dedicated fifth-graders stayed after school to tackle another issue that is haunting society at large — garbage. The students donned gloves and aprons and sorted through a day's worth of waste at their school.
They discovered that 69 pounds of food and 31 pounds of milk had been thrown out the day before in the school cafeteria. They also discovered six pounds of paper that could have been recycled was thrown into the trash.
"The kids are excited about getting the word out about the paper we're throwing out and the food we're wasting," said Alan Lockwood, the school's principal.
We don't think it's a coincidence that both Lockwood and Guilderland's new conservation coordinator, Fred Tresselt, studied forestry at Paul Smith's College in the Adirondacks. When you study in the midst of a vast wilderness, you get the idea that some things are larger than yourself. You come to understand that, for nature to be preserved, people have to be careful about the way they live.
How many principals, like Lockwood, think it's fun to sort through garbage with kids after school? He notes the students are gathering data to see if the school improves its habits. But, more importantly, he's teaching them by example to think about what they do with waste and how to be better environmental custodians.
We commend Guilderland for creating the post of conservation coordinator — it is to pay for itself through increased recycling — and we hope the enthusiasm of the fifth-grade volunteers will inspire the rest of the community.
Finally, last Friday, we witnessed a lesson in love. It was Valentine's Day and the kids in Melissa DeLuca's Westmere Elementary class boarded a school bus that they decorated as a giant Valentine. While there were plenty of smiles and giggles, this was not a frivolous field trip.
The kids were visiting their homebound classmate, Ben Grant, who is bravely battling leukemia. Ben's description of a recent treatment session gone awry was unflinching: "I had an allergic reaction…They gave me the medicine and my body felt hot, stingy, and painful. I started coughing and coughing and my dad got me a bucket and I started puking out gooey stuff. So a couple of nurses and doctors came running in the room and quick gave me a different medicine and I felt a lot better."
Ben's teacher, who tutors him at home and at the hospital, knew Ben was frustrated that he would have to miss the class Valentine's party. She had an inspiration — "an aha! moment" she called it. She brought the school party to Ben's house on a bus driven by his father.
Ben was delighted and so were his friends as they chanted cheers and told rehearsed jokes. In return, Ben gave each a Valentine he had made. Love was all around. The kids who had been worried about their friend felt better. And Ben just kept on smiling.
"They can see he's the same old Ben…It's not so scary," said DeLuca. "It brought them closer."
Teaching kids to care can sustain them for a lifetime.
These are lessons beyond measure. Kids who are kind won't become bullies in cyberspace or anywhere else. Kids who learn early not to be wasteful will become responsible stewards for our earth.
The results of these lessons may not be tallied in the reports used to measure and rank schools and their students. But they matter. They form the foundation on which a worthwhile society is built.
— Melissa Hale-Spencer, editor
---