[Home Page] [This Week] [Classifieds] [Legals] [Obituaries] [Newsstands] [Subscriptions] [Advertising] [Deadlines] [About Us] [FAQ] [Archives] [Community Links] [Contact Us]

Editorial Archives — The Altamont Enterprise, February 12, 2009
---
Cut raises, not teachers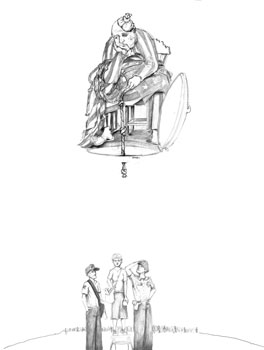 Illustration by Forest Byrd
"When you get to the end of your rope, tie a knot in it and hang on."
— Thomas Jefferson
American citizens are feeling sick and tired, beaten up, crippled by the economy. Maybe we've gotten fat and lazy living in a land of plenty, expecting to keep our own slice of the American dream without making any sacrifices for the common good.
Lean times are here and we all need to look at radical changes.
Local school board members and administrators, like those across the state, are being cautious, consulting with community members, as they decide how to deal with the governor's proposal for unprecedented cuts in state aid to schools — close to $700 million.
Governor David Paterson who proposed the cuts in December said this week that any federal stimulus money the state gets will be temporary and should be seen as surplus; he's going to stick to his budget proposal.
School budgets, unlike any other, have to be passed by the voters. When they are voted down, years of ill will can follow. Schools need community support to succeed. And communities need good schools in order to prosper.
The numbers are stunning this year as school districts draft their budgets for next year. If the state legislature were to adopt the governor's plan, the Berne-Knox-Westerlo School District, serving the rural Helderberg Hilltowns, would see its aid next year decrease by over $700,000. State aid this year paid for 46 percent of the district's $20 million budget.
"It's even uglier than it looks," Business Administrator Timothy Holmes told us soon after the governor made his announcement. Next year's BKW budget will go up 3 to 5 percent because of already agreed-upon contracts and increases in costs. "So really, we're talking about a gap of $1.3 to $1.5 million," said Holmes. "I don't see how we'll avoid staff reduction."
At nearby Voorheesville, a small suburban district in the town of New Scotland, wealthier than the Hilltowns, the proposed budget for next year is nearly $834,000 less than this year and would bring an estimated tax hike of 3.5 percent. Voorheesville currently has a $21.7 million budget, about 28 percent of which is covered by state aid.
Voorheesville is avoiding a much larger tax increase by proposing to cut, among other things, 13 percent of its middle- and high-school teachers. The last teachers hired will be the first fired, said high school Principal Mark Diefendorf.
"It's really taken a hit on us administrators here," he said. "People that I hired and that I value as teachers and as representatives of the school" could be affected, he said.
Guilderland, a large suburban district, has an $84 million budget this year, about 27 percent of which is covered by state aid. The governor's cut for Guilderland would amount to $2.7 million.
At a recent community forum in Guilderland, the superintendent said that, if the district were to cut all of its art, music, and sports programs, it couldn't make up for the cut in state aid. He has promised the district will not pass on the budget gap to the taxpayers. The spending proposal will be unveiled in March.
At meetings we've covered recently in all three districts, school leaders have said that the vast majority of the budget can't be changed. Most of a school's budget pays for staff — the salaries and benefits. Most of those costs are set by contract.
Here's a radical idea — radical in both senses of the word, revolutionary and getting to the root of the problem — why not re-open negotiations on the contracts?
Several school superintendents in New York State have said they will forego their raises this year. That is a great symbolic gesture, but a freeze on a single salary is just a drop in the bucket.
Private businesses are cutting back workers' salaries just to stay afloat. Some of the cuts are major. And the federal government is cutting back, too — limiting overtime hours for postal workers, for example.
All we're proposing is that school workers consider a wage freeze or, at the least, a reduced raise. At Guilderland, for example, the contract for teachers, which runs from July 1, 2008 to June 30, 2011, granted 4.7-percent raises the first year, 4.4 percent the second year, and 4.4 percent the third year.
Guilderland teachers progress up a 23-step schedule. A teacher on the first step this year earns $42,000 while a teacher on the highest step earns $71,909.
What if teachers each earned a little less, forgoing their raises, or at least part of them, so others in their ranks wouldn't lose their jobs?
Over decades of covering teachers' contracts, we've most frequently heard from union leaders that the reason teachers need raises is so that salaries will be competitive to attract the best new teachers. What teachers wouldn't be attracted to a school district where senior teachers had given up a raise to keep the newest teachers, who would have been the first fired?
Such a district would serve as a beacon in tough times, illuminating teachers who cared about their students, their colleagues, the quality of education in their district, and the welfare of cash-strapped residents.
Unemployment in New York State has now reached 7 percent, and it shows no signs of dropping. Adding teachers to the ranks of the unemployed won't help the economy any more than it will help education.
Guilderland's supervisor, Kenneth Runion, mindful of the December decrease in county sales tax revenues — revenues that pay two-thirds of the town's budget — is working with town employees to save taxpayer money by reducing hours and cutting overtime.
No one wants to give up a raise. Town workers and teachers alike work hard and have families to support. They are caught in the same hard times as the rest of us. But sometimes serving the greater good means personal sacrifice.
Brian Forte, president of Guilderland's Police Benevolent Association who is stationed at Guilderland High School, said this week, "The town has asked us to cooperate with their plans in order to avoid lay-offs. No one is ever happy to see a reduced salary, but everyone on the force understands the need to cooperate, and we're doing everything we can to maintain our numbers."
We admire Forte's stance: "Everyone on the force understands the need to cooperate."
School leaders keep saying that tough choices will have to be made. This is a choice that should be considered along with all the rest. Everyone needs to cooperate for the common good.
— Melissa Hale-Spencer
---