[Home Page] [This Week] [Classifieds] [Legals] [Obituaries] [Newsstands] [Subscriptions] [Advertising] [Deadlines] [About Us] [FAQ] [Archives] [Community Links] [Contact Us]

Editorial Archives — The Altamont Enterprise, January 29, 2009
---
Turn off the tube, get moving for a stronger future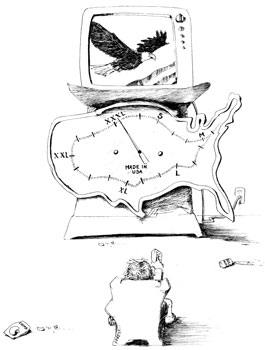 Illustration by Forest Byrd
Americans are getting fatter and it's not good for us.
The Journal of the American Medical Association published an article in 2004 that concluded the high levels of overweight among children and obesity among adults were a major public health concern. In the United States, the prevalence of overweight and obesity has increased markedly in the last two decades, it said. Nearly two-thirds of adults and one-third of children are overweight or obese.
Since then, the Centers for Disease Control have published maps tracking obesity trends in the United States from 1985 to 2007. The CDC maps give red states and blue states a meaning beyond the political. Actually, only one state in the entire country — Colorado — is colored blue, meaning it has an obesity rate of less than 20 percent. New York, at 25 percent, is one of thirty light red states with a prevalence of one quarter or more. Three states — Alabama, Mississippi, and Tennessee — are colored deep red, indicating a prevalence of obesity of 30 percent or more.
Each year, as we at The Enterprise put together our Health & Fitness section, we focus on a topic we hope will be useful to our readers — recently good nutrition, and healthful exercise.
This year, we're highlighting the relationship between obesity and tubing. According to the Kaiser Family Foundation, children between the ages of 8 and 18 spend more time — 45 hours a week — in front of a computer, television, or game screen than at any other activity besides sleeping. Think about that — 45 hours is longer than the average workweek.
According to the American Obesity Association, more than 30 percent of kids are overweight and more than 15 percent are obese. Multiple studies have shown that obesity in children increases the more hours they watch television.
The concerns are deeper than appearance or even self-esteem. According to the CDC, sixty percent of overweight children between the ages of 5 and 10 have at least one risk factor for heart disease, including elevated blood cholesterol, blood pressure, or increased insulin levels — factors that lead to hypertension, diabetes, and arteriosclerosis.
Researchers have found strength and bone mass is reduced in young TV watchers and metabolic rates are lower during television viewing than during resting periods.
Physical play used to be an important part of childhood before video games got the upper hand. Turning off the TV or computer and insisting kids engage in physical activities is the right thing to do. While school physical education programs teach important skills and lessons, families need to see that children exercise out of school, too.
The CDC outlines benefits to physical activity including improving blood pressure and reducing cholesterol levels; increasing strength and endurance; building healthy bones, muscles and joints; controlling weight and reducing fat; reducing anxiety and stress; and increasing self-esteem and overall energy.
The solution is simple and inexpensive — get moving. We know it's not easy. In a piquant column this week, staff writer Philippa Stasiuk details her trials in kicking the television habit.
Focusing on fun can help. A recent study released by the Outdoor Foundation found that, for youth, "fun" is by far the most common motivation for participating in outdoor activities. Discovery, exploration, and finding new experiences were other motivators.
You think the outdoors isn't enticing when it's winter? We've described some fun activities that families can enjoy, while reveling in the beauty of nature, as close to home as the Pine Bush Preserve.
"Snowshoeing is great because anyone can pick it up easily," Wendy Craney, a spokeswoman for the Pine Bush Discovery Center, told our sportswriter Jordan J. Michael. "Some people just come here on their own and hit the trails. It's cool because you can follow animal tracks."
Starting today is not a minute too soon. The same Outdoor Foundation study found that, in the last year, participation among kids age 6 to 17 in outdoor activities dropped over 11 percent.
We know times are tough but you don't need a big budget to have fun outdoors. Snowball fights and forts are free for the making. Sledding or walking in local parks is fun and free, too.
The cost of staying inert is hefty — not just personal costs. Again, according to the Centers for Disease Control, among children and adolescents alone, annual hospital costs related to obesity were $127 million during the two-year period from 1997 to 1999, up from $35 million in the two-year period from 1979 to 1981. In 2000, the total cost of obesity in the United States was estimated by the CDC at a whopping $117 billion.
If 10 percent of adults began a regular walking program, $5.6 billion in heart disease costs could be saved, according to the Centers for Disease Control. The saved dollars and cents can hit home. A sustained 10-percent weight loss, the CDC says, will reduce an overweight person's lifetime medical costs by $2,200 to $5,300 by lowering costs associated with hypertension, type 2 diabetes, heart disease, stroke, and high cholesterol.
Healthy eating is also important, and TV watching plays a part here, too. A ban on fast-food ads could cut the number of overweight children in the United States by as much as 18 percent, according to a study in the Journal of Law and Economics. While we find it unlikely that the United States government, like the governments in Sweden, Norway, and Finland, would institute such a ban, there's no reason families can't take action by cutting out TV viewing altogether or at least screening out such ads.
The joys of winter sport can provide a lifetime of fond memories. This month, Cornelia Sanders, now in her sixties, paged through a scrapbook filled with pictures of her years as a speed-skating competitor — on the first Unites States team for women. We can't imagine a young person today compiling an album of TV shows to look back on with pride in future decades.
Being active now will make for a longer, healthier, and happier life later. So turn off the tube. Step outdoors and feel the crunch of snow underfoot. You'll be walking towards a brighter future.
— Melissa Hale-Spencer, editor
---