[Home Page] [This Week] [Classifieds] [Legals] [Obituaries] [Newsstands] [Subscriptions] [Advertising] [Deadlines] [About Us] [FAQ] [Archives] [Community Links] [Contact Us]

Editorial Archives — The Altamont Enterprise, January 15, 2009
---
Fastest, highest, strongest — and richest?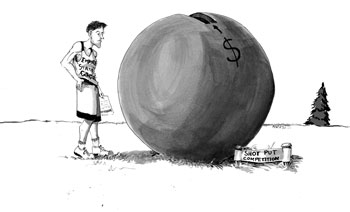 Illustration by Forest Byrd
New York's plan for the Empire State Games — athletes will have to pay if they want to play — undermines the purpose of amateur athletic competition.
Participants in the Summer Games will pay $285 and participants in the winter Games will pay $100, according to a plan for the 2009-10 fiscal year released Friday by the state's Office of Parks and Recreation. Additionally, all Masters and Open competitions will be suspended.
We understand the country is in a deep recession and we know that New York State is in fiscal crisis. But we believe that having no Games at all would be better than having Games where only athletes with money can compete.
Previous Games had been an economic leveler. The best athletes competed. Period. That meant inner city kids could play on the same turf with well-heeled suburban kids — and the best athletes would win.
The all-amateur event is modeled on the Olympics. The Winter Games are held in Lake Placid, which has facilities for skiing, skating, sledding, and jumping from the 1932 and 1980 Olympics. The Summer Games take place at different venues across the state. At both events, athletes from six regions compete against each other.
The Altamont Enterprise has covered the Empire State Games for the last 20 years. We've told the stories of local athletes, young and old, who have inspired others and learned about themselves in the midst of competition.
We remember covering the 2006 Winter Games, held at the same time the Olympics were going on in Turin, Italy. About a tenth of the United States team competing in Italy for that Olympics, 21 American athletes, had competed in the Empire State Games.
But the Games are more than a funnel to world competition.
Athletes with no plans for the Olympics value the Empire State Games for their own merits. "It was awesome," Nicole Stagg, a Voorheesville native, told us after her Adirondack ice hockey team upset the traditional winner at the Games to bring home the gold medal in 2006. "I was just glad to be a part of it," she said.
The game was played in the Jack Shea Arena, built for the 1932 Olympics and named for a Lake Placid native who won two gold medals for speed skating and later became the town supervisor.
As the stadium rang with bells and cheers that day in 2006, Stagg also said, "I've always been a team-sports person. I like the way everyone comes together for a common goal."
More than the athletes come together as they inspire those in their midst.
We talked during the 2006 Games to two veteran skaters — Barbara Kelly and Maggie Atkins. Both in their late seventies, they planned grand awards ceremonies for the winning skaters in those Games.
"It gives us a chance to interface with a lot of people," said Kelly, a Lake Placid native. "And it's a sport we love."
"Love" is the root word, from the Latin, for amateur. Amateur competition isn't about money. Athletes compete for the love of their sport. They are cheered on by family and friends, yes, but also by people they don't even know because they represent something greater than the individual; they represent an ideal.
I competed and coached in the very first Empire State Games and, to this day, thirty years later, I remember the thrill and honor of representing Buffalo's West Side Rowing Club and Western New York. I fielded and coached the first women's crew team for West Side. The club was spurred to support a women's team specifically because the Empire State Games were offering the competition that summer of 1978.
The women's program at West Side has gone on to produce Olympic athletes. But it started because the Empire State Games held out an ideal of equality — an ideal that teams across the state could rise to and meet. And it didn't depend on athletes having money.
Money is part of the Games, though, and not just the $2.7 million paid by the state. As the summer Games are held at different venues, they provide economic stimulus to those places as thousands of people come to watch and support the athletes. Like so much else in a failing economy, cutbacks lead to further recession. The money the state put into the summer Games last year brought patrons to restaurants and motels in Binghamton. The local economy got a boost, which can have a significant ripple effect.
We at The Enterprise believe the Games are worth funding — even if the Games have to be cut back to every other year or very fourth year like the Olympics — and we also believe they could be funded for less than the $3 million they cost last year. We bet officials — from time keepers to referees — would be willing to donate their time and expertise if called upon. Uniforms could be re-used from year to year. We bet former competitors may have kept theirs and could donate them, lending historic perspective to a competition with a long and proud history.
It's a history where the heroes are not made because of wealth but rather because of talent honed through hard work and practice.
I was on hand at the 1980 Olympic Games in Lake Placid. It was in the midst of the Cold War, a time that, in retrospect, seems almost simple and difficult to imagine. There were just two dominant powers in the world, and the Soviet Union was seen by most Americans as a monolithic force of evil. Pride was palpable when the American hockey team beat a team the world had thought was unstoppable — the Soviet Union's.
The euphoria that shook the stadium with cheers and roiled out into the streets after that game made me believe that athletic competition made more sense than war. If we, as human beings, have a need to compete, to show our dominance, to win, why not channel our resources into games instead of war?
We are now in difficult times and they could become worse before they become better. In tough times more than flush times, we need something to cheer for and to believe in. We need the hope that heroes bring. Home-grown heroes, heroes from our Empire State, and from our own towns are made through competition on a level playing field, one where each has the chance to strive for and be his or her best.
The best should be able to compete, regardless of their ability to pay. Any victory based on paid participation would be hollow. No athlete wants to win that way.
"This state is like no other," Hugh L. Carey told the athletes at the Summer Games in Rochester in 2006. The Games were started when he was governor and named after him. "We started the Empire State Games to give people hope for tomorrow," he said.
We could use that hope today. Let's not undermine it. Having athletes pay to compete cheapens the ideal for all of us.
— Melissa Hale-Spencer, editor
---