[Home Page] [This Week] [Classifieds] [Legals] [Obituaries] [Newsstands] [Subscriptions] [Advertising] [Deadlines] [About Us] [FAQ] [Archives] [Community Links] [Contact Us]

Editorial Archives — The Altamont Enterprise, January 8, 2009
---
Democracy won't work with lazy citizens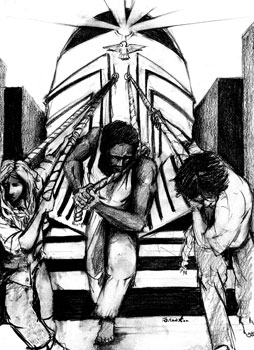 Illustration by Forest Byrd.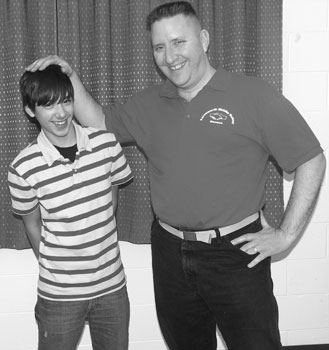 Photo: The Enterprise — Melissa Hale-Spencer
Citizen in training: Myron Vititow, 13, gets a hand from his father, Bill Vititow, Boy Scout leader and Guilderland High School teacher, as he works on a merit badge on citizenship in the community. The pair were at Tuesday's Guilderland School board meeting, during which a public policy student of Vititow questioned the board.
Nicholas Cattell had a question.
A skinny kid in an over-sized green sports jersey, he wanted to ask the Guilderland Board of Education something on Tuesday night.
He had been listening intently during the meeting, occasionally taking notes. One of the pieces of routine board business was consideration of a list of textbooks — ranging from Vote! for elementary students to Ghost Boy for middle-school kids.
The copious review forms in the board's packet explain that Vote! uses a mayoral campaign to show the steps in an election. And they explain that Ghost Boy is the story of an albino, a 14-year-old boy with no color. He is miserable until he joins a traveling circus and finds people who understand him.
At the end of the meeting, during the seldom-used public-comment session, Cattell stepped to the microphone and told the board he was curious to know why the books need to be approved. "You should be able to get your hands on any literature you want," the Guilderland High School senior told the board.
There was a pause after he finished speaking. The school board president started to say it was the board's policy not to respond to comments from the public.
Then something unusual and noteworthy happened.
President Richard Weisz directly answered the student's concern. "As a school district, we are responsible for what our students have access to," he said. "We want to make sure materials are appropriate educationally and otherwise...The board is the last step in a multi-tiered process."
Students have access to all kinds of books in the school library, said another man seated on the dais — Demian Singleton, the district's assistant superintendent for instruction. The school board, he explained, approves textbooks that are used by all students under the direction of a teacher. Teachers review the books to be used by more than four students for quality and accuracy, he said.
Then a third man from the dais chimed in. "Your question goes to the issue of censorship in a free society," said Superintendent John McGuire. Censorship, the superintendent said, is something "many of us find repugnant." The board approval process is a way of affirming materials have educational value, he said.
Cattell allowed that those explanations made sense. Then he continued the dialogue on book selection. "If it's controversial, that should be on the kid...It shouldn't be your responsibility," he said.
McGuire responded that he had just, that day, written to a parent about free speech. The school district teaches about such issues as religion and philosophy, he said, without promoting a stance in order to further critical thinking.
It was wonderful to see a productive exchange between a sincere student and those on the dais. The dialogue stood in sharp contrast to the meetings this summer where the same hall was packed with angry students, upset about the transfer of two favorite high-school teachers to the middle school.
Cattell, who hopes to go to either Manhattanville College or the University of Southern California next year to study law, political science, philosophy, and psychology, said, after speaking to the board, "I love fighting for rights."
He was at Tuesday's meeting as part of a project for a high-school public policy class.
The semester-long course — required by the state -— is taught by Bill Vititow. He was transferred to the high school this year at the same time Matt Nelligan was fighting his transfer to the middle school; Nelligan left the district for another job after the first week of school. Vititow said he likes teaching at the high school and has brought some of the middle-school teaching approach with him.
"I use an experiential, hands-on approach," he said. "Kids have to learn we can't rely on the Internet to tell us about public policy."
His students write reflective pieces about the meetings they've attended and also make PowerPoint presentations to their peers. Some students have attended meetings that they found "excruciatingly dull," Vititow said, and others have been excited.
He requires the students to photograph themselves at the meetings so they can't "just read about it in The Altamont Enterprise and pretend they were there," he said.
"Apathy is easy," said Vititow. "Nick got charged up even with what was going on here," he said after Tuesday's school board meeting. "I don't know if that would happen if they stayed in a classroom."
Looking around the empty meeting hall afterward, Vititow said, "You don't have to be afraid to come to a place like this...It can seem stuffy to a young person."
He went on, "Some kids will say they hated it, others are jazzed up." He described one student who went to a hearing on a landfill expansion, expecting to be bored but was, instead, moved to hear what residents objecting to the expansion had to say.
Vititow was at Tuesday's meeting not as a high-school teacher, but rather as a father and Boy Scout leader. He was with his 13-year-old son, Myron, who plans to one day be an Eagle Scout. Myron, who has 14 merit badges, is now working on a Citizenship in the Community badge.
Myron pulled out a sheaf of paper with detailed instructions on all the tasks he has to complete.
"That's where I got my idea for the course," said Vititow. When he first explained it to his students, some of the high school seniors said, "This is too difficult," Vititow recalled. "I informed them I have 11-year-olds that do this."
"I bet those boys don't have to write pages and pages of stuff," a student responded.
An Eagle Scout in the class vouched for the fact they did — and more.
"It's hard," said Myron, "but worth it."
Vititow's high school students and Myron are learning a lesson essential to the function of democracy. You have to be involved. You have to show up. Sometimes the meetings are excruciatingly dull, but you have to pay attention. You have to ask questions.
The responses inform you and the others who are listening. You have to report back and share your insights, then discuss your differences, and learn from them. You have to read and research and look for the best course.
Citizens in New Scotland, aroused by a developer's plan for a large mall, have done just that. Many have spoken out to make their wishes known on the need for zoning that will preserve their town's character. We commend them and urge their government to respond.
We were appalled at a recent hearing for a major development in Guilderland, Glass Works Village, when citizens berated town officials for not keeping them informed. Our newspaper had covered the project for over two years. Several enraged Guilderland residents told the town board they didn't have time to read the newspaper. Citizens are responsible for learning about their government.
Step up to the microphone like Nicholas Cattell did on Tuesday. That's the job of the citizen in a government of the people. And if the government is doing it's job, you'll get straight answers like those heard on Tuesday night.
If it's not, ask more questions, circulate petitions, organize campaigns, and vote. Remember what the teacher said: "Apathy is easy."
Remember what the 13-year-old Scout said: "It's hard but worth it."
Democracy is worth your time and effort.
— Melissa Hale-Spencer
---