[Home Page] [This Week] [Classifieds] [Legals] [Obituaries] [Newsstands] [Subscriptions] [Advertising] [Deadlines] [About Us] [FAQ] [Archives] [Community Links] [Contact Us]

Guilderland Archives — The Altamont Enterprise, December 4, 2008
---
Black Friday at GCSD
TAs, at impasse, say pay is unfair, reach for equality
By Melissa Hale-Spencer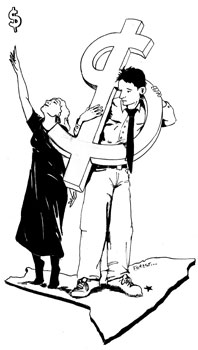 With illustration by Forest Byrd
GUILDERLAND — Black Friday may have a new meaning this year in the Guilderland schools.
Teaching assistants, who are at in impasse in contract negotiations, will wear black this Friday, Dec. 5, a pay day, to show solidarity. They say they are paid significantly less than their counterparts at other local school districts. They are also asking members of other units in the school district to wear black to show their support for the teaching assistants.
"Our negotiating team decided we want to show we are a strong group and we do stand together," said Pauline Myers, the president of the Guilderland Teaching Assistants Association, of the decision to wear black. "We want them to see the support we have."
The teaching assistants' three-year contract with the district ended on June 30 and an impasse was declared in September. The sticking point is wages.
Lin Severance, who became Guilderland's director of human resources in October when Susan Tangorre retired, said Tuesday she had not been aware of plans for a protest.
In her short time at Guilderland, she said that she has been "incredibly impressed with the sensitivity" that the district takes when looking at the requests of each bargaining unit; there are 12.
She also called the district "responsible" and "very generous" with the benefits it provides.
"I think the most difficult — it's like that rock and hard place — the most difficult part for the administration and the board when settling a contract," Severance said, "is recognizing that there is only one pot of money and we need to pay everyone from that one pot of money and it's kind of difficult to divvy it all up.
"If we were to receive more funding from the state or the federal government I think that districts would have a little bit more leeway in assisting some of these negotiations but it's a very, very difficult time…."
"We understand these aren't the best economic times," said Myers. "We know it can't be done in a year. We're 30 percent lower than some of the other [local] districts. We can't solve it in one contract."
Maceo Dubose, president of the Guilderland Teachers' Association, said, "We definitely support our colleagues. I've asked our teachers to show solidarity," he said of wearing black on Friday.
He went on, "Most definitely, the teaching assistants are valuable…They are an integral part of the success of the students…Their salary doesn't sound competitive."
In light of Severance's comment that there is just "one pot of money," The Enterprise asked Dubose if the teachers might, in a future contract, consider lower raises so the teaching assistants could have more. "I can't speak to the notion that teachers would be willing to give up money for any other group," he said.
When Myers was asked if other units should have less from the "one pot" so teaching assistants could have more, she replied, "I would never think that."
Hourly wages
Under the last contract, teaching assistants got raises under 4 percent for each of three years as they coped with increased state and federal requirements for training.
The teaching assistants are paid hourly wages according to a 25-step system, with salary increasing on each step. They are currently being paid according to the third year of the contract, said Severance.
Those on the first step earn $9 an hour; those on the top, or 25th, step earn twice that — $18 an hour.
Based on a five-hour work day, the average annual salary for a first year assistant is $8,731 during the school year while a 25-year assistant would earn $17,462.
The teaching assistants ratified the contract in 2005 by a vote of three to one. At the time, Tangorre said, "People should appreciate our wonderful teaching assistants. They have a very hard job."
The school board ratified the contract unanimously at its Oct. 25, 2005 meeting without discussion.
Myers said that figures on Capital District schools from the New York State United Teachers, with which her unit is affiliated, show that Guilderland teaching assistants are the lowest paid and earn 20 to 30 percent less than their counterparts at some other local schools. Labor relations specialists at NYSUT were attending a conference yesterday and were unavailable for comment.
"Always…overlooked"
Myers, who works at Lynnwood Elementary School, has been a teaching assistant for the Guilderland School District for 17 years. "It's always been that way," she said of the low Guilderland wages. "If I went to another district, I could earn so much more."
Myers lives in the district and feels loyal to it. "I'm devoted to it," she said, adding that a lot of teaching assistants feel the same way.
Myers also described herself as a quiet person, unused to talking to the press, and uncomfortable with making a ruckus. She said other teaching assistants were the same way so that this first step, in organizing a quiet demonstration by wearing black, was a big step for them.
"We always seem to get overlooked," she said.
The work done by teaching assistants is varied. "Basically, we are there to assist in the education of children," said Myers. This could mean anything from working one-on-one with a special-needs high school student to re-teaching a lesson to a group of elementary children, Myers said.
Teaching assistants are different than teachers' aids. Assistants deal primarily with the academic part of helping teachers while aids help with the physical part, like supervision of hallways and cafeterias. Guilderland employs about 65 teachers' aids, affiliated with the National Education Association of New York.
Guilderland has about 230 teaching assistants, Severance said.
The Guilderland Teaching Assistants Association is a subgroup of the Teachers' Association, with its own officers and negotiating team.
The Guilderland Teachers' Association has 491 members. The other large unit in the district is the Guilderland Employees Association, with nearly 200 members, which include bus drivers and monitors, kitchen workers and maintenance workers.
The district has 700 full-time and 406 part-time employees, according to figures presented by Superintendent John McGuire for last year's $84 million budget; 491 are teachers, 584 are support staff, and the rest are supervisors or administrators. The district serves about 5,400 students.
Guilderland teachers are working under a three-year contract that runs until June 20, 2011. They progress up a 23-step schedule. A teacher on the first step this year earns $42,000 while a teacher on the highest step earns $71,909.
New requirements
State and federal regulations implemented several years ago now require more training for teaching assistants. "Some folks who have been with us many years were able to be grandfathered in with certification," said Tangorre in 2005 when the last contract was adopted. "New folks require an associate's degree and have to have ongoing units of professional development hours," totaling 75 hours over five years.
The state also requires an assessment of teaching skills for those hired after February of 2004.
In 2005, Tangorre said that, while training can be valuable, "Many of our teaching assistants don't have college degrees. They are natural teachers, good with children. They come to us with life skills and can be especially helpful with special-needs children."
Asked if the new training requirements might be fueling the demands for higher pay, Severance said, "That probably would have been a factor a couple of contract cycles ago...I believe this district grandfathered a lot of folks in." The newly hired teaching assistants already had the required credentials and certification, she said.
Asked the same question, Myers said of the new requirements, "It is more demanding on the new hires."
Mediation
Representatives for the teaching assistants and the district have met with a mediator twice, and a third session is tentatively scheduled for Dec. 10, said Severance.
"A mediator comes in and listens to both sides…," she said, "communicating things one or the other side isn't hearing."
For example, she said, "If it's an economic issue, a mediator might be able to better explain kind of the economic climate that the district is working under. Because sometimes, when the district provides that message it sounds more like we can't afford to do that because — whereas if a mediator comes in and explains the economic climate of the state, what the responsibilities of the district are, those kinds of things, sometimes that information is better understood.
"By the same token, the mediator can also listen to … the teaching assistants' situation and try to communicate to the district their priorities and what it is that they're ultimately seeking."
She concluded, "Mostly it's about working with the numbers and working through the issues…."
If mediation doesn't work, Severance said, the next step is fact-finding. "The district would seek information from other school districts of similar size and socio-economic community to find out what they're offering there," she said.
Told that the teaching assistants say they are the lowest paid in the Suburban Council and the Capital District, and want a fair wage, Severance said, "I have seen some information provided to us by the teaching assistants that bears that out. I haven't done any fact-finding myself to find out how accurate this is or how far off they are."
She also said that, just because other school districts may pay their teaching assistants more, "It doesn't mean the pot suddenly grows and we can make that better."
Severance went on, "There are a lot of factors involved…Negotiating 12 different contracts, you need to be very sensitive to all the units you're negotiating with," keeping percentages consistent.
"The board is very sensitive to the community threshold," Severance said. "They're very fiscally responsible for the big picture."
---