[Home Page] [This Week] [Classifieds] [Legals] [Obituaries] [Newsstands] [Subscriptions] [Advertising] [Deadlines] [About Us] [FAQ] [Archives] [Community Links] [Contact Us]

Editorial Archives — The Altamont Enterprise, November 6, 2008
---
We need to keep paying attention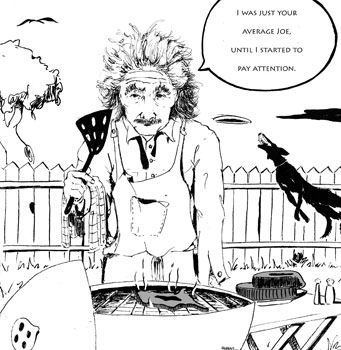 Illustration by Forest Byrd
We've always relished Election Day. Democracy turns on the chance for choice. This year, the day, like the presidential campaign leading up to it, was extraordinary.
Early on Election Day, the Guilderland town historian stopped by our news office to drop off a column. In the decades she has voted here, she said, she'd never seen such a crowd at Town Hall. There were lines at polling places across our region.
"What a great day," said our sportswriter as he arrived at work. A young man, he went on with the sort of pride that usually comes from an important personal accomplishment: "I just voted."
When we stopped to get a sandwich for lunch at Hungerford Market in Altamont, a woman told us her ex-husband, who had immigrated to this country decades ago, voted for the first time in this election. She laughed when she said their votes would cancel each other but she was pleased he had voted.
Election Night, as we watched television reports, we heard about the surge of voters across the country. Again and again, we heard the phrases about history being made as America stood at a crossroads. Scenes of joyous celebration were broadcast from cities across the country. Tearful African-Americans said they never thought they'd live to see a black man elected president.
As the televised maps of red and blue states filled our screen, it was clear early on that the Democrats would carry the day. The last Republican congressman left in New England conceded by referring to the tsunami of support for Democrats sweeping the nation.
The party split that had been even in the presidential race four years ago now favored Democrats by eight points: 40 percent Democrats to 32 percent Republicans.
What moved us most on Election Night was the concession speech given by John McCain. He broke our heart. He didn't harp on differences; he didn't revert to campaign slogans; he didn't cast blame or sound a bitter note.
Instead, he acknowledged the enormity and historic significance of Obama's win. McCain said the campaign had been the greatest honor of his life. "The failure is mine, not yours," he told his supporters.
McCain said he had congratulated Barack Obama on being elected president of a country they both love. He credited Obama for inspiring the hopes of millions of Americans. He spoke of the "old injustices" suffered by African-Americans and said Obama's election was historic.
"Let there be no reason now," said McCain, "for any American to fail to cherish their citizenship on this, the greatest nation on earth."
Finally, he made a heartfelt call for unity. "These are difficult times for our country," he said, urging his supporters to bridge differences, "to work together to get our country moving."
McCain concluded, "Americans never quit; we never surrender. We never hide from history. We make history."
Obama, too, was gracious in his speech. He did not gloat or preen. His bearing was more somber than celebratory.
He sounded the same message that first brought him national attention four years ago — that Americans need to come together for the common good. It was the central message of his campaign and the reason he was elected.
Our country is not a collection of red and blue states or different ethnic or special interest groups, said the president-elect. "We are and always will be the United States of America."
He was generous to his opponent, calling McCain a brave and selfless leader. "He has endured sacrifices for America that most of us cannot begin to imagine," said Obama.
Obama told his supporters, "I will never forget who this victory truly belongs to — it belongs to you."
The challenges, he said, are enormous, naming two wars, a planet in peril, and the worst financial crisis in a century. He warned that the road would be long, the climb steep, with setbacks and false starts.
"This victory alone is not the change we seek; it is only the chance for change....Let us summon a new spirit of patriotism, of responsibility..." said Obama.
He invoked Abraham Lincoln and the Republican Party, founded on self-reliance. "As Lincoln said of a nation far more divided than ours, 'We are not enemies but friends. ... Though passion may have strained, it must not break, our bonds of affection.'"
He told the Republicans that he heard their voices and needed their help. "I will be your president, too," said Obama.
He spoke of a 106-year-old woman, Ann Nixon Cooper — born in a time when she couldn't vote because she was a woman and because of the color of her skin — who voted in Atlanta this election. Obama described the changes that had shaped America in her lifetime — depression, world war, the civil rights movement, man walking on the moon — as the crowd, over and over, echoed his phrase, "Yes, we can!"
"This is our moment... to reclaim the American dream..." said Obama to the cheering masses. "Out of many, we are one."
It would be naive to think that this election, or any other, would erase differences. Rather, because the discourse was largely civil and constructive, this election has helped define differences so that the path the majority has chosen — ending the war in Iraq, securing universal health care, protecting the environment — is clear.
For the first time in a long while, we feel proud to be American. We're proud that the democratic process has worked. Many more Americans voted in this election than ever before. People who had previously felt disenfranchised, apathetic, or marginalized lined up to vote.
That energy needs to be sustained if the mandate is to be carried forward. We need to keep paying attention, to stay involved. Both McCain and Obama spoke of our difficult times and the need to work together to move forward. We must start on that journey now.
— Melissa Hale-Spencer, editor
---