[Home Page] [This Week] [Classifieds] [Legals] [Obituaries] [Newsstands] [Subscriptions] [Advertising] [Deadlines] [About Us] [FAQ] [Archives] [Community Links] [Contact Us]

Editorial Archives — The Altamont Enterprise, October 30, 2008
---
Disabled veterans deserve accessible and equitable support
"The willingness with which our young people are likely to serve in any war, no matter how justified, shall be directly proportionate to how they perceive the veterans of earlier wars were treated and appreciated by their country."
— George Washington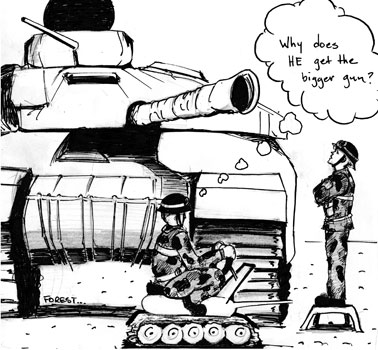 Illustration by Forest Byrd
When New Yorkers go to the polls next Tuesday, most will know who they want for president. But many will be surprised to learn they're also to vote on a constitutional amendment.
The amendment would allow any disabled veteran who is certified by the federal Department of Veterans Affairs to get extra points on Civil Service exams, boosting chances of getting a government job. Right now, New York's system is not aligned with the federal system so some New York veterans — like those getting payments from the Department of Defense rather than from Veterans Affairs — don't get the points.
We urge you to vote for the amendment. Why should disabled veterans be penalized just because they live in New York? The state 's model should follow the national model.
In researching the amendment, our reporter Philippa Stasiuk discovered a much larger problem — inequities from state to state and even doctor to doctor. New York's compensation figures are below the national average; the Empire State ranks 29th. Why should the 120,000 disabled veterans in New York State — about 10 percent of the 1.2 million vets who live here — get less than those in New Mexico, the state with the highest average annual payment?
Discrepancies exist, too, in the way veterans are diagnosed, according to the Veterans Affairs own report. Take post-traumatic stress disorder, for example. A fifth of the veterans of the war in Iraq are diagnosed with the disorder. Since there's no national method for diagnosing PTSD, it is left to individual doctors to classify veterans, assigning them a percentage by which they are believed to be disabled.
In the course of researching her story, Stasiuk contacted Gene Simes of Wayne County, who founded Operation Firing for Effect. A Vietnam veteran, Simes has trouble seeing. He's 63 now but clearly remembers fighting in Vietnam as a young man. He describes encountering a Viet Cong soldier submerged in water. "His arm came up with a grenade," said Simes. "I dove into the water. I killed him."
The water infected his eyes.
Another time, while out on patrol, Simes ran into a booby trap, he says. "They told my mother I was dead," he relates. "I still have shrapnel in my temple the size of a dime."
Simes's group is pushing a resolution for mandatory funding of veterans' health-care services. The bipartisan group is eager as Nov. 4 looms to get candidates elected who support the measure. Barack Obama is one of them. (When the Senate voted on the matter in 2006, it was defeated by eight votes — 54 to 46. Obama voted for it and John McCain voted against it. New York's senators, Hillary Clinton and Charles Schumer, both voted for it.)
"The goal is to get assured funds," said Simes, "to keep the politicians from using it the way they do now, like pork barrel, for what they want."
At Simes's behest, veterans from across the country called our newsroom this week and told their stories.
Theodore Roybal from New Mexico, the state with the highest average benefits, said, "Veterans Affairs doesn't tell you what you're entitled to. You have to find it out by word of mouth...The biggest thing that goes through your mind is the government won't help you."
Roybal, who is 64 now, was drafted in 1965 in the midst of the Vietnam War. He served in the 173rd Airborne and jumped behind enemy lines during Operation Junction City on March 9, 1967. "Eighty guys broke their arms and legs," said Roybal. "I landed about 100 feet from the fight in the jungle. We were pinned down with sniper fire from the VC."
He recalled, "In Vietnam, the jungle was my life...We were always on search and destroy missions, fighting with the VC whenever they attacked you...We had artillery exploding right next to us all the time."
He returned to the States in August of 1967. "When I landed in Oakland, the protesters yelled at us, spit at us, called us baby killers," Roybal said.
It wasn't until years later he suffered post-traumatic stress syndrome. He had nightmares of his buddies getting killed. "If I hear a loud noise, I get scared," he said.
It took him a year-and-a-half to two years to get benefits, Roybal said, as he applied and then went through an appeals process twice.
As new veterans return home every day and old veterans need more care, we, as American citizens, have a duty as binding as a soldier's. Whether we support or oppose the current war, we owe those who fought and were wounded health care and support.
Gene Simes may have trouble seeing because of a battle fought years ago in an unpopular war, but he has a vision we all should share — one of mandatory funding for veterans' health care.
The soldiers have done their duty; now we must do ours.
---