[Home Page] [This Week] [Classifieds] [Legals] [Obituaries] [Newsstands] [Subscriptions] [Advertising] [Deadlines] [About Us] [FAQ] [Archives] [Community Links] [Contact Us]

Editorial Archives — The Altamont Enterprise, October 23, 2008
---
Each of you must speak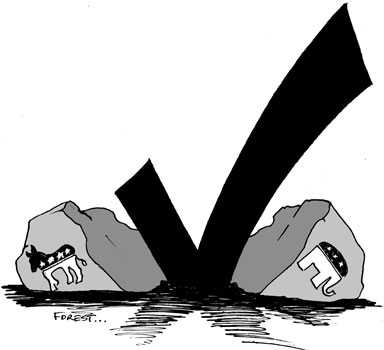 Elections are about having a choice. The choices in this year's presidential election are clear-cut — with marked differences between the two candidates on issues ranging from the national economy to the war in Iraq.
During the Spanish-American War, Americans took up the cry, "Our country, right or wrong!" Mark Twain wrote at the time that the phrase was "an insult to the nation."
Twain wrote, "Each of you, for himself, by himself and on his own responsibility, must speak."
Locally, in the rural town of Westerlo, voters are being offered a choice, too, for the first time in years. On the face of it, the Westerlo race seems to undermine the purpose of a two-party system. An enrolled Democrat is running on the Republican line and an enrolled Republican is attempting to run on the Democratic line.
Say what?
Some explanation is in order. Democrats outnumber Republicans in Westerlo by nearly three to one. The all-Democratic town board appointed Susan Walter, an office manager for a Delmar accounting firm, to the council in April after the elected councilwoman had to step down because she was in violation of the Hatch Act.
In earlier years, Walter would have been a shoo-in for the job. The Republican Party in Westerlo had given up. Democrats ran unopposed.
But not this year. Jack Milner, a farmer and an enrolled Democrat, had served on the newly reconstituted planning board, which was charged with developing the town's first-ever comprehensive land-use plan. The town board ousted the planning board chairman because, since he wanted no pay or pension, he wouldn't fill out a Civil Service form.
"I resigned because they fired Leonard Laub," said Milner. It was the ousting of Laub that inspired Milner to run for town board, looking to challenge the town's single-party rule.
He gathered more than twice the number of required signatures to run as an independent, but his petition was challenged by the Democrats and thrown out because each page lacked the proper wording.
So Laub's wife, Bonnie Kohl-Laub, became the interim chair of a reborn Republican Party that nominated Milner for the town board seat. In the same period, the Democrats caucused and nominated Walter.
Both Walter and Milner have filled out forms to change their party enrollment, but the changes won't be in effect before the Nov. 4 election.
While Walter secured the Conservative line, her name may not appear on the Democratic line since the county's two election commissioners — one, a Democrat and the other, a Republican — are split on whether or not she is eligible. She missed the Sept. 19 deadline for filing a certificate of acceptance, required of candidates nominated by a party in which they are not enrolled.
The matter has gone to court.
"I'd just as soon see her on the ballot," Milner said this week. He wants to win fair and square. "If I win when she's not on the ballot," he said, "people will say it's because she wasn't on the ballot. That's like what the Democrats did to me. They wanted me off the ballot because they saw me as a threat."
Our Hilltown reporter, Zach Simeone, asked the candidates last week if parties meant anything.
"You're going to vote for whoever you want to vote for anyway," said Walter. "It just depends on what the issues are, what you feel, and who you agree with...."
Walter attributes her switching parties to two things: her recent appointment to the Democratic town board and this year's presidential election.
"When I was living in Delmar, I had always been a Republican," she said. The suburban town, after more than a century of GOP dominance, elected its first Democratic supervisor in 2003.
Walter planned to switch parties in hope that Hillary Clinton was going to be on the Democratic ticket this year. "And then, also being new on the town board, I knew that most people were Democrats," she went on. "So I thought, 'If I'm going to be on the town board, and I'm going to vote for Hillary, why not change parties?'"
Milner's reasons for party enrollment were equally pragmatic and rooted in place.
Milner said that his family, like most farmers in town, had been Republicans until the Great Depression in the 1930s when allegiances switched to the Democrats, who offered social programs. And, he accepted the Republican nomination after his bid to run as an independent was thwarted.
Milner maintains that parties should work together for the good of the town. "This bickering between parties just causes hardships and financial problems, instead of having the people work together — that's in the town, city, and the country," he said.
He also said, "There's got to be at least two people running for town jobs...Last year's election was just straight Democrats and that's it. What kind of choice is that?"
Indeed, last year, when there were multiple races in each of the towns we cover, the candidates were willing, eager, and largely able to discuss the issues important to the people they hoped to represent — except in Westerlo.
The candidates there were all unopposed and had no need to answer our questions. Westerlo residents were the losers because they had no choice.
This year, due to the rebirth of a second party in town, the citizens of Westerlo have a choice. Both Walter and Milner are eager to explain themselves and their views on the issues. We devoted a full page to the candidates last week so that voters can make an informed choice.
We urge our readers to see how the candidates' answers line up with their own beliefs. And remember what Mark Twain has to say about voting: "...It is a solemn and weighty responsibility, and not lightly to be flung aside at the bullying of pulpit, press, government, or the empty catch-phrases of politicians. Each must for himself alone decide what is right and what is wrong, and which course is patriotic and which isn't. You cannot shirk this and be a man."
Our country has evolved, since its founding, to become more inclusive — to enfranchise not just property-owning white men, but women and people of color, both wealthy and poor.
We must, each of us, act on our beliefs. We can begin by voting on November 4.
---