[Home Page] [This Week] [Classifieds] [Legals] [Obituaries] [Newsstands] [Subscriptions] [Advertising] [Deadlines] [About Us] [FAQ] [Archives] [Community Links] [Contact Us]

Editorial Archives — The Altamont Enterprise, October 9, 2008
---
Looking for leaders: Who should own the wind?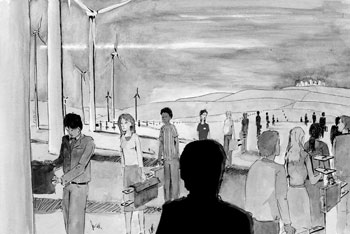 Illustration by Forest Byrd
"Depend on it, sir, when a man knows he is to be hanged in a fortnight, it concentrates his mind wonderfully."
— — Samuel Johnson
As a nation, we need to develop renewable energy sources. It will increase America's economic security by reducing dependence on foreign oil. It will also reduce global warming, which is essential for the preservation of our Earth. Per capita, the United States is the leading contributor to global warming at 30.3 percent — nearly a third. We need to change our ways.
Harnessing the power of the wind to generate electricity is essential to our future.
Alan Borst, an agricultural economist in Rural Development with the United States Department of Agriculture, based in Washington, D.C., visited our news office in April because he had read our stories and editorials about a community wind project in Knox. He considered it unique to New York and is following the project for his Ph.D. dissertation.
He brought with him a philosophy we embrace: Wind power is a clean and renewable energy source. It produces no pollution and is created every day by the heating and cooling of the earth. It is not affected by fuel price increases or supply disruptions. It creates more jobs per watt than all other energy sources, including oil and coal. It can cost as little as four to six cents per kilowatt hour, making it competitive with conventional sources. It can preserve farmland by providing steady, ongoing income for farmers while the land is still cultivated. Finally, and most importantly, there are enough reliably windy areas in the United States to produce three times as much electricity as the nation uses today.
An important question, though, was brought home to our readers last week: Who owns the wind?
Last Thursday, we broke the story that Shell Oil is planning wind farms on the crest of the Helderbergs; representatives have been asking residents of Rensselaerville, New Scotland, and Berne about leasing their properties.
We've received many calls and inquiries since then. Some are from residents who want the phone number of the Shell spokesman we talked to because they own acreage in the Hilltowns and want to get in on the action. Others are from residents who are frustrated because they didn't know about the project and can't get answers from their elected officials — at the town, county, or state levels. Still other calls have come from citizens who oppose what one termed "corporate greed." Some want to talk about problems that have arisen when commercial wind farms were built in their area or how they feel cheated with what they've been offered.
We're continuing our coverage this week to answer as many questions as we can.
Two years ago, when we surveyed local leaders for their views on wind power, Berne Supervisor Kevin Crosier said, "I like the idea of wind power; we definitely have wind." When planning for large wind farms, he said, "The devil is in the details..."
At the same time, in the summer of 2006, we covered a presentation in Rensselaerville, where one of the founders of New York Farmer's Wind Power, LLC said, "There will be large-scale utility wind power in this area in the next 10 years." He said the question is: Who will own them?
That is, indeed, the question now. As the potential for large-scale utility wind power hovers over us now like the slowly turning blades of a windmill, we urge our readers not to turn away from wind power, but to take control of it instead.
The solution, not just the devil, is in the details. We urge local leaders to work together to inform themselves so they can inform their constituents. Over a decade ago, Daniel Driscoll, an engineer from Knox, organized a regional planning forum that eventually spawned the Helderberg Escarpment Planning Guide, assembling in-depth research on the escarpment and the land below — its geology, soils, hydrology, plants, animals, agriculture, aesthetics, recreation, and historical and cultural resources.
"The communities in the region are interdependent — one on another — for the wise stewardship of their magnificent resources," says the guide. "What one community does can help or hinder adjacent communities in their efforts to assure that future generations will be able to enjoy the Helderbergs as much as we do."
A similar forum should be organized now — as soon as possible — on wind energy. Towns need to update their zoning to allow for windmills where they want them but not where they will mar vistas most consider important.
Keeping residents informed is essential. Residents of other communities where commercial wind farms have been built have signed contracts that require them to remain silent on compensation. This allows inequitable payments and leads to divided communities.
Most importantly, our towns need to decide if they want a large company to own windmills here or if the ownership should be community based. We favor community ownership. Our editorials over the last several years, while calling for appropriate zoning, have been supportive of the community wind project in Knox, which planned to place three 1.5-megawatt wind turbines along Middle Road, back from roads and away from houses.
That project has proceeded slowly and carefully to amass technical information and keep the public informed on its progress. Perhaps leadership on organizing a central forum could come from that group.
Another founder of New York Farmer's Wind Power, David Weiss of Rensselaerville, said at the presentation two years ago that the big wind developers will pay farmers $3,000 to $7,000 per turbine per year to house their windmills and estimated that, if the turbines were locally owned, they could bring in a million dollars for the town each year.
He told us this week that, while communities can be divided by commercial wind farms since everyone's view changes but only a few profit, community-owned ventures are generally supported since everyone benefits.
Community-owned projects offer the same benefits as corporate-owned and then some — better stimulating the local economy, increasing local energy independence, and not requiring transmission lines. Most of the need for electricity is on the two coasts where the population is clustered while most of the wind resources are far from those clusters; the lack of an infrastructure to transmit the power limits its development. But community-owned wind projects bypass the problem by supplying electricity locally.
Figures on community-owned wind power in the United States, according to Alan Borst, the USDA agricultural economist, show 67 percent are private, 21 percent are municipal utilities, 7 percent are rural electric cooperatives, 5 percent are schools, and .2 percent are tribal.
Borst favors a cooperative model to develop wind energy in rural America. We can envision a cooperative that serves the towns we cover — the rural Helderbergs and the more suburban New Scotland and Guilderland.
This doesn't necessarily mean Shell Oil, or any other large company wanting to develop a wind farm, has to be seen as a bad guy. If local leaders were to get together and decide on a course of action, they could harness a natural resource, work with the commercial venture, and still deliver profits locally.
When we asked Borst about conflicts between commercial and independent wind projects, he answered that he was not speaking for his agency but for himself, as a researcher. Unlike the often adversarial relationship between agribusiness, say, and organic farmers, Borst said, "In wind, they really need each other."
He went on to give this example: It's difficult to get wind turbines now; there's a two- to three-year wait since the manufacturing is not up with the demand. A community wind project could get the turbines, he said, by piggybacking onto a larger wind project and the corporation would get local goodwill.
"Non-community wind and community wind work well together," said Borst.
The money from wind power comes from generating electrical power, not from land rental. We'd like to see that money, and that control, stay local. Right now, Shell Oil won't answer our questions or anyone else's. If it were a community-owned project, local residents wouldn't be in the dark. The community would be wealthier and the light would be more than electric.
---