[Home Page] [This Week] [Classifieds] [Legals] [Obituaries] [Newsstands] [Subscriptions] [Advertising] [Deadlines] [About Us] [FAQ] [Archives] [Community Links] [Contact Us]

Editorial Archives — The Altamont Enterprise, August 7, 2008
---
Build our economy and our community — buy locally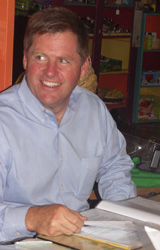 Photo: The Enterprise — Melissa Hale-Spencer
Perusing a menu of homegrown foods, New York State Agriculture Commissioner Patrick Hooker prepares to dine Tuesday at Indian Ladder Farms in New Scotland.
Verdant summer surrounds us. Golden corn is ripe in the fields; plump berries are ready to pluck.
And the state's commissioner of agriculture was in town on Tuesday, making good on a challenge he's issued to all New Yorkers: Eat local.
Aug. 3 to 9 is National Farmers' Market Week and Commissioner Patrick Hooker wants us to eat local foods at least one day this week. On Tuesday, he reiterated points we've made for years in this space. He speaks with verve and leads by example. We're planning to follow his advice and you should, too.
Farmers' markets abound in our area — in suburban Guilderland, at the center of Altamont, and dotting the rural New Scotland and Hilltown landscapes.
Before he sat down to a homegrown meal at Indian Ladder Farms, Hooker told us the reasons to buy local foods.
"You'll get something better and fresher," he said. Local farmers grow produce for taste and nutrition, not for long shelf life, he said.
From an economic standpoint, he went on, the money spent locally fuels the economy. It's money farmers then re-invest.
"From an environmental standpoint, there are a couple of things," said Hooker. Using Indian Ladder Farms as an example because state money helped buy development rights to keep it forever agricultural, Hooker said, "Farms preserve open space. Farming is always preferable over development," which uses taxpayer-supported services.
Doug LaGrange, a New Scotland dairy farmer and town board member, chimed in that keeping farms viable is the best way to keep land rural. Milk from LaGrange's farm goes to a regional cooperative that supplies Friendly's restaurants and makes Cabot and McCadam cheeses, LaGrange said. Hooker noted that dairy farming makes up two-thirds of New York's agriculture.
Continuing about environmental advantages of eating local foods, Hooker said that, on average in the United States, food travels 1,500 miles to get to the consumer. About 80 percent of the energy used in the American food system goes to processing, packaging, transporting, storing, and preparing food, so, if people buy locally, they will cut those costs, returning more to the farmer.
"In New York," said Hooker, "we have a production system here that is naturally buffered...We have a sustainable production here. You don't hear about food safety problems in New York."
Hooker couldn't tell us what percentage of food in New York is purchased locally and he conceded that it's certainly more readily available this time of year. But, he said, "The demand is growing all the time. We grew more apples in New York last year than any year since 1926. People are starting to understand the advantages of eating locally."
Hooker, who lives on a maple farm in Richfield Springs, says he'd like to do more farming himself if he weren't working seven days a week. He said he "absolutely" buys local foods. His day on Tuesday was geared to make a point — he visited the Honest Weight Food Co-op and a community garden in Albany as well as the café at Indian Ladder Farms in order to highlight the diversity of products and places New Yorkers can buy local food. But he regularly buys corn from his next-door neighbor, he said, and local produce near his workplace.
"I like a banana now and then," Hooker said with a smile, but the point is to buy local foods that are available.
"The challenge for this week," concluded Hooker, "is for everybody to do it for a day to begin to understand the environmental, economic, and health benefits."
Why stop with eating? Why not look for other goods and services close to home? We're all feeling the pinch of higher gas prices. Now would be a good time to make changes in our lifestyle.
Anyone in Albany, Schenectady, or Greene counties can forego a long vacation trip next week to take advantage of their own fair, right here in Altamont. The annual Altamont Fair offers midway thrills that rival those of far-flung amusement parks.
But, as its director, Marie McMillen, is fond of telling us, the primary mission of the fair is to connect people to their agricultural roots.
Veterinarian Stuart Lyman is concerned that people have lost the common experience of seeing life born so he'll help a cow give birth everyday at the fair next week.
Lyman hopes the exhibit will "give people a reference point about what is the basis of life." He went on, "Mice, elephants, people or cows — it's all birth, all mammals...It is a miracle, something to share...It's something we've gotten away from…. We each know a lot about a few things. This is a way to expand people's horizons."
He went on, "The milking parlor will be right behind us. And, I'll say to the people, 'That ice cream cone you'll have tonight is the product of this.'"
Lots of kids these days think milk comes in bottles and beef comes in plastic wrap at the supermarket; most Americans are cut off from the source of their food.
Just as visitors at Peter Ten Eyck's Indian Ladder Farms can connect with the source of their food, so, too can fair-goers as they take in exhibits featuring various farm animals. Fair-goers can also admire locally made products and art.
A shawl that will be raffled at this year's fair embodies the "made locally" theme. Dr. Lyman's wife, Jane, raises sheep on their Delmar farm where she processes and dyes the wool. Her wool will be spun at the fair and woven into a shawl.
This project represents the best in community sustainability. Most of us don't have the time or skill or wherewithal to spin our own wool or make our own clothes. But we can support the local artisans who do. We can seek out the crafters who make local products just as we seek out and buy from the farmers who grow food for us here.
This will strengthen both our local economy and our sense of community.
No matter who is lucky enough to win that shawl at the Altamont Fair, all of us should metaphorically wrap ourselves in its warmth.
— Melissa Hale-Spencer
---