[Home Page] [This Week] [Classifieds] [Legals] [Obituaries] [Newsstands] [Subscriptions] [Advertising] [Deadlines] [About Us] [FAQ] [Archives] [Community Links] [Contact Us]

Editorial Archives — The Altamont Enterprise, May 22, 2008
---
Editorial
Putting money where it matters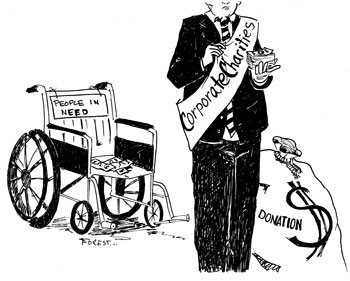 Illustration by Forest Byrd
"The bad guys hide behind complexities," Terry Hatton told us when we called to confirm his letter to the editor. "They don't even know they're bad guys. They think they're good guys."
Until we talked to Hatton, we had thought he was a bad guy. We changed our minds.
Although we print most often in black and white, every week we're struck with how much of our world is gray.
Hatton had written us a scathing letter, criticizing our publication of an announcement about a pageant for women who use wheelchairs. We print plenty of notices about pageants. Once we confirmed Ms. Wheelchair New York was a not-for-profit pageant, we were more than pleased to run the notice. We thought it was wonderful.
We can't count the number of times contestants in pageants have told us the competitions are about inner beauty, not outward appearances. But, in all the pageant pictures we've run over the years, there has never been one of a contestant in a wheelchair.
Hatton wrote, had he been editor, he would have rejected the notice instantly and, if the organizers claimed not-for-profit status, he would have forwarded their material to the state's Attorney General.
He implied the $200 entry fee was indicative of a scam.
We got in touch with Lowery Lockard, the president of the Dane Foundation, which runs the pageant. The three-year-old foundation is named for her godson, Dane Edward Moser, a boy with multiple disabilities who uses a wheelchair. He was adopted by the Moser family in Cuyahoga, Ohio.
"I worked in the disabilities field for 25 years," said Lockard. She decided to stay home when her son was born six years ago, but, she said, "I still wanted to provide for individuals with disabilities."
Her foundation serves the elderly, single mothers, and those with disabilities.
"We have a lot of folks in Ohio in group homes who don't have families and get one gift for Christmas from their provider," she said. Her foundation collects useful donated items, ranging from socks to toothpaste — "things people need every day" — and gives them to the forgotten.
The foundation also hosts programs to increase understanding and acceptance of those with disabilities. One program, for elementary-school children is called "Understanding U." Kids undertake activities, like painting without using their hands, that simulate what it is like to have a disability.
Two years ago, the foundation started the first Ms. Wheelchair pageants, at the state level, and will host the first national competition this year in August in Lockard's home state of Ohio.
"There is no swimsuit competition," said Lockard. "We have an opening number, the ladies wear evening gowns, they have a platform," she said.
Ms. Oklahoma, for example, had a platform about sexual harassment. "She had experienced that," said Lockard, and has made "an enormous number of appearances" since being named Ms. Wheelchair Oklahoma, to talk about the need to combat harassment.
The pageant judging, Lockard said, is based on "lifetime accomplishments," on personality, and on how well-versed the contestants are on their issues, said Lockard.
About the $200 fee, she said, "The cost of the crown and the banner alone is $180…Believe me, we're not making any money on this."
She went on, "These ladies are in wheelchairs, but, believe me, they can be beautiful. They can dance and have fun and be on TV like anyone else."
She concluded, "Just because someone is in a wheelchair, it doesn't mean she shouldn't have the same opportunity as anyone else."
Lockard is making a difference in the lives of people who are often discriminated against. Federal law can guarantee accessibility for people who use wheelchairs, but it doesn't insure acceptance. A pageant like the one Lockard is promoting is good for all of us. It can raise our consciousness about beauty and pageantry. We applaud not just the contestants, but Lowery Lockard for her care and commitment.
By the time we called Hatton to discuss his letter, we had built up quite a head of steam and expected to encounter a bitter and ignorant man.
What we found instead was an intelligent man who had been wounded by a horrible ordeal. His wife, Denise Hatton, died last year after suffering with multiple sclerosis for 27 years, spending 11 of those years in a wheelchair.
"It's degenerative," he said of the autoimmune condition in which the immune system attacks the central nervous system. "It starts with a little bit of impairment and then gets worse and worse."
As we listened to Hatton, we recalled the obituary we had printed about his wife. He had told us how he met his wife, a librarian, when he checked out a book. "She was a very pretty woman, and a very intelligent one as well," he said the week she died. He spoke of how keen she was on woodworking and how she had, from her wheelchair, built a coffee table.
Clearly, Hatton wasn't someone who needed his consciousness raised about the worth or beauty of a woman in a wheelchair.
So why did he have this reaction to the Ms. Wheelchair pageant announcement?
"I've seen too many scams," said Hatton. Friends and family members had donated to the National Multiple Sclerosis Society, he said, and, when he visited the society's headquarters in Southbridge, Mich., he was put off, describing them as "pretty damn plush."
He was outraged at the high executive salaries and at the small percentage of funds spent on research. "The last thing they want to see is a cure for MS," said Hatton, because those running the society would lose their income. He eventually steered his wife's supporters to the Myelin Foundation, which, he says, has 90 percent of its funds going to research on MS at Albert Einstein College in New York City.
Charity Navigator, which evaluates and rates charities, gives the Michigan Chapter of NMSS just a two-star rating and says its executive director earns $187,848, which amounts to 4.56 percent of expenses. (A 2007 study shows the top leaders of the 5,242 largest charities in America earn an average salary of close to $150,000.)
That doesn't apply to Lowery Lockard.
"I wouldn't want to hurt a legitimate charity," said Hatton. He ended up wishing Lockard good luck.
We wish her luck, too. All of us know people who have suffered through horrible diseases, or who have lived with disabilities. We can hope for a cure and contribute to research but there are no guarantees. Most cruel of all, we can't bring back the dead.
But we can celebrate the living. We can run an announcement that may reach readers in wheelchairs who want to participate in a pageant. And, if we are fortunate to have a local entrant, you can be sure we would run her story, and her picture. That's something we see in black and white.
— Melissa Hale-Spencer, editor
---