[Home Page] [This Week] [Classifieds] [Legals] [Obituaries] [Newsstands] [Subscriptions] [Advertising] [Deadlines] [About Us] [FAQ] [Archives] [Community Links] [Contact Us]

Editorial Archives — The Altamont Enterprise, February 28, 2008
---
It's time to work for positive change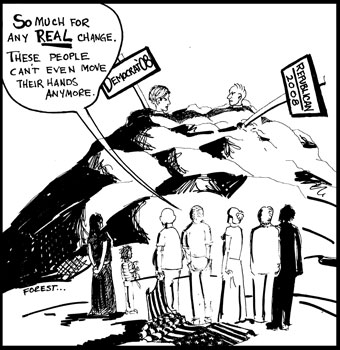 Illustration by Forest Byrd
We're running a letter this week from Michael Ricard. A Democrat, he was the longest-serving member on Guilderland's town board when he ran for re-election last fall. It must be painful to lose an election. He finds fault with our coverage, which has led us to look through four months of old Enterprises.

Beginning in August, we ran articles and letters on the election almost very week until Election Day, and then we covered the aftermath. We provided the most thorough and fair coverage available. We're not perfect and don't pretend to be.

Ricard makes a valid point in his letter about a link on our website that he finds troubling. We list a score of community links — mostly to the websites of school districts, municipal governments, and not-for-profit organizations — that we believe our readers may find useful. We, of course, are not responsible for the content of those websites.

One of the links we had listed was to a directory of local courts in Albany County. This web page was constructed by Warren Redlich, a Republican who, with his running mate, Mark Grimm, ousted Ricard and his Democratic running mate, David Bosworth, in the fall election. Redlich has a business constructing websites for various organizations.

The directory information for Guilderland Town Court, along with relevant information such as address, hours, and that fines must be paid at the time of the plea, also contains the sentence that Ricard cites, stating Redlich and Grimm defeated Bosworth and Ricard. The sentence is true, but has little or nothing to do with town court. Clicking on Ricard's or Bosworth's names then links the viewer to pages of campaign rhetoric against the then-incumbents, linked to further sites. While we think most of our readers are sophisticated enough to realize that posting a link doesn't constitute an endorsement, we, frankly, weren't aware of the further links until Ricard pointed them out. We certainly wouldn't post such screeds ourselves. We're removing the link for local courts from our list of community links.

The bulk of Ricard's letter criticizes our election editorials. We didn't run any. We don't endorse candidates. We don't presume to tell people how to vote. Instead, we spend the time and effort and devote the space in our paper to interview local candidates in depth on issues and run those interviews along with their profiles, allowing voters to see how the candidates stack up against their own views. Ricard participated in this process. (The story may be read online at www.AltamontEnterprise.com under "Archives" for Oct. 11, 2007.) Guilderland candidates were interviewed on issues including town taxes, zoning enforcement, the Rapp Road landfill, and development and growth.

What Ricard is no doubt referring to are the pages and pages of letters to the editor we published about the elections. Many people confuse letters with editorials, and the distinction is important. Editorials state the views of the newspaper. Letters state the views of the letter writer, not of the newspaper.

Two of the major issues raised by the Republican challengers were allegations of unfair assessment and charges that Bosworth, as co-chair of the county's Democratic party, had a conflict of interest because he and his wife work for a county-funded program.

After we printed in a news story Ricard's denial of Redlich's claims that he had gotten a "sweetheart deal" along with the town assessor's view that the claims were unfounded, we also published letters from both the assessor and Ricard on the matter. We also ran a news story on the alleged conflict of interest, in which Bosworth said the claims were "approaching recklessness" and, in a second story, we described his wife's job and her qualifications for it, interviewing her co-workers who said she was a qualified professional who does a good job.

As a newspaper, we report on news, but don't participate in it. We wouldn't, for example, as Ricard recommends, turn someone in to a law-enforcement agency or urge a letter-writer do so.

We ask a libel lawyer to review controversial letters and follow his advice on what

would constitute libel, omitting those passages, or adding editor's notes where needed. Ricard must have spoken with Supervisor Kenneth Runion about his Oct. 11, 2007 letter from which we cut a section on the town of Colonie finances. We don't cover Colonie and didn't have the time or staff to verify Runion's statements. We were able to confirm at that time that Colonie had a deficit in its general funds and so allowed Runion to state that along with his assertions about Guilderland's financial health. What we can't verify, we won't run.

We had similar — at times heated — discussions with Republican letter-writers about passages that had to be omitted from their letters. We try to be as fair as we can, allowing letter-writers to state their views as far as legally and ethically possible.

"The theory of a free press," said Walter Lippmann, "is that the truth will emerge from free reporting and free discussion, not that it will be presented perfectly and instantly in any one account."

We provide the best forum we can, through our news stories and our opinion pages, for the emergence of truth in our towns. We appreciate Ricard's participation in the process.

The election was over more than three months ago. The people have chosen two Republicans to serve on what had been an all-Democratic town board. We urge those on both sides to put aside petty politics and to work for the good of the town. Attacks may win elections but it takes consensus-building to govern effectively.

If, for example, the Republicans say they won on a platform of assessment reform, why ignore their claims" Why not hold a workshop to lay out whatever the perceived problems are" If the assessment process is basically sound, the board can move on. If real problems are uncovered, the board can work with the assessor to find solutions.

We'd much prefer to run letters on substantive issues that could result in positive change. Please, Democrats and Republicans, give us a chance to do so.
---