[Home Page] [This Week] [Classifieds] [Legals] [Obituaries] [Newsstands] [Subscriptions] [Advertising] [Deadlines] [About Us] [FAQ] [Archives] [Community Links] [Contact Us]

Editorial Archives — The Altamont Enterprise, February 21, 2008
---
Newspapers must be guardians of the truth
"And were it left to me to decide whether we should have a government without newspapers, or newspapers without a government, I should not hesitate a moment to prefer the latter."

— Thomas Jefferson, 1787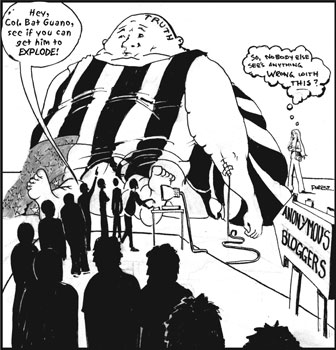 Illustration by Forest Byrd
Truth is elusive.

Our motto at The Altamont Enterprise is: "We seek the truth and print it." That is not as simple as it sounds. We're rarely part of a pack of journalists. You won't often see our reporters at press conferences, taking notes on the same story that will appear on most every local media outlet.

We cover news of Guilderland, New Scotland, and the Hilltowns that is often overlooked by others. Citizens have told us in the midst of elections that, without our issues-oriented coverage of candidates, they wouldn't know who they wanted to vote for. An informed citizenry is what makes democracy work.

While Americans can turn to the Internet for quick updates on international, national, and state news, they can't get local news unless someone gathers it, and reports it. That's where we come in. Although we publish just once a week, we often break local news stories because our reporters devote themselves to their beats. They cover meetings no other media bother with — zoning and planning, town and school. They know the issues and the players. They research, investigate, and interview, and then report as fairly as they can.

Our readers are well-informed and often eager to express their opinions, which we value. We devote the first pages of our newspaper every week to local opinion. Sometimes letters are hand-delivered to our office, like the one we ran last week, outlining generations of Altamont history — all written on ruled notebook pages in the careful cursive of a school teacher. Sometimes letters come by post, on lovely stationery or recycled scrap paper. Often these days, missives are faxed or e-mailed to our newspaper in a never-ending stream.

We talk to each writer before we publish the letter. We want to know who the person is. We ask about associations, personal or political, that might be pertinent; if we find one, we append that information in an editor's note. It's only fair to let our readers know about such connections.

If the writer refers to something we haven't covered, we check to find out if it's true. People are entitled to their own opinions but not to their own facts. Sometimes, this leads to a news story on the subject so our readers can get a balanced, objective view along with the letter-writer's opinion. This takes time and effort but we believe it's important to get things right.

Much of worth has come from our readers' sharing their opinions on our pages. We got an e-mailed note this week — a proud parent sending us news of a daughter on the dean's list — reminding us that the girl's father, Rex Scanlon, had spearheaded a drive to complete a track for Berne-Knox-Westerlo. He was a reader who had a bulldozer. The track was unfinished when funds ran out and Scanlon, who read about the need on our opinion pages, rallied the community to move the project forward.

Another time, the late Gus Brate, who manned the transfer station in New Scotland, wrote because someone had stolen the wood-burning stove from his booth. He was cold. Readers responded, offering their unused stoves.

We encourage writers with a wide variety of opinions — and publish many letters from those whose opinions differ from ours. We print letters that are highly critical of us, too, because we believe a newspaper is powerful and those who disagree have a right to say so.

We rarely publish letters without a name. In the last 20 years, we have withheld the name of a letter writer just five times, and only if the writer's life or livelihood is in danger. In those cases, we know who the letter writer is, but we don't print the name.

Although some readers have begged and some frequent letter-writers have demanded, we have resisted the trend to allow anonymous postings on our website. In recent years, many newspapers have followed this practice as a means of increasing reader involvement.

We believe that newspapers need to be credible. We don't want to be associated with words we haven't checked or facts we don't know about. We don't trust those who won't reveal their names; they cannot be held accountable. We want to know if something is true before we publish it — online or in print.

Last week, we ran news stories by Saranac Hale Spencer about fallout in Guilderland from Internet postings, and this week we're printing letters written in response. A newly-elected Republican town board member, Warren Redlich, has come under fire for satiric pieces he posted on a website called The Spoof. Donald Csaposs, the town's development director, a Democrat who was active in the campaign against Redlich, writes us this week, critical of our coverage and of Redlich's "sexual fantasizing on the Internet." He further links this to "the growing threat to our children from Internet predators."

It's a matter of opinion whether its foolhardy for an elected official to post such satiric pieces and it's a matter of opinion if Redlich's pieces satirizing Hollywood culture are tasteless, but they do not mean Redlich is an Internet predator.

We credit Redlich for signing his name to his work.

In response to our coverage, another Spoof writer this week posted an article on "the humorless town of Guilderland" abandoning the First Amendment in favor of its own "more socially acceptable and child-friendly" amendment: "Be a good Christian, keep your mouth shut and don't make waves."

We'll continue to put assertions and allegations in context, which is what unvetted blog entries lack.

Our reporter, Saranac Hale Spencer, also broke another story last week — that Guilderland's two top-ranking police officers, both vying to be chief, have threatened legal action against the town. Their lawyer cites a posting on the Times Union local politics blog by Redlich in which he refers to the two officers as "political flunkies."

The term was noted in a letter the Democratic supervisor, Kenneth Runion, sent to Redlich, four days before the town was notified of possible legal action. Redlich has advocated widening the search beyond the two in-house candidates; he wrote on the blog, "The Runion-Csaposs team wants to keep the process closed — so they can choose one of their two political flunkies and keep political control of the department." Runion, in his letter to Redlich, requested that he immediately recuse himself from further participation in the chief-selection process. "It is my belief that your continued participation in the process based on your reckless and unsubstantiated comments will taint the selection process and could impose potential liability on the Town," wrote Runion.

Redlich had been using the vocabulary from a post two days earlier from someone using the screen name "Col. Bat Guano," who had called Guilderland's new Republican chairman, Ted Danz, "a dedicated flunky of the shameless self-promoters on the town board."

When we asked a Times Union editor, Monica Bartoszek, the true identity of Col. Bat Guano, she said that, if the newspaper is subpoenaed or the Federal Bureau of Investigation is involved, it will divulge the information. "Otherwise," she said, "it's nobody's business." When asked if the entries were checked for accuracy, she said, "No, we're not fact-checking comments." The idea is to get things up quickly, she said.

We thought the colonel's pithy writing style sounded a lot like Csaposs's. When asked if he wrote under the name of Col. Bat Guano, Csaposs said, "I do have disciples." He also said, "Colonel Bat Guano is somebody who shares my views on a number of subjects."

We'll continue to seek the truth and print it. We'll make the effort to check the facts. In a world where it is increasingly easier to be a faceless and nameless force, we'll continue to hold people accountable. We believe, as a newspaper, we owe that to our democracy. If you want to be part of the process, write us a rational letter and be sure to sign your name.

---