[Home Page] [This Week] [Classifieds] [Legals] [Obituaries] [Newsstands] [Subscriptions] [Advertising] [Deadlines] [About Us] [FAQ] [Archives] [Community Links] [Contact Us]

Editorial Archives — The Altamont Enterprise, January 10, 2008
---
Shooting Iraqis with cameras instead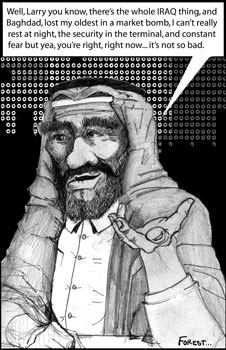 Illustration by Forest Byrd

"This is Hamed Salman's sister, wife, and brother Mohammed," says the text next to the picture. The trio could be a family anywhere posing for a picture. The two women stand side by side, looking directly at the camera, and smiling. They are in traditional dress, with headscarves. One of them holds a child close to her; the other wears a bright blue embroidered blouse. Next to them, the brother, a teenager, in western dress — sweat pants and a polo shirt — clowns around in front of the camera.

After you take in the family scene, you start to notice the backdrop. Is that part of a cow to the left" Is that a wall of refuse behind them"

The text, written by the photographer, Hamed Hasan Salman, continues. He writes about his own family: "They live in the garbage dump with more than 500 families. Every family has cows that live with them."

The picture is one of a collection taken by 10 Iraqi civilians in 2004 as part of a project by the Daylight Community Arts Foundation. Each was given a disposable camera and told, "This is an opportunity to show the American public what you want them to see," writes Fred Ritchin on the foundation's website.

The idea, says Ritchin, was: "Why not ask the subjects what is going on, instead of making them the objects of a foreigner's camera""

None of the photographers were professionals. One was a dentist, another a student at the University of Baghdad, a third was a cigarette factory worker, a fourth was an engineer, and a fifth was an interpreter.

Many of the pictures, like the portrait of Hamed Salman's family, capture the normalcy of life in the midst of a war-torn country.

There is no single message. Limea Namza, the university student who studies English, took a street scene in Baghdad, where a man looks at a banner that says, in Arabic, "Yes, yes to Islam, Yes, yes to peace, No to terrorism, No to the occupation."

Another photo, by Jassim Mohammad, shows a jobless man with his family. "His daughter was named America the day the U.S. troops entered Baghdad," writes Mohammad.

Mohammad also took a picture of a funeral procession, the men carrying the casket of someone killed by Americans. He photographed, too, an army of gravediggers, carrying their shovels over their shoulders like guns.

He also took a picture of a man in Falluja, standing in front of a car wash. The young man is smiling as he holds a teapot in one hand and a cup of tea in the other. "Nasir, 25 years old, sells tea to people at the local carwash. Business has not been good," he writes matter-of-factly.

Alaa Kamel, an interpreter who lives in Baghdad, took a picture of her son and a playmate, brandishing guns — are they toys" She writes, "Yussif, my son, told me that he would like to shoot those who are always passing in front of our house making noise."

She also took a picture of a television set, perched on a high shelf in a crowded corner. "In my house, which is very, very small and had nothing as equipment inside," she writes, "but then we felt the need to buy a TV in order to know what is happening to our country."

Another picture, taken by Kamel's husband, Salam, shows Alaa, a tiny figure against a magnificent turquoise tile wall. She is holding her son. "She was trying to calm him down," Salam writes, "since he got scared by one of the bombs that happened in Baghdad."

The reason we know about these pictures and have been enlightened by them is because a group of students at Voorheesville's high school, the United for Peace and Justice club, have mounted an exhibit of some of them. The students, says humanities coordinator Lydia Tobler, are "really trying to make a difference in the world, not just with words but with actions."

We applaud them and urge people to see the exhibit, which will be open through February in the school's performing arts center.

From the days of "Shock and Awe," when we could sit in our comfortable American homes and turn on our TVs to watch an ancient city go up in flames, we have all seen pictures from this war of soldiers and guns and bombs. These pictures by Iraqi civilians have a different feel. They are powerful, not just because they show us everyday people we wouldn't have otherwise seen, but because of the unpracticed photographers who took them. They are not orchestrated to lead us to one conclusion but, rather, like real life, show us a variety of views.

"Photography records the gamut of feelings written on the human face — the beauty of the earth and skies that man has inherited," wrote Edward Steichen, "and the wealth and confusion that man has created. It is a major force in explaining man to man."
— Melissa Hale-Spencer, editor
---