[Home Page] [This Week] [Classifieds] [Legals] [Obituaries] [Newsstands] [Subscriptions] [Advertising] [Deadlines] [About Us] [FAQ] [Archives] [Community Links] [Contact Us]

Editorial Archives — The Altamont Enterprise, January 3, 2008
---
Jaliek is a symbol for those we most need to protect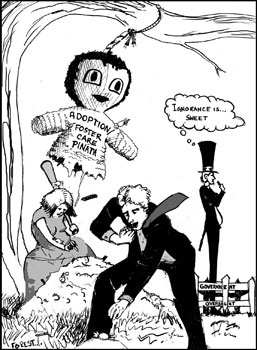 Illustration by Forest Byrd.
We hope for the best but fear the worst.

It has been two months since 12-year-old Jaliek Rainwalker disappeared. No suspects have been arrested but a massive search has led nowhere and police don't believe he's a runaway as his adoptive family asserts.

Jaliek had lived in Greenwich — somebody else's kid, not from our town. Why should we care"

Elaine Person of Altamont made us care. She and her husband, Thomas, have taken care of about 45 foster children at their Leesome Lane home over the last three decades. Jaliek was one of them. The Persons had him for six days of respite care — his adoptive parents meant it to be a form of punishment, banishing him from their home after, they say, he threatened a younger child. Tom and Elaine Person were the last people to see Jaliek before his adoptive father picked him up on Nov. 1.

The Persons wrote us a long and heartfelt letter, describing Jaliek over five years of intermittent respite care. They know what it's like to raise a child with an attachment disorder, like Jaliek and their adoptive daughter. "These children know what buttons to push to get you angry. That's what they do to feel in control," wrote the Persons. They also wrote, "Jaliek was a beautiful, sweet, intelligent, generous and loving child with some behavior problems. His adopted parents were just unable to parent him."

In piecing together Jaliek's story, our reporter, Saranac Hale-Spencer, had long talks with his adoptive parents, Stephen Kerr and Jocelyn McDonald; with his adoptive grandmother, McDonald's mother, Barbara Reeley and her husband, Dennis Smith; with the Persons; and with the Greenwich-Cambridge police chief, George Bell.

What emerged was a picture of a child who has been failed by the system. Jaliek was born to a crack-addicted mother on her kitchen floor and given up for adoption when he was two days old, said Reeley, and her daughter's home was the seventh one he had been placed in.

Dennis Smith wrote us that, when a child is in therapeutic foster care, there are all kinds of mandated counseling, evaluations, and meetings with parents, counselors, and the child. The foster-care parents are paid by the state to help with the costs of caring for the child.

Foster parents are paid $15 to $20 a day for basic care, $30 per day for specialized care, and $50 for exceptional children who require more supervision.

"When the choice is made to pursue adoption, all these efforts are increased to assure all will be well after adoption, and it is up to a judge to rule that the adoption should be allowed and the scrutiny is appropriate," wrote Smith. "How the child feels is very important all the way through the process. Once the gavel comes down, and the judge rules the adoption official, all this oversight stops. The parents are informed that follow-up counseling is available to them only if they request it, but the child no longer has anyone from the agency or state advocating for him or checking to see how he is doing as time passes."

Smith, who signed his letter "a loving, sad grandfather," said he let Jaliek down by not reporting his concerns earlier.

We, as part of a civilized society, have all let Jaliek down. A society can be judged by how it cares for its weakest, most needy members. Something went awry in the care of Jaliek. He stands as a symbol for those we most need to help and protection.

Smith and Reeley worry that the two adopted children in the Kerr-MacDonald family — Jaliek and a little girl — didn't get the same treatment as the couple's biological children. "I really feel like Jocelyn and Stephen's intentions were noble in the beginning," Reeley said, "but then they learned to work the system."

The long-term solution is to fix the system. But how"

Elaine Person has some good ideas. She will head a Find Jaliek Task Force. The task force — with a website at www.findjaliek.org — is made up of three foster families who cared for Jaliek, and his maternal grandparents. They are committed to finding him and will sponsor a book about him. But they are also advocating for government oversight of families who have adopted hard-to-place children and they plan to shed a positive light on foster care and adoption and to petition for resources needed by adoptive families. These are all worthwhile goals.

We may not be able to find Jaliek. But we can make a difference in the lives of other children.

We live in a country where the chasm is widening between the haves and the have-nots. Many of us donate money to good causes, but few of us are willing to open our homes and hearts to those who need. More people who build bridges across the gaping chasm are desperately needed now, like the Persons or like other exemplary foster parents we have highlighted in recent years — Leo and Leah Bartell of Westerlo or Carleen McLaughlin of Altamont.

"The basic requirements to become a certified foster parent are simple," the commissioner of the Albany County Department for Children, Youth and Family Services has said. "Anyone in good health, at least 21 years of age, married or single, willing to assume responsibility of 24-hour child care can apply."

Of course, we all know it's not really that simple. There are qualities that cannot be taught in the county's required 11-week course.

Many of the children in foster care have been abused and neglected; they often have disabilities or suffer from fetal alcohol syndrome or from drug addictions passed on by their mothers.

But they all need homes. To grow up strong and healthy, all of us need love and nurturing. And, if our own parents were in jail, or strung out on drugs, or unable to care for us, we would need to be nourished and sustained.

That's where foster parents come in; they are not tied by blood or law to the children for whom they care. The Old English word fostrian means to nourish; it comes from the word fostor, for food.

We believe such care is as essential as food.

The Bartells told of us a boy they cared for who hid food during meals so he could have it for later since he was not used to having food around when hungry.

It takes time and constancy to break such patterns, to learn that food will be there, that love can be counted on. Without that essential link provided by foster parents, the destructive pattern can go unbroken and so be endlessly repeated.

One of the hardest parts of being a foster parent must be giving up children you love, so they can be reunited with their biological or adoptive parents. The Bartells had a hard time saying goodbye to a boy who had lived with them for two-and-a-half years; they felt like they were giving up part of their family.

Still, they carried on and now relish the times when they get together with their foster children who have moved on.

Carleen McLaughlin told us after she was honored by the county as the 2003 Foster Parent of the Year, "I don't know why more people don't do it. They say it would hurt to give them back. Better for you to hurt than for them to."

It takes a selfless person to love a child and let a child go.

McLaughlin, who lives in Altamont, is a single mother who works full-time to support her family, which includes four adopted children — each of who came to her as an infant foster child.

McLaughlin said she is often asked, "Why do you foster parent" Isn't it a lot of work" Isn't it tiring" Isn't it hard when the kids go back home""

"Of course it is," she replied to each question.

But she went on, "How can I not open my home when a young biological mother, who had been a foster child herself, sat before me with tears running down her face and said, 'I wish there had been someone like you to take care of me when I was growing up.'

"How can I not open my arms when, on a freezing cold night a few days after Christmas in 1989, a caseworker brought me a two-week-old, five-and-a-half pound baby boy dressed only in a too-big newborn sleeper and wrapped in a shawl and asked me if I'd take him in — all the other foster homes were full.

"How can I not open my heart when my nine-year-old...daughter who struggles every day with the help of medication and counseling just to function, crawls into my lap, wraps her arms around my neck and says, 'I love you from here to heaven and back again.'

"How can I not foster parent""
---