[Home Page] [This Week] [Classifieds] [Legals] [Obituaries] [Newsstands] [Subscriptions] [Advertising] [Deadlines] [About Us] [FAQ] [Archives] [Community Links] [Contact Us]

Editorial Archives — The Altamont Enterprise, August 30, 2007
---
We can create a safe haven for
those who have lived through genocide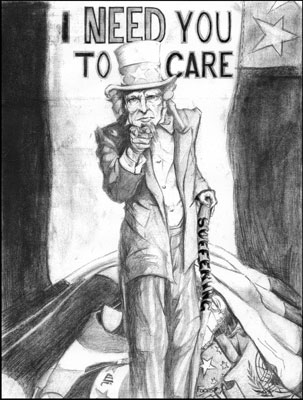 Africa is a vast and diverse continent. We live on the other side of the world and most of us in the United States know very little about it. Our isolation keeps us from understanding much about Africa's many cultures; our wealth keeps us from caring about those who may be suffering.

We knew nothing of the Banyamulenge, a tribe of Tutsis, until some of them had a memorial service in our midst — at Camp Pinnacle in the Helderbergs. They were originally a rural hill people. One-hundred-and-fifty of the Banyamulenge were massacred in 2004 as they sought refuge in a United Nations camp at Gatumba in Burundi.

We were aware of the Hutus killing Tutsis in Rwanda over a decade ago, and we see regular news reports on the genocide in Darfur in the Sudan but this we had never heard of.

Some of those who survived the massacre at Gatumba and came to our country were able to gather earlier this month to mark the three-year memorial of the massacre. Their stories seared our hearts.

"We thought it was a safe haven for us," said one woman who had sought refuge at Gatumba. "They came and started killing people," she said, through a translator at Camp Pinnacle.

A grenade was thrown into the shelter where she lived. Her husband was killed and so were six of her seven children. Her surviving son saved her.

"Of nine people in my family, I escaped myself with one child," the woman said with anger beneath the surface of her voice.

She still has bullets left in her body.

A young man spoke in Swahili. He was outside the camp at Gatumba at the time of the attack. "I was able to watch everything," he said through a translator. "I saw people being burned"The killers are still looking to kill more."

Another Banyamulenge woman who was not at Gatumba but came to the United States after an earlier massacre told how her husband was killed and she was left with eight children, and pregnant with twins.

She gave birth to her babies in a death camp, without food or water.

"Genocide, I did not hear about it, but I lived in it," she said through a translator.

The emotion in her voice needed no translation; it wavered as she went on, "I forgive and I try to forget. But the memories are haunting me every single day."

On hearing these stories, recorded by our reporter, Saranac Hale Spencer, we feel haunted, too.

Genocides that are part of history have horrified us. The Holocaust is still very much alive in the memory of those who survived it. We can hear the pain and anger in the voices of those who have told us their stories — of Kristallnacht, of concentration camps, of slaughter — but it is in the past, beyond our reach to help or change.

This genocide is now. Olivier Mandevu, the president of a survivors' group, e-mailed our reporter this week to say he had just learned of more deaths in his homeland. This is happening now — now as we write these words. Now, as you read these words. Now in real time. Now.

So we cast about, seeking solutions. A first thought is looking for a way to find justice. No one has conducted an investigation of the 2004 massacre — not the government of Burundi, not the United Nations. Human Rights Watch, a non-governmental organization, began an investigation but yielded to political pressure and backed off. Surely, that is a place to begin.

No one could tell our reporter why the Hutus are slaughtering Tutsis and we would be naive to think, as outsiders, we could understand it and be able to stop it. We could, instead, focus on what our country can do to aid refugees. They now have to wait three or four years to come to the United States. That wait should be shortened.

Advocating military intervention is also untenable at a time when we've spent billions of dollars and lost thousands of lives in an unpopular war.

We were reminded of Ambrose Bierce, the American writer who fought for the Union in the Civil War and whose stories tell of the horrible things he saw in war.

"War," wrote Bierce, "is God's way of teaching Americans geography."

We looked up a map of Africa to try to fathom the journey of one woman from a war-ravaged village. Devota Nyiraneza seemed fragile to our reporter, unused to the press, humble about her stunning accomplishment — surviving against all odds.

When the genocide in Rwanda spread from the capital city to her small village, she alone of her family survived. Just 14 years old, she spent the next decade-and-a-half escaping from war.

She walked, first by herself, then with her baby on her back, and, later, with three children, staying when she could at refugee camps or in villages. Hunger and fear were her constant companions. Always, the war pursued her.

We traced her journey on the map of Africa — from Rwanda to Burundi, and then clear across the Democratic Republic of the Congo. We looked at the Congo on our map, trying to understand what it would be like to walk across that wide expanse. We glanced at Europe, above Africa, and the countries there looked so small — France and Spain and Germany would all fit into the Congo, with room to spare.

What would it be like to walk all that way, fearing for your life, unsure if the soldiers traveling with you would kill you in your sleep" What would it be like to watch mothers walking beside you with children on their backs who had died and had to be left behind" What would it be like to watch those who were too exhausted to carry on fall by the wayside, still alive, as ants crawled in through their noses"

Devota Nyiraneza walked on — through the Republic of the Congo to Cameroon.

After four years of living in the capital there — first begging for food before applying for refugee assistance — she was able to resettle in our country two months ago.

For the last part of her journey, she is being helped by the United States Committee for Refugees and Immigrants. Linda Hutton, a volunteer with the organization, is helping Nyiraneza adjust to life here.

We have been struck by Hutton's kindness and steadfastness and believe she serves as a model for what individual Americans can do to help.

The committee, which relies on private donations as well as government grants, can use household items, warm clothes, and school supplies. We hope our readers will donate.

But, more importantly, people can give of themselves as Hutton has. The volunteer work, she said, is "great for anybody who wants to get to know somebody from a different culture. It's a nice addition to the family."

We like to believe we are all part of the same family — the family of humankind. Genocide on the other side of the globe should matter to us. We should do, each of us, what we are able to ease the journey of those seeking refuge.

— Melissa Hale-Spencer
---