[Home Page] [This Week] [Classifieds] [Legals] [Obituaries] [Newsstands] [Subscriptions] [Advertising] [Deadlines] [About Us] [FAQ] [Archives] [Community Links] [Contact Us]

Editorial Archives — The Altamont Enterprise, May 10, 2007
---
Shared services could help lost dogs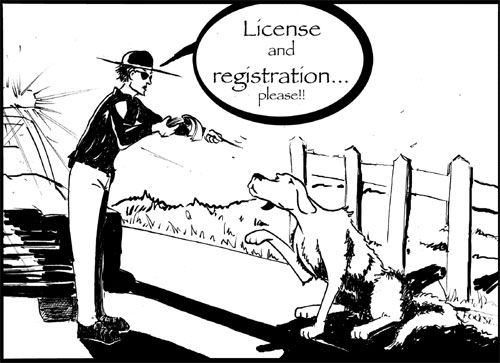 Illustration by Forest Byrd
All winter long, local dog wardens get some rest. In the spring, a young dog's fancy lightly turns to thoughts of love.

"They just fall in love again," said Jack Norray, Knox's veteran animal-control officer. "They have a lot of energy....In January, February, and March, people keep their animals in."

In the last week alone, Norray took in three lost dogs; he keeps them overnight in his barn. He found the three owners, too, each within 24 hours.

Kevin Schenmeyer, New Scotland's animal-control officer, said the reason for more loose dogs in the spring is "people get careless...and animals get more curious."

Cheryl Baitsholts, the dog warden for both Rensselaerville and Berne, said she had found four dogs within 24 hours this month, and all of them were returned to their homes.

Dogs get disoriented when low-pressure systems move through and that's when lots of them get lost, said Baitsholts. "You can feel everything hovering. It does something to a dog's inner compass," she said. "Our weather has been so screwed up this past year."

Norray says that, statewide, fewer than half and probably closer to a third of all dogs are licensed.

Those dog owners who don't license their pets are breaking the law. They may also one day break their hearts.

The cost to license a dog is nominal and the effort is minimal. For many, a dog has become part of the family. A long-time local vet told us that, in his several decades of practice, he had seen dogs move from the barn to the house to the bedroom.

The Classic Theatre Guild is putting on a play in Voorheesville, Sylvia, about a dog who is literally one of the family. Why, then, can't more people manage to license their dogs and be sure they wear the tag"

Lots of times, local dog wardens have told us, a lost dog's tag is in the car's glove box or back at the house.

"Licenses are so important," said Norray. When he picks up a lost dog with a license, he said, "I don't have to hold them. I know who they belong to."

New York State Agriculture and Markets Law requires a stray dog be held for five days before it can be adopted or euthanized. If the dog has a license, the owners must be notified by telephone or mail and the dog is to be kept nine days.

Three years ago, Baitsholts told us she tried to keep stray dogs at her place as long as she could rather than take them to the Mohawk and Hudson River Humane Society in Menands, which most Albany County municipalities use, because, legally, "They can be euthanized from the second I walk out the door."

Baitsholts remembered more than one occasion when a dog's owner came to her only a short while before the dog was to be euthanized, or worse, after it already had been.

She said many people don't realize there are dog-control officers in each town who can help find a lost dog. She said owners should not wait for their dogs to come back since they "can get so far, so fast."

"If your dog's been missing for 15 minutes and you're concerned, pick up the phone," Baitsholts said this week. "Just like with a lost child, the first 15 minutes are the most critical."

Baitsholts took the post of Rensselaerville's animal-control officer because she wanted to help people after losing her own beloved dog. She tracked her white Samoyed for four weeks to the Catskills as he followed the water and his instincts; she never found him. She is now Berne's dog-control officer as well.

This year, Berne, like other local towns, was distressed the rates for the shelter in Menands were going up. "They wanted $3,300 a year, just to be available," said Baitsholts, "and then they would charge almost $300 a dog."

Baitsholts has an arrangement with Berne now, where she keeps loose dogs for up to two weeks at $15 a day. Between the two towns, she picks up about 30 dogs in a year, and about a quarter of them are reclaimed by their owners. "Many people out here, when their dogs take off, assume the coyotes got them," she said. Also, unwanted dogs are often dumped in rural areas.

Baitsholts took just a handful of the dogs to Menands this year, most before the $275 fee, and the rest, she said, "I've adopted out." She gets the word out through e-mails and notices in The Enterprise. The adoption fee is $35 to cover costs.

Westerlo is following a similar system," Baitsholts said. "It works for us."

The trip to Menands is a long one. Norray said, from Knox, it's more than 60 miles out and back. "Once you turn a dog over to Menands, they own the dog," he said. "We're all done with it. They either put it up for adoption or euthanize it."

Knox talked with the town of Guilderland, which has its own animal shelter, relatively close to Knox but, said Norray, "They didn't want to be responsible."

Neighboring New Scotland was also hit hard this past year with the jump in price at the Menands facility, said Schenmeyer. A contract that is usually $2,000 or $3,000 jumped up to $9,000 or $10,000, he said.

We support shared municipal services, which can save money while providing better service, and asked Guilderland's supervisor, Kenneth Runion, if his town would consider renting part of its recently renovated and expanded animal shelter to neighboring towns. Runion said Guilderland could consider it if the time frame were limited. In other words, if New Scotland, for example, wanted to arrange to rent space for 10 days at the Guilderland shelter, but then would assume responsibility for the dog after the 10 days, it could be workable.

Guilderland, Runion explained, "basically has a no-kill policy" so it would become expensive for the town and its taxpayers to keep dogs from other towns for an unlimited number of days. Guilderland will keep a dog for 90 days and, if it hasn't been claimed or adopted by then, a trainer will evaluate the dog.

Right now, New Scotland keeps its stray dogs at the Menands shelter for 10 days and then, said Schenmeyer, "They do what they see fit. If it's an animal they don't foresee adopting out," the dog may be euthanized.

"We're not going to get in the business of euthanizing," said Runion. "I don't want to sound callous, but we have a different philosophy."

We commend Guilderland for it's no-kill approach but we understand many towns aren't willing or able to afford that. We believe, though, that intermunicipal agreements could be beneficial.

As long as New Scotland stuck to its 10-day limit — a wise idea since it gives the dog's owner more of a chance to find the dog than the law's five days — the town could save the 40-minute drive to Menands, both for the dog warden and the owners of the lost dogs, and could probably save some money as well. And Guilderland could benefit from some income for its already-staffed and built shelter.

In the meantime, we urge all dog owners to license their pets and to rivet the tag to the dog's collar — right away, before it's too late.
— Melissa Hale-Spencer, editor
---