[Home Page] [This Week] [Classifieds] [Legals] [Obituaries] [Newsstands] [Subscriptions] [Advertising] [Deadlines] [About Us] [FAQ] [Archives] [Community Links] [Contact Us]

Editorial Archives — The Altamont Enterprise, April 19, 2007
---
The public deserves government checks and balances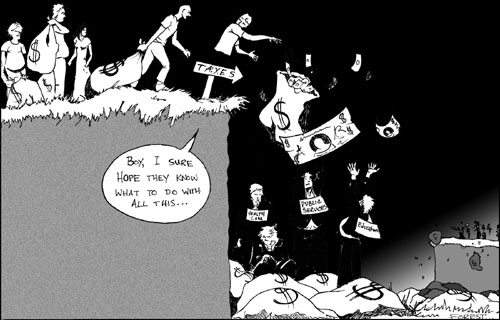 Illustration by Forest Byrd

The public pays when its servants go awry.

Last week, James Leggierio of Guilderland pleaded guilty to larceny, admitting that he bilked the state out of $1.2 million. Leggierio is to serve jail time and pay back the stolen funds, although it is still not clear exactly how.

A senior auditor for the state's Department of Mental Health, Leggierio created a phony company that was supposedly checking sites for group homes. Leggierio approved about 80 vouchers for his bogus company, Very Important Properties, then used the funds — money that came from taxpayers — for personal expenses like high-end sports cars and more than one home.

What is so stunning is this larceny went on for nine years and no one in the Department of Mental Heath noticed. Leggierio's scheme was brought to the attention of the attorney general's office in February after the state comptroller's office performed an audit and found that VIP had no listed telephone numbers.

Similarly, no one in the Voorheesville School District appeared to notice anything was awry until the state comptroller performed an audit, as it is doing in school districts across the state in the wake of a Long Island scandal. At the start of 2006, the comptroller's office alleged that two retired Voorheesville administrators had inappropriately spent $216,000 in district funds, much of it for accrued leave — extra vacation and sick-leave compensation which the comptroller said was collected without permission.

The former superintendent, Alan McCartney, was accused of improperly paying himself an extra $127,338 over his 16-year tenure and the retired assistant superintendent, Anthony Marturano, was accused of collecting $89,069 inappropriately over 11 years.

By doggedly pressing for contracts, The Enterprise discovered the contracts were a mess — poorly written, with several different copies of what should have been single contracts. It became clear that, while the school board president at the time had blamed the administrators, expressing outrage, the school board was to blame, too.

Following the first audit, an investigation into the allegations conducted by the office of Albany County District Attorney David Soares, found no basis to prosecute the two retired administrators. Soares said the school district's "weak internal controls" are what likely led to the problems.

This past November, the comptroller's office issued another report, accusing McCartney of charging nearly $12,000 to the district in personal expenses — again spending taxpayers' money.

After the first audit, the district took McCartney and Marturano to court, in an effort to recoup lost funds, and announced earlier this month that it has settled with McCartney. He has paid the district $40,000 and no further legal action may be taken by either McCartney or the district.

As of last August, the new superintendent, Linda Langevin, reported that the district had spent over $100,000 in legal fees, fees which will not likely be reimbursed by insurance, she said.

So the episode has been a costly one for the district and its taxpayers — more was lost than gained.

But beyond funds, trust was lost — blind trust that the school board shouldn't have had in the first place.

School board members who held office at the time the faulty contracts were drafted said they trusted the administrators, relied on them for guidance, and did not even have their own lawyer review the contracts before the board approved them.

Such trust was misplaced.

In trying to recoup funds from McCartney, the district, in court papers, said that, by reason of the board's "long-standing fiduciary relationship" with McCartney, it relied on him "for information concerning compensation and overall management of district personnel."

An elected school board is legally responsible for the superintendent it hires. The language in the suit makes it sound like the board is blaming McCartney for its own lack of oversight.

But, by the accounts that were current and published in our paper at the time the contracts were signed, the board was very much in favor of paying McCartney the agreed-upon amounts.

The second audit, released in November on McCartney's personal expenses, pointed out that the district's travel policy "was vague and non-specific." The policy provided for reimbursement of "reasonable out-of-pocket expenses incurred while traveling for school-related activities."

To its credit, the district has learned from its errors.

"We've tightened up everything in this office very much" Superintendent Langevin told us last week.

The current school board president, David Gibson, agreed that the internal controls "were not what they should have been." Substantial changes have been made, he said.

Langevin said that she signs off on all expenditures and anything that she may have questions on, she gives to the district's internal auditor to review; the post was created in the wake of the comptroller's audit.

Travel expenses are now reviewed by the claims auditor and accepted by the board as regular agenda items. The audit committee reviews the superintendent's expenses and refers any questionable expenses to the board.

Langevin told us earlier that she, herself, completes forms for expenses as any other employee would. "I'm closely watched," she said.

We have no reason to doubt Langevin; she appears to have a sterling character. The point, though, is that governance should not be based on personal trust; to safeguard the taxpayers, government needs to use good internal controls, including checks and balances.

Elected board members need to act as watchdogs, not buddies, of the administrators they employ.

Voorheesville has learned its lesson the hard way. We hope other municipal boards will learn by Voorheesville's example.

In nearby Guilderland, the beleaguered police chief, James Murley, has been suspended without pay from his $96,844-a-year job, accused of misconduct with a vendor, violating the town's Ethics Law, sexual harassment, and not maintaining complete and accurate attendance and leave records.

We will not rush to judgment on the guilt or innocence of Murley; a hearing is planned for May and we'll wait till the facts are in for that.

But we will comment now on concerns we have, based on the copy of Murley's contract that we obtained from the town. Murley's maximum vacation, sick leave, and personal leave hours could total up to half a year of paid leave annually.

The maximum amount of leave time Murley could accumulate, allotted by his contract, is a total of 180 days, or 1,440 hours. If factored into five-day work weeks, it would take nine months to use up the time.

How does a contract like this serve the public, which is paying his salary" Why should anyone be paid close to $100,000 in public funds, plus benefits, if he can legally show up for work only three months in a year"

We're not accusing Murley of doing this, mind you. Records we obtained showed that, in the last five years, the amount of vacation time Murley took fluctuated, ranging from 17 days in 2004 to nearly 35 days in 2002, according to his time bank records.

Supervisor Kenneth Runion said no actual attendance records can be produced because the only records that exist for Murley are individual leave slips and his time bank.

Also, while the police officers in Guilderland, according to contract, have to get permission from the police chief for personal leave time, Murley, as the chief, could file for his own personal leaves.

Such sloppy procedures do not protect the public. It's too easy for someone to take advantage. We urge Guilderland, and other towns and school districts, to review their contracts and procedures.

In this way, they may avoid the excruciating examination Voorheesville went through.

"We're tracked constantly on what we're doing," Langevin told us last week, with pride, not resentment, in her voice. "That's a good feeling. It's very beneficial to the district; it's a sense of security."

The public deserves no less.
---