[Home Page] [This Week] [Classifieds] [Legals] [Obituaries] [Newsstands] [Subscriptions] [Advertising] [Deadlines] [About Us] [FAQ] [Archives] [Commumity Links] [Contact Us]

Editorial Archives — The Altamont Enterprise, January 25, 2007
---
Revitalizing the American dream"

"A great society is simply a big and complicated urban society."

— Walter Lippmann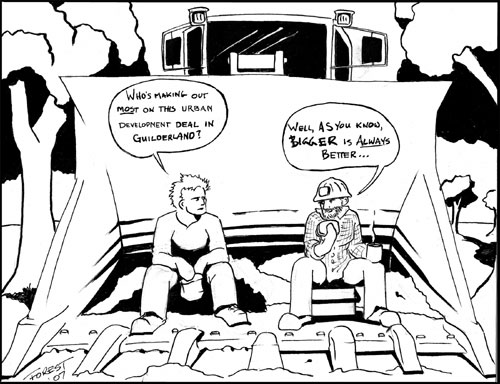 Residents of Scotch Pine in Voorheesville are living the American dream. Each suburban home has a well-tended yard, a small piece of paradise.

But residents of Locust Drive in Scotch Pine have been to Village Hall repeatedly in recent months to protest a proposed development which will have larger homes with larger lawns next to the golf course — a newer, more costly version of the American dream. Locust Drive residents want at least a 50-foot buffer between themselves and the new development.

And so it goes in the suburban towns we cover and in such towns all across America. As sprawl proliferates, so does traffic congestion, noise, and pollution. Privacy and paradise are threatened.

A group of architects has come up with a plan to reverse the patterns of the last half-century, to replace our car-driven suburbia with a New Urbanism that features walkable communities where businesses are built next to homes.

The architects — Andres Duany, Elizabeth Plater-Zyberk, and Jeff Speck — outlined their plan in their 2000 book, Suburban Nation: The Rise of Sprawl and the Decline of the American Dream. We like their two major precepts — building communities that welcome a range of household incomes, and creating places where people can walk to work and shop.

We congratulate Altamont trustee Dean Whalen and his committee, which created a blueprint for the village's future that draws on some New Urbanist precepts. Altamont, like Voorheesville, grew around the railroad that allowed city people to commute to the country.

The Victorian village already has a strong sense of community. It is possible to live, work, and shop within its boundaries and residents frequently walk. Neighbors of varying ages and backgrounds know each other and care about each other. It's no coincidence that an organization like Community Caregivers sprang from Altamont and is returning here while serving a larger area.

The village has a government that funds such community-building ventures as a library, programs for the elderly, and summer camp for youth. The comprehensive plan for Altamont's future, adopted this month after adequate time for public perusal, sets down guidelines that can preserve what is valued in the village and allow for growth within those parameters. The sorts of plans offered by the New Urbanist architects would complement the Victorian village.

One aspect that has us concerned, though, is the plan's proposal to re-zone the land now occupied by the Altamont Fair. If the fairgrounds were to be sold, this would allow a development to be built there following the principles of New Urbanism, which would be preferable to a cookie-cutter type of development.

But we would hope the village would make every effort to support and encourage the Altamont Fair. For over a century, the annual event has helped define Altamont. It provides a community gathering point, plenty of open space, and a strong link to the area's agricultural past.

While we believe the principles of New Urbanism will meld well with the village of Altamont as it now stands, we have some concerns about a proposal for a large New Urbanist development in Guilderland.

The Glass Works Village, a $100 million project, is to be built on 58 undeveloped acres off of the town's major thoroughfare, Route 20. Plans we reviewed this week, in a draft environmental impact statement, call for 327 residential units and 190,000 square feet of business space. About 800 people, or 2 percent of Guilderland's population, are expected to live there.

The plan doesn't specify the prices of the residential units. Looking at other, similar New Urbanist projects, we are concerned that the Glass Works Village will become a community for the wealthy, rather than a mixed-income community.

We are also concerned that the second major precept of New Urbanism — walkability — won't be dominant at the Glass Works Village.

We have applauded and supported the effort of Lindsay Childs and Guilderland's Pathways Committee over the years as it has struggled to make the town a pedestrian-accessible place and it would be great if the Glass Works Village could be part of that scheme. Paths are certainly part of the plan.

But the plan also shows a total of 1,406 parking spaces — 829 for businesses clumped together near Route 20 and 577 for the residential units — cottages, condominiums, and townhouses — on the perimeter. This makes us question how much of a walking community the Glass Works Village would be.

Talking to residents of other New Urbanism projects, we have learned that the business center, rather than serving just residents of the project, acts instead like a typical suburban strip mall. The environmental impact statement for the Glass Works reinforces this when it says that the commercial buildings will be located so they are visible to the traffic on Route 20 "enabling passing motorists to" stop and visit the Village Center" as the commercial hub is called.

We urge elected town leaders and appointed members of the planning and zoning boards to take a careful look at the proposal and to study other, similar New Urbanist projects.

We have found that, in some cases, the principles have been skewed to legislate taste. And, rather than becoming an alternative to suburbia, as the architects intended, the New Urbanist projects have instead become just an upscale version of suburbia.

Urban centers that have prospered have gotten their vitality in part from their variety. Vital cities are organic. They grow and thrive from the dreams of the people who inhabit them.

"What is the city but the people"" Shakespeare asked in Coriolanus. What, indeed" It's a shame we can't re-vitalize our cities — the structures are already in place — rather than creating sanitized replicas in the suburbs.
---