[Return to Home Page] [Subscriptions] [Newsstands] [Contact Us] [Archives]

Editorial Archives — The Altamont Enterprise, August 24, 2006
---
Lindsay Myers has taught us the value of diversity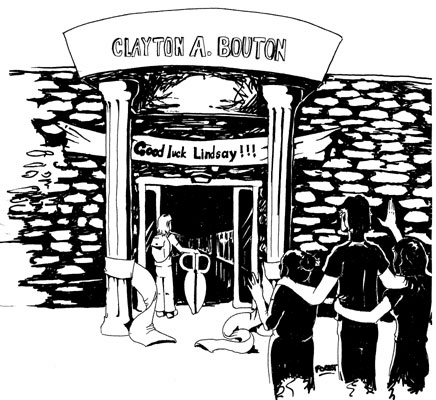 Illustration by Forest Byrd

Lindsay Myers, like high-school students across the country, is preparing to go back to school this fall. But, unlike most, her going to school in her home district, Voorheesville, in the town where she grew up, was a hard-fought battle.

Two years ago, over the summer of 2004, we wrote about the protests made by Lindsay's parents, Lisa and Jeff Myers. They wanted their daughter, who was born with Down syndrome, to be able to continue to attend classes in the school system she had been part of since she was five.

In her elementary years, Lindsay was mainstreamed into regular classes with an aid. Voorheesville did not offer integration in the middle-school years for Lindsay, so her mother petitioned the school and was able to start a BOCES (Board Of Cooperative Educational Services) program at the middle-school level.

Voorheesville had no program at the high school, though, and the district said Lindsay would have to go to a school in a neighboring town that offered an appropriate program. She spent a year there, over her parents' objections.

We wrote in this space two years ago, "If the Myerses' gumption brought the middle-school at Voorheesville the gift of Lindsay, could people in the community who see the value of diversity in the school convince the district to continue to include her" Might there be other families in the district in a similar situation""

While the BOCES program housed at Guilderland High School has served many students well, Lindsay's mother said that, since the students were from all over the Capital District, Lindsay couldn't get together with them much outside of school, so friendships were few.

Mrs. Myers was convinced two years ago that Voorheesville simply didn't want her daughter and that it was an "image issue." Referring to the school's national recognition, she said, "They don't want to tarnish their blue-ribbon status" by creating programs for children with special needs.

"I feel like Voorheesville is discriminating against my child," she said.

Everything changed, Mrs. Myers said, with the new superintendent at Voorheesville — Linda Langevin has a master's degree in special education and, with her at the helm, the district's approach opened up.

"It's been a totally different experience," said Mrs. Myers this year. "I have nothing but good things to say."

Lindsay, during the last school year, was placed in an individualized education program that combines mainstream academic classes and one-on-one specialized teaching in a small workshop classroom.

She's been able to take academic courses as well as life-skills courses and, in one school year, she advanced a remarkable half-grade, striving to move her way up to a third-grade level.

"It has worked out as a win, win," said Robin Jacob, Voorheesville's director for special education.

In the 2005-06 school year, Voorheesville hosted its first BOCES class at the high school. The school had extra space, which was good timing because one local boy needed this type of setting, Jacobs said.

We believe a BOCES class benefits not only the students it serves but those in the rest of the school as well.

The Guilderland schools, which have a long and proud tradition of hosting BOCES classes for special-needs students have seen, over the years, hearing students learn sign language and regular students learn to accept those who are different.

Stephen Hadden, Guilderland's special-education coordinator, put it succinctly when we talked to him two years ago. "Our students get to interact with children with special needs," he said, "and our students who need a BOCES program don't have to go far."

Being different is never easy. Our reporter, Holly Grosch, who first wrote about Lindsay Myers two years ago, visited Lindsay at Voorheesville's high school in June, as her last assignment for us. Grosch's in-depth report, the centerpiece of our back-to-school special section, tells the story of one girl's life as a mainstreamed student.

Grosch heard from Lindsay that, both at Guilderland and Voorheesville, she was sometimes teased by other students. "Sometimes I'll be embarrassed...My face will get red," Lindsay said. "They call me the F word and the B word."

Such a statement could break our heart. But, there's more. Lindsay is learning, with the help of her teacher, Kille Lewis, how to ignore kids who are mean and how to approach new people to make friends.

Grosch observed a young woman who was learning to navigate, not just the hallways of a high school, but life with its many ups and downs. Lindsay has gained a new sense of independence. She has hopes of someday moving out of her parents' house and living on her own with roommates, perhaps working with food preparation.

She's earned the respect of classmates. "She's a pretty girl," said one. "She's nice and has an awesome personality."

Mrs. Myers hopes that her daughter has paved the way for other students with special needs — "maybe setting a new trend," she said.

Lindsay, with the backing of her family, has opened a door for all of us. Let us walk through it with our heads high and our hands joined.
— Melissa Hale-Spencer, editor
---