[Return to Home Page] [Subscriptions] [Newsstands] [Contact Us] [Archives]

Editorial Archives — The Altamont Enterprise, June 1, 2006
---
One person, one vote, one machine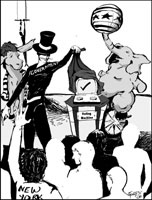 Illustration by Forest Byrd — The Enterprise
Frankly, there are times when we are embarrassed to be a New Yorker. Now is one of them.

Our state is the only one in the nation that has not complied with a federal mandate that all polling places provide voters with new electronic voting machines.

New York's problem began with our dysfunctional state legislature.

The horrors of the ballot discrepancies in the 2000 Presidential election made it clear voting reform was needed. Congress passed the Help America Vote Act three years ago, which called for $3.86 billion to be distributed to the 50 states to replace current voting booths and upgrade the quality of voting machines by 2006.

As we've written before, the act's requirements for private voter review and confirmation of the voter's choice, and for accessibility for the handicapped and for voters who don't speak English are all worthwhile.

Most essential, though, is the requirement that there be a permanent record of hard-copy ballots in case of a recount, which can also be used as an audit trail.

While the aim of the Help America Vote Act is to create uniformity throughout the country be requiring each state to meet the law's requirements, how each goes about that — such as choice of voting machines — is left up to individual states.

As it has at so many critical junctures in recent years, our legislature punted. It would make far more sense to have a single, consistent state-wide system. New Yorkers could all be educated on the new voting process in a single campaign.

As it is now, each county or even each election district will make its own decision on the voting method to be used. New York also lagged in establishing a database of all its registered voters. The Help America Vote Act required that the database be in effect by the start of 2006.

Because New York was not complying, the federal Department of Justice sued the state, but has since agreed to postpone compliance until 2007.

This month in Guilderland, the Albany County Board of Elections held public demonstrations of ballot-marking and vote-by-phone systems, which will allow disabled citizens to vote independently.

Since the state is not replacing its old lever machines until 2007, each of New York's 62 counties will be required to have a system in place next election for voters with handicaps.

This so-called "interim solution plan" is really no solution at all. There are essentially two types of voting machines — optical scanners and direct recording electronic machines, known as DRE's.

"The cost of implementing DRE's is going to be huge. The county commissioners just don't get it," said Bo Lapari, director of New Yorkers for Verified Voting, who is one of a dozen members of the state's advisory committee testing and certifying machines. It could take two DRE's to replace a single lever machine, at a cost of $8,000 to $10,000 each, Lapari told us this week.

The real problem, though, is the interim machines used in 2006 for the voters with handicaps are compatible with optical scanners, not DRE's, so next year, in 2007, the new machines will be useless for counties that have decided to go with DRE's.

This is piling mindless waste on top of indecisiveness and inconsistency. Taxpayers, of course, will be forced to foot the bill.

It's not too late, though, to push for the more sensible choice.

We've long favored optical-scan voting, the fastest-growing voting method in the United States. It has been used reliably for decades on school tests. Optical-scanning equipment costs about half as much as DRE equipment and is easier to repair. But the advantages go beyond cost savings.

With optical-scan, voters fill out their cards — marking the circle next to a candidate's name — in private booths before having them reviewed by a scanner. As required by the Vote Act, this method allows voters to see if, for example, they accidentally voted for two candidates, which would invalidate the vote, or if they forgot to vote for a candidate. With this method, voters know instantly their vote is counted; errors can be corrected on the same ballot or with a replacement ballot.

With an electronic voting machine, voters can also check if their votes have been reported as expressed, but this voter-verified ballot produces paper printed in small type likely to fade with time. The re-count is less direct.

Security flaws have been a problem with DRE's and manufacturers have refused to release their source codes for review by election examiners. A DRE could be programmed to show one kind of information on a receipt while recording different information.

The thermal receipts from DRE's can fade over time while optical scanners have a verifiable paper trail that can be kept in a central storage place and can be easily accessed for a recount.

We have covered several local elections where the outcome has been decided in the recount. Without a readable paper trail, the results would have been different; democracy would not have been served. One person, one vote is the bedrock on which our government is built. Each vote must count.

Even without the decisive state legislative leadership we should have been able to count on, we hope our county boards will make the right choice. Counties will start placing orders on machines by the end of the summer, Lapari said. So it's not too late to speak your mind to your county legislator or board of election commissioner. If we value the democratic process, we should make our views known.
— Melissa Hale-Spencer, editor
---